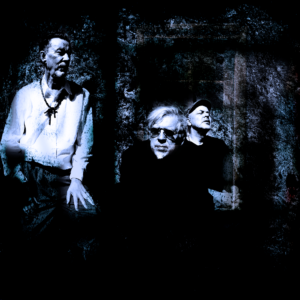 In the dark times, will there also be singing? Yes, there will also be singing, about the dark times.
– Bertolt Brecht (1939)
It is almost forty years since TWICE A MAN first took to the London stage. Sweden's godfathers of electronic music first played a show at Heaven—on a bill organised by the legendary Final Solution—in the winter of 1981.
The fall of 2020 finds them with a new album, 'On the Other Side of the Mirror'
, expressing concern about the state of our planet. And it really is in a state. The view from their northern shore is an unhappy one, full of decay.
It wasn't that long ago that TWICE A MAN were writing that 'Everything Is Possible,' but that gave way to 'A Time of Terror.' Now they sing about 'A Rain of Shame.' Their hopes for the world have diminished, even if their instincts for melody and atmosphere have not.
The band is currently a trio, composed of Dan Söderqvist, Karl Gasleben and Jocke Söderqvist. Their catalogue includes twenty-one studio albums, many of which are regularly cited as influences by other Scandinavian artists. Starting with 1982's 'Music for Girls', TWICE A MAN have cut a distinctive path, combining its members' progressive rock and new wave roots with modern tools and sounds.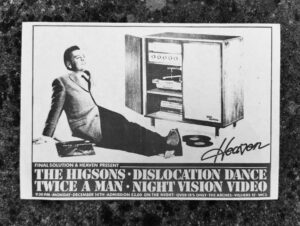 'On the Other Side of the Mirror' invades the alternative dancefloor with epic chords ('A Rain of Shame') and strident beats ('Naked'). It sweeps the bodies aside with thundering rhythms ('Modern World') and magnificent swells ('Breath'). The Viking spirit is impressed into the tracks, as if overseen by Odin's birds.
Linked up remotely, TWICE A MAN spoke from their homes in Sweden to discuss the new album, their plans, and the prospects for political change.
How did the album come together? Was there a definite theme or sound that you were aiming for?
Jocke: The basic tracks were created at the same time that we were working on 'Cocoon'. We started to make songs in other ways that were not fit for that album. We took a break, but Karl cannot do that. So, he made a lot of the basic tracks, and he had some basic lyrics, too. Normally, we all come in with things as a start, and we have a discussion how to do this next album or what direction we are going to go.
Dan: We didn't want to make 'Presence 2'. We wanted to do something that was different from Presence. There were a number of possible frameworks for what the album should be about.
We were talking about other influences. Like, we talked about the things from the 70s—bands like early GENESIS. We talked about the movement of surrealism. We talked about a lot of different themes that come into this picture. We called it 'On the Other Side of the Mirror', but it's also mirroring ourselves when we made things in the 80s.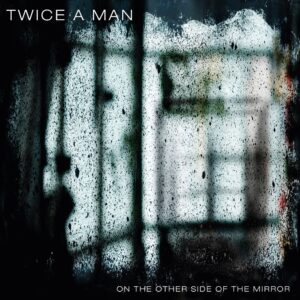 Was the album recorded with a view to the dystopian world we are living in now? Did the changes led by Covid-19 have any impact?
Dan: We recorded it in 2019, so before the Covid-19 situation. We were thinking about the kind of society that we are living in today.
Jocke: In a way, we were living in a situation where a change was bound to come, whether it was climate change or horrific wars or whatever. Covid-19 was a surprise, but it was not a surprise that something was going to happen.
Dan: You can see this on 'Presence'
, as well, of course. Trump and Boris Johnson were not around when we made that. Perhaps it doesn't matter who is the President of the United States, but it is starting to be even more right-wing. The oligarchs are more openly running the show in England and in the United States—and here, in Sweden, too. The people have no one to speak for them; and, if they come—someone like Corbyn in England or Bernie Sanders in the US —then they are taken out.
Songs like 'High in the Clouds' sounded the alarm on the risks of environmental catastrophe. People have been unable to use their cars or fly in the normal way for many months. Do you think that the lessons from that will be learned?
Jocke: I'm very afraid that that the main thing on the agenda now is to get the wheels rolling again. I'm not sure, but everything needs to be up again, like usual. Then you sort of skip the climate for a while, because it is more important to get everything back to normal again. Maybe not flying but getting all the factories and so on back to where it was.
Karl: I think the only thing that maybe we change is that video conferencing is a more common way of meeting than it used to be; people don't fly to every meeting. In the future, maybe that's the only thing we can get out of this as a positive thing.
Disinformation and conspiracy theories are working to dumb down society in general. Do you think the rich and powerful are taking advantage of this, applying the theory of divide and rule? And do you think this is our 'Modern World'?
Dan: Yes, that is one angle of that song, but it is very difficult to know what the truth is. It has become more and more difficult to know what who you can trust. You don't have enough time to really perform research on everything that is happening. We have this for the virus—how to handle it? Should I wear the mask? It's not possible to decide in every case who is right and who is wrong. I tend not to believe in anyone.
The new songs from 'On the Other Side of the Mirror' are fewer but longer, compared to 'Presence'. They generally exceed radio play times. Is that a statement in itself?
Karl: They just became the length that they needed to be.
Jocke: I think also that, when we were making these songs, we weren't really sure that it was going to be an album. We were searching, but we weren't really sure. Maybe that let us have more freedom to let the songs be what whatever they wanted to be. Maybe that's why they were longer.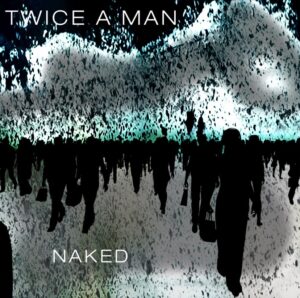 The material doesn't shy away from the dancefloor. The single version of 'Naked' comes with a number of remixes. Were you aiming for a danceable style over the ambience of 'Cocoon'?
Dan: No, it is more in the area of 'Presence' and our 80s albums. If you take 'Modern World,' the end of it is like a flow, and that has a lot to do with our ambient stuff. It's a little more aggressive in the sound, but it's got this mantra feeling.
Karl: Because some of the songs we did parallel while working on 'Cocoon', we have a kind of injection of that style.
Karin My provides background vocals. What does Karin bring to the songs for you?
Dan: We have been working with Karin My for ten years now, on and off. We know her well by now and besides that she is a wonderful person, she has a voice that works very well with mine.
Jocke: Her voice—a female voice—there is a reserved space for it in our music. It really adds something.
Dan: Karin brought us together with Daniel Kaufeldt, who is now the producer for both Karin´s own work and for TWICE A MAN´s 'Presence' and 'The Other Side of the Mirror'.
Karl: He is like a fourth member of the band, too, because in the mixing he put a lot of his own instruments in. It's a good collaboration with him now.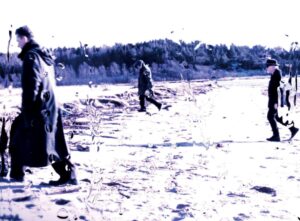 How would you sum up the feeling of the album? Is there hope for change after everything that has happened?
Karl: Within the lyrics, the perspective is of the little man looking at the society from his chambers. You know, we can be the silence in the voice. That's why it can be depressing—because I don't think we leave any doors open to a bright future. It's one for reflecting.
---
ELECTRICITYCLUB.CO.UK gives its sincerest thanks to TWICE A MAN
'On the Other Side of the Mirror'
is released as a CD, vinyl LP, cassette and download by Ad Inexplorata, available from http://www.explorata.net/shop/index_eng.php
https://www.facebook.com/twiceaman/
---
Text and Interview by Simon Helm
Additional Questions by Chi Ming Lai
19th September 2020