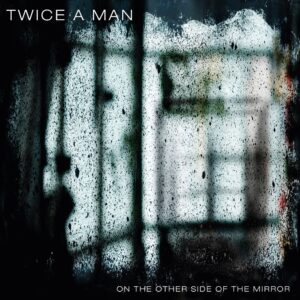 Having released 21 albums since 1982, Swedish veterans TWICE A MAN have never been ones to shy away from serious issues.
The trio's superb 2015 song 'High in The Clouds' confronted the prospect of environmental armageddon aided by the eerily beautiful voice of Karin My.
Having ventured down the ambient route with 'Cocoon' as a kind of interim solace following the release of the 'Presence' album from which 'High In The Clouds' came, TWICE A MAN have literally come out of the woods and found the world in a state of corrupt turmoil.
Like a delayed '1984′ with misinformation and paranoia everywhere and eugenics being pushed through the backdoor by right wing governments using the current pandemic crisis as a smokescreen and capitalism as its reasoning, TWICE A MAN highlight this increasingly dystopian situation emerging in front of everyone's eyes on 'On The Other Side Of The Mirror'
.
Led by Dan Söderqvist with Karl Gasleben and Jocke Söderqvist providing the dark gentle storm of sound, the opening 'Breath' exudes brooding industrial moods and sombre vocals, with chilling string machines enhancing the melancholic alienation.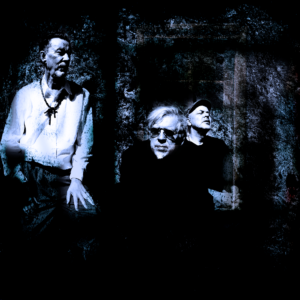 But 'Fireflies' utilises ethnic percussive flavours and the return of Karin My to feed the claustrophobic air with Lampyridae acting as deadly symbolism for the end of future dreams.
The sinister gothic militarism that accompanies 'Rain of Shame' is deeply fitting; fuelling a combustive atmosphere, Söderqvist realises "this is not my world, this is not my time".
However, a variation in tempo and construction time again makes a highlight of 'Naked' with its penetrating basslines and swirling dramatic overtures that echo imperial phase DEPECHE MODE.
The shortest track on the album at four minutes, 'Growing' sees TWICE A MAN emulating Gary Numan but in a more abstract psychedelic fashion with a sound that also recalls 'New Head', OMD's unusual collaboration with Simon Fung of CHINA BLACK from 1996.
Closing with 'Modern World', this is another warning in the vein of 'High In The Clouds', an orchestrated epic featuring another heavenly Karin My vocal as a dense cacophony of textural guitars, haunting high register synths and thunderous drumming points towards a deadly apocalyptic darkness.
Perhaps more organic and even heavier in tone than 'Presence', 'On The Other Side Of The Mirror' however reflects a world "where fear is the face of reality"; it is not an easy listen, offering observations and ambiguity rather than answers.
Is there light at the end of the tunnel? Maybe there is, but that light could actually be an oncoming train! "Your future dreams are fireflies, you see them through your children's eyes."
---
'On The Other Side Of The Mirror'
is released as a CD, vinyl LP, cassette and download by Ad Inexplorata, available from https://twiceaman.bandcamp.com/album/on-the-other-side-of-the-mirror
https://www.facebook.com/twiceaman/
http://www.explorata.net/shop/index_eng.php
http://www.explorata.net/shop/index_eng.php
---
Text by Chi Ming Lai
13th June 2020