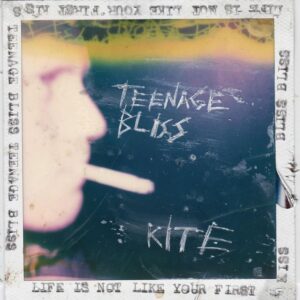 After the moody introspection of 'Tranås/Stenslanda' and the dark widescreen overtones of 'Demons & Shame', KITE explore the innocence of 'Teenage Bliss' for their latest singular offering.
Recalling the enigmatic duo of Nicklas Stenemo and Christian Berg's earlier songs like 'Ways To Dance' from their self-titled debut EP and 'Jonny Boy' from their 'III' EP, 'Teenage Bliss' features a strong stabbing riff that could easily be mistaken for OMD. But perhaps the biggest surprise about 'Teenage Bliss' is that it is co-produced by Benjamin John Power.
Best known as Scared Bones Records artist BLANCK MASS and as a founder member of experimental electronic duo F*CK BUTTONS, Power is usually associated with a much more heavier aggressive instrumental sound as exemplified by his own 'D7-D5' and 'Death Drop'. However, he appears to have relished pushing a couple of his own pop buttons by applying his edgy template to this rousing anthemic number.
The dynamic combination of KITE and BLANCK MASS is wonderfully hymn-like, with Stenemo telling his congregation that "Teenage bliss, there ain't no consequences in your life and you don't know what tragedy is" before the bittersweet revelation that "In the end, no-one wins!" as "life is not like your first kiss…"
Accompanied by a video capturing a young crowd at a club back in the day to compliment the celebratory pop rave of 'Teenage Bliss', KITE are on the cusp of a wider breakthrough having been "Sweden's best kept pop-secret" since their self-titled debut EP was issued in 2008. Having confined all six of their longer-form releases to this mini-album format, are KITE about to release their first ever full-length album?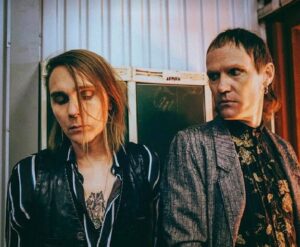 Back in 2015 on ELECTRICITYCLUB.CO.UK, Nicklas Stenemo said of his creative chemistry with KITE bandmate Christian Berg: "Christian is really great making suggestive drone landscapes. I'm more a traditional songwriter. So we send music to each other all the time, add stuff and change chords etc. Sometimes we just jam over a beat… but we've learned that there is no certain way we can make music… we just mess around with it in every way possible and wait for the magic to happen. Pure luck I guess 🙂"
---
'Teenage Bliss'
is released by Astronaut Recordings via the usual digital platforms
KITE's back catalogue is available digitally direct from https://kitehq.bandcamp.com/
https://www.facebook.com/KiteHQ
https://www.instagram.com/kitehq/
https://open.spotify.com/playlist/7GmTgBzZ8ZLILtRuvnqlpe
---
Text by Chi Ming Lai
Photo by MilkDrop Studio
15th June 2020