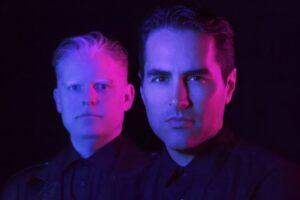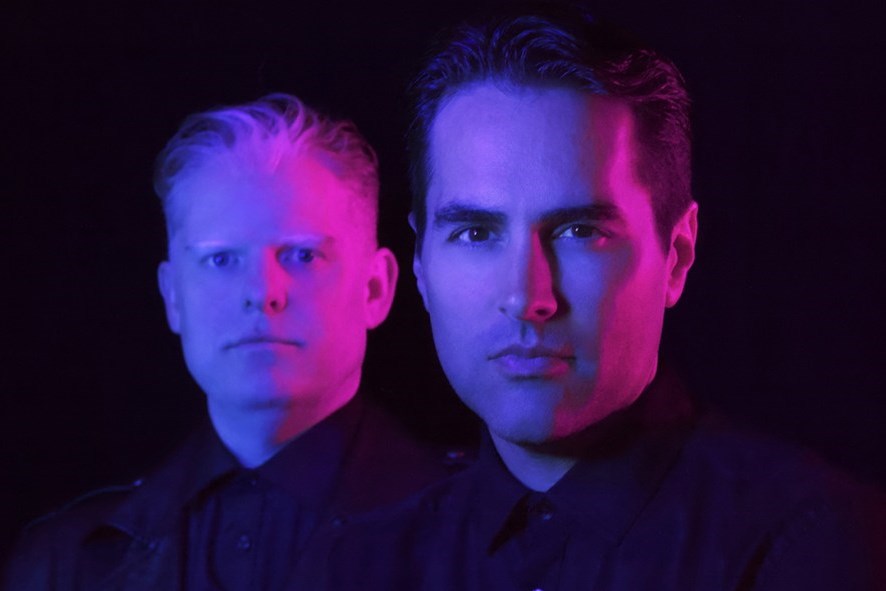 With a sound seeded from post-punk, goth and new wave, VANDAL MOON are shaped as much by their use of drum machines and synthesizers as much as guitars and the inevitable deep baritone vocals.
Comprising of Blake Voss and Jeremy Einsiedler, the Santa Cruz duo opened their account with the self-released 'Dreamless' in 2013.
Their most recent long player 'Black Kiss'
is their most electronic work yet, although the sound of THE PSYCHEDELIC FURS and THE SISTERS OF MERCY permeates throughout, perhaps not unsurprisingly as the two are linked by John Ashton who was the guitarist for the classic line-up of the former and an early producer of the latter.
In 2018 for the release of the 'Wild Insane'
album, VANDAL MOON signed to Starfield Music, the record label of Shawn Ward, best known for his work as FM ATTACK. It is perhaps Ward who can be credited for championing VANDAL MOON to the wider synth community. Meanwhile notable collaborations with BETAMAXX and MECHA MAIKO have cemented that association further.
But despite their influences like THE CURE and DEPECHE MODE, Blake Voss and Jeremy Einsiedler have presented their own take on a classic approach with the potential to connect with wider tribes and enclaves. Front man Blake Voss talked about the rise of VANDAL MOON.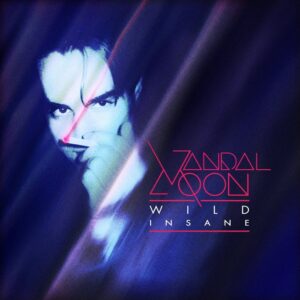 Who were the bands that inspired VANDAL MOON?
I was born right around the time THE SEX PISTOLS broke in the UK. So, by the time I was cognisant of what was going on around me, new wave was all over the radio. EURYTHMICS, TEARS FOR FEARS, BLONDIE… those were the bands of my early childhood. At the same time, my Dad's record collection was filled with everything from Lou Reed to PINK FLOYD. Oddly enough, VANDAL MOON was initially envisioned as a sort of electronic-psychedelic project, and I think my childhood experiences, and imagination turned it into what it is now.
Had the use of synthesizers and drum machines in VANDAL MOON been more out of necessity to keep the creative process as a duo, or had you been like a conventional rock band previously?
Jeremy is my best friend. He and I have been playing music together since the late 90s, in all kinds of different bands. Noise bands, punk bands, acid folk… everything. We both loved the sh*t out of math rock, and all those post-rock bands of the early 2000s that nobody talks about anymore.
Typically, he played the drums and I played guitar and sang. But the synths and drum machines came into play because of our mutual love of the soundtrack to the movie 'Drive'. That movie really affected us both in a profound way. It did that for many people.
Of course, the original European definition of goth which was doomy but melodic has mutated over the years into this American take which is more like dark metal, any thoughts?
I don't know much about dark metal, but I love goth music and goth culture. I'm not a goth and I don't pretend to make strictly goth music, but we have a lot of fans from the subculture. I've never met nicer, more thoughtful people. I'm just happy to have been accepted by some of them. And I love them back.
How do you look back on the first three VANDAL MOON albums and how you've developed?
We've moved in a lot of different directions as a band. THE BEATLES sort of set that precedent for pop music; never doing the same thing for too long. Eventually they became a corporation more than anything, but we all learned the same lessons from them.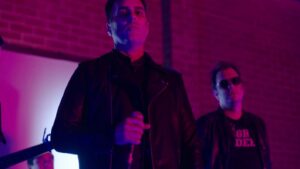 Art isn't about being born fully formed from the head of Zeus or something. It's a journey and a process. It's about leaving a beautiful mess behind you and letting the kids sort it all out.
Oh yeah, and being a celebrity sucks. THE BEATLES taught us that as well.
ELECTRICITYCLUB.CO.UK first heard of VANDAL MOON though collaborations with FM ATTACK and then MECHA MAIKO and BETAMAXX, so how did this synthwave association begin and has it expanded your audience?
I didn't even know the synthwave community existed until a gentleman by the name of Axel from Neon Vice Magazine reached out to me around 2013. From there it just snowballed. The synthwave kids embraced me as an artist, and that was so heart-warming.
Because of that, I've been fortunate enough work with some artists who have forged a place for themselves in the history books. Shawn, Haley and Nick are all legends in their own right. These are people who have created something from nothing. Back when MTV mattered, they would have been featured on '120 Minutes' or something. They deserve to be celebrated. History will not forget them, and neither will I.
You have described 'Black Kiss' as your most electronic record yet, had you been looking to evolve in this direction or did the acceptance by the synthwave community accelerate this and give you the confidence to make more of an artistic jump?
When I make a record, I imagine it in very abstract terms. To my imagination, this record wanted to be more angular and dark. A primarily electronic pallet was the best way for me to elaborate on that vision. I've written literally hundreds of songs on guitars, so it felt good to write this album on synthesizers. It gives it a different vibe. But who knows, maybe I'll do something weird like a 'VANDAL MOON: Unplugged' album next. Or maybe a synthesizer style punk record. Who knows!
How would describe the creative dynamic within VANDAL MOON?
Much of the time, I'm alone in my studio, just f*cking around until something decent emerges. For every album, I write maybe 50 or 60 songs, and pick the best 10 or whatever. When I die, you can rummage through all my hard drives and release bullsh*t demos to your heart's content. Jeremy and I get together a lot at his place, and drink vodka until we're screaming at 2am and creeping the neighbours out. It's a good way to let off some steam. A lot of songs come out of that process as well.
'Wicked World' does that epic gothic thing like FIELDS OF THE NEPHILM, did you know ELECTRICITYCLUB.CO.UK was in the same class at school as The Neph's drummer Nod but he was into jazz funk then!?! Were there any genres of music you explored before settling where you are now?
I've listened to and made all kinds of music. I listen to hip-hop, math rock, Turkish psych music… you name it. I've done soundtracks for documentaries where I'm playing a dumbek drum and a melodica and just chanting. I'll play any instrument. I might play it sh*ttily, but I'll play it nonetheless. I just love making music. F*ck everything else. I'm determined to succeed at creation. The rest is just happenstance.
'Hurt' really plays on making THE SISTERS OF MERCY's template more synthy, had that been intentional?
I don't intentionally model any of my songs after particular artists. The bands I liken us to, for PR purposes, are just based upon what people tell me we sound like. The thing I love about this project is that people struggle to pigeonhole us. VANDAL MOON sounds like a lot of different things, but we don't fit neatly into any one genre. That means we're doing something unique. That's all I've ever wanted to do.
The moody gothwave of 'We Are Electric' sees you collaborate with FM ATTACK again, Shawn Ward really loves his dark musical side doesn't he?
Shawn is the warmest, most enthusiastic and supportive person I know. He invited me out to this home in Mazatlan and we made a bunch of songs together for this last album 'New World'. He's my friend first and foremost. And yes, he loves dark music.
He understands how to create something dark that touches people's hearts in a way that is multi-faceted, and not just like "oh me, I'm angry, boo hoo". That's because he is a special soul, and talented as hell. We'll probably make a full-length FM ATTACK // VANDAL MOON album together at some point. It'll be like THE GLOVE or something.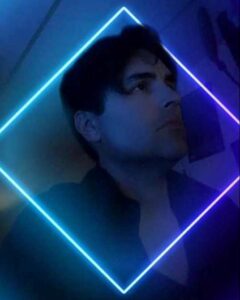 You're not afraid to play with post-punk disco templates as 'Suicidal City Girl' shows? What had this been influenced by?
I think I was listening to a lot of Sally Dige when I made that song. You can hear it in there. Sally is so talented. I hope I get to work with her one day. She's a real artist in the lifestyle sense.
Her life is art and art is her life. At least from what I can see. She draws, paints, makes music and film. She's what we all aspire to. I was supposed to get my ass out to Berlin to do a music video with her, but it never happened.
'Robot Lover' is like DEPECHE MODE meeting THE MISSION, how did this track come together?
That's a lovely compliment, thank you. This is one of those songs that Jeremy and I wrote together at his house. I think I wrote the bass line and Jeremy came up with the chords. Jeremy came up with the idea for me to sing higher during the verse line "we are enslaved for life, our pain is real". And I think that's what really pushed the song forward. It's a very futurist song.
The apocalyptic gothic trance of 'No Future' no doubt surprised your fans, but how has the reception been on the whole to 'Black Kiss', has anyone said you are "betraying your goth roots"?
To hell with anyone who tells me I'm betraying my roots. The first CD I ever purchased with my own money was LL Cool J's 'Mama Said Knock You Out', just based upon the power of the album art, so what the fuck do they know about my roots? I put 'No Future' last on the album because I felt like it was just a really nice closer. It's aggressive, but in a more EDM kind of way. Of course, it's not EDM. Nobody knows what it is, and that's the beauty of it. It's a really fun song to perform, and it's very powerful at loud volumes. It's a song dedicated to dystopia, and also to John Lydon. Thank you for everything, John. We love you.
How have European audiences taken to VANDAL MOON, will some of the directions taken on 'Black Kiss' make that more palatable for the future?
We live in interesting times. We have followers from all over the world. We get an extreme amount of support from Brazil and the rest of South America. But in the end, we're all humans who hurt and laugh and love.
I don't give too much credence to where our audience is from, but rather I try to embrace their love and acceptance and express gratitude back towards them as individuals. I don't know if 'Black Kiss' will connect more with European audiences, but I believe it will connect with those who listen with open hearts.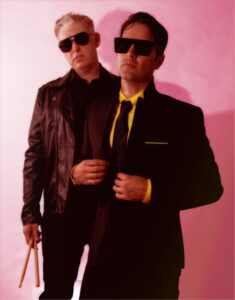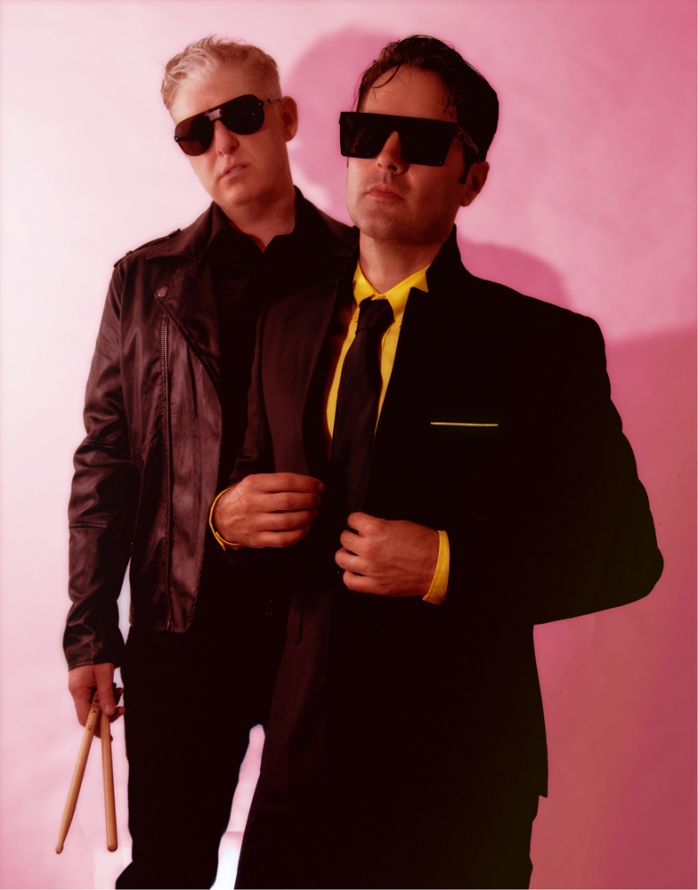 The 'Black Kiss' album title does rather capture the zeitgeist, any thoughts?
I don't groom my music to pump people up or bring them down, like Coca-Cola or something. I just follow my instincts and make songs based upon how I'm feeling at that moment. As a result, I think it sort of follows the emotional ups and downs of my human experience, which people can innately relate to.
I don't want to make any commentary on what this album is or isn't in terms of emotional content, because I want listeners to create their own experience and connections. The world is f*cked up, but it's also filled with beauty.
The worldwide lockdown has made it difficult for everyone to make plans, but are there anymore collaborations planned for the future, or live appearances?
I'm working on a remix album with a bunch of insane artists that I won't name here. But rest assured, it's packed with talent. All 10 songs from 'Black Kiss' will be remixed by 10 different artists. I can't wait. I also have like 3 different, full on collaborations that are in the works, which I think will surprise people.
---
ELECTRICITYCLUB.CO.UK gives its warmest thanks to Blake Voss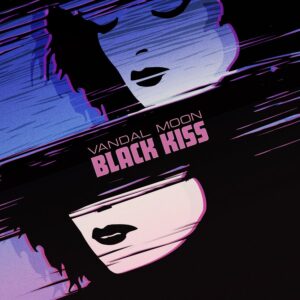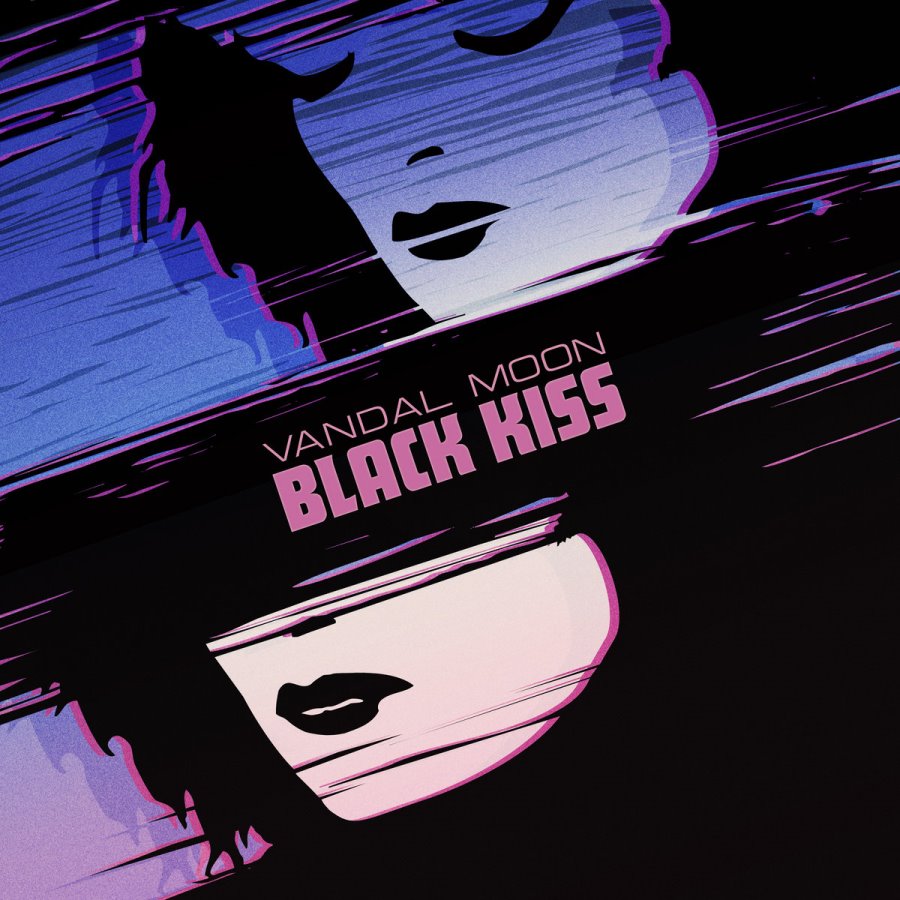 'Black Kiss'
is released by Starfield Music as a white vinyl LP, cassette or download, available along with the rest of the VANDAL MOON back catalogue direct from https://vandalmoon.bandcamp.com/
https://www.facebook.com/vandalm00n/
https://twitter.com/VandalMoon
https://www.instagram.com/vandalm00n/
---
Text and Interview by Chi Ming Lai
17th June 2020