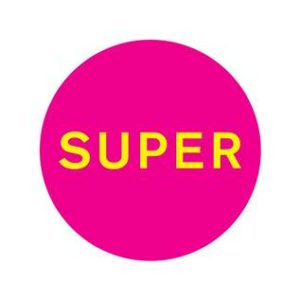 It is debatable whether number thirteen will be lucky or not so much for PET SHOP BOYS, but after the album number twelve, 'Electric' in 2013, with its return to the good old, if ever so slightly camp (of course!) electronica, one expects perfection.
The predecessor to 'Electric'
, 'Elysium', nearly put the group alongside the likes of DEPECHE MODE, with their dwindling reputation and the general feeling that one cannot expect a decent long player anymore. 'Elysium' was stripped of the energy and the vitality, one has grown to expect from the London duo.
'Electric' raised the bar, mainly thanks to the superb production by Stuart Price, restoring the belief that PSB still had it. And now comes 'Super'
. Also produced by Price, well known for his collaborations with MADONNA, HURTS, SCISSOR SISTERS, KYLIE MINOGUE and GWEN STEFANI amongst many others, together with 'Electric', 'Super' is another comeback to the inherent PET SHOP BOYS that has been around since their first outing 'Please'.
Price, who was the musical director on PSB's 'Pandemonium Tour', and toured with the duo during showcasing 'Electric', has added a fresh approach to the established act that Tennant and Lowe are.
'Happiness' kicks off the club tracks collection with the ever optimistic lyric "it's a long way to happiness, it's a long way to go, but I'm gonna get there, boy, the only way I know"; against all odds they're trying to keep good old pop alive. Excellently mixed, layered sounds burst into a comatose of euphoria, marking a great start to something worth pursuing.
'The Pop Kids' descends, being a quintessential PET SHOP BOYS track; carefree, but complicated, resembling the story of 'Being Boring' – the youth who never missed an opportunity for classy fun. Tennant and Lowe have never changed, they remain "the pop kids".
'Twenty-something' tells a further tale which the duo are celebrated for. Their story telling tracks have become a kind of delicacy and this time, it's about Londoners in their prime of life, "twenty-something hard to beat… feel the heat" within a slower paced beat.
'Groovy' picks up the tempo once again, leading onto 'Dictator Decides', which marks another of the politically laced numbers that the PSB boys do so well. Like their previous gems such as 'Don Juan' or 'I Get Along', this one hits the truth, that any politician is just a regular person underneath, sometimes wanting to live a normal life; a life without having to make decisions influencing nations. The plea to end his life to stop the tyranny clearly rings in "if you get rid of me we can all be free".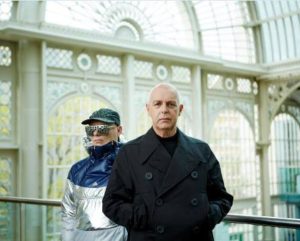 The instrumental 'Pazzo' introduces the next track, 'Inner Sanctum' which reacts to German techno pop scene based in Berlin's Berghain, the ultimate night club with its cavernous main room. The track is heavy, punchy and dizzy, perfect for a pounds, shillings and pence induced rave.
'Undertow', 'Burn' and 'Say It To Me' hold onto the disco idea once more, with the latter being somewhat of an excellently executed 'Domino Dancing' style dance piece.
In the realm of fast paced tracks, 'Sad Robot World' is the ballad this album needs as a slow coma, and it is actually about robots! The final credit, 'Into Thin Air' calls for a collective disappearance to escape the mundanity, to "create new identities and fly into the unknown, we'll vanish no one would know where". Being different isn't always easy; it creates misunderstandings and unnecessary pain, therefore the idea of avoidance and escapism sounds inviting.
The kings of pop, having turned out the biggest synth anthems over the last thirty years, have proven again that given the correct production, their mission can be accomplished.
No fillers, no ballads (which according to Lowe are to be featured on the next Price produced album), no nonsense… it's a notion many of their contemporaries should adhere to.
Pop isn't dead yet. With albums like 'Super' it never will be.
Never mind their age, PET SHOP BOYS are the eternal "pop kids" and their music reinvents itself in the best possible way. 'Super' is SUPER!
---
'Super'
is released by in CD, vinyl and digital formats
https://www.facebook.com/petshopboys/
https://twitter.com/petshopboys
---
Text by Monika Izabela Goss
1st April 2016