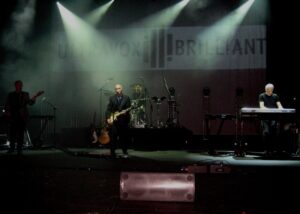 GForce Software have just issued a fascinating viral film of soundcheck footage and a brief backstage chat with ULTRAVOX during the 'Brilliant' tour about using the company's plug-in synths to recreate the sounds from their classic albums live.
In the interview, the band's two main synthesists Billy Currie and Chris Cross discuss the VSM, Oddity, impOSCar2 and Minimonsta.
Chris Cross particularly enthuses about the VSM's (Virtual String Machine) ability to replicate the Elka Rhapsody 610; its colder shrill can be heard on 'Mr X' (plus 'Hiroshima Mon Amour' and also throughout John Foxx's 'Metamatic'), while Billy Currie jokes about using the VSM on every track, especially for the swimmier tones of the Yamaha SS30 which forms the prominent sound on 'The Voice'.
However, Currie also explains that he tried to stay clear of it during the recording of the new album 'Brilliant' to avoid overdoing this vintage element of ULTRAVOX's distinct sound.
It did however appear on the Kraftwerkian/Moroderesque hybrid stomper 'Rise', although it was ironically pushed back into the mix by "our guitarist/producer" Stephen J Lipson but now brought forward for the concert version!
Of course, no ULTRAVOX live set would be complete with Billy Currie's ARP Odyssey soloing and to do this, he has engaged G-Force's Oddity via his Novation workstation using control features such as portmento and autobite. Currie also mentions the impOSCar2 which he uses for 'Rage in Eden' era material like 'We Stand Alone' which was recorded using an Oberheim OBX. Of course, the original OSCar was actually designed by British synth innovator Chris Huggett with Billy Currie very much in mind.
Meanwhile Chris Cross reflects on his new mainstay, the Minimonsta which is used for the pulsing basslines on tracks such as 'All Stood Still', 'Sleepwalk' and 'The Thin Wall' in place of his now long lost Minimoog. "Out of all the Minimoog plug-ins, that's the one I find most like the Minimoog…" he says. However, Currie adds that to recreate the analogue "bounce" of their back catalogue is "not easy to do"! But the current 27 song live set on the 'Brilliant' tour is among one of the band's best ever.
When it is considered that at the height of their powers, ULTRAVOX had 27 keyboards and electronic devices on stage including the PPG Wave 2.2, Emulator, Yamaha electric piano, various Yamaha CS series synths and Warren Cann's infamous percussion console 'The Iron Lung', to have been able to slim down the set-up to suit the practicalities of a nationwide tour AND virtually recreate their powerful electronic rock sound of old on stage has been one the joys in the advances of music technology.
---
'Brilliant'
is released by Eden Recordings/EMI Records, a clear vinyl double album edition is released on 15th October 2012.
ULTRAVOX tour the UK and Europe in Autumn 2012. Dates include:
Sheffield City Hall (4th October), Blackpool Opera House (6th October), Glasgow Clyde Audiotorium (7th October), Gateshead The Sage (8th October), Paris Trabendo (10th October), Tilburg 013 (12th October), Hamburg Docks (14th October), Sundbyøster Amager Bio (15th October), Malmö KB (16th October), Helsinki Tavastia (18th October), Oslo Rockefeller (21st October), Heden Trädgår'n (23rd October), Berlin Columbiahalle (25th October),  Mainz Phoenixhalle (26th October),  Leipzig Haus Auensee (27th October), München Kesselhaus (29th October), Vienna Gasometer (30th October), Memmingen Stadthalle (3rd November), Milan Alcatraz (5th Novermber), Köln E-Werk (7th November), Bielefeld Ringlokschuppen (8th November)
https://www.facebook.com/UltravoxUK/
---
Text and Photos by Chi Ming Lai
4th October 2012, updated 25th February 2018