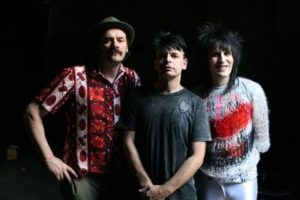 'The Mighty Boosh' was a surreal BBC comedy show focussing on the adventures of two zookeepers at Bob Fossil's Funworld, the socially awkward, jazz enthusiast Howard TJ Moon (Julian Barratt) and the vain, fashion-obsessed Numanoid Vince Noir (Noel Fielding). In the eighth and final episode of series 1 entitled 'Hitcher' in 2004, Howard and Vince are tasked with transporting Ivan, a viciously aggressive bear to The Zoo For Animal Offenders.
They have a discussion about what to play on the truck's stereo. Vince's first choice is GARY NUMAN… Howard however has different ideas and insists on jazz funk!!! But Ivan The Bear makes his feelings known about jazz funk and actually prefers GARY NUMAN!
The hilarious scene will be resonate with any synthpop fan of a certain age who had to put up with the bully boys at school who thought that meandering sax solos and slap bass runs were the height of musical achievement as they posed in their Fred Perrys, cardigans and loafers!
ELECTRICITYCLUB.CO.UK can remember being presented with a smashed up, burnt copy of 'Cars' in a paper bag by these lesser forms of pondlife! Ironically after his farewell Wembley concerts in 1981, Numan began to use elements of jazz funk in his music, working with several of its leading exponents like Dick Morrissey, Joe Hubbard and Bill Sharpe!
Numan was referenced several times in 'The Mighty Boosh' and even made a guest appearance in the third series for an episode called 'The Power Of The Crimp'. The dark circle was completed when Numan played 'The Mighty Boosh Festival' in 2008.
Meanwhile, GARY NUMAN's 'Dead Moon Falling' Tour takes place in December 2012 and will feature some new songs from the forthcoming 'Splinter' album due for release in 2013, plus new reworkings of tracks from 2011′s 'Dead Son Rising' album by ALEC EMPIRE, THE DUKE SPIRIT, NINE INCH NAILS' Alessandro Cortini, THE CHARLATANS' Tim Burgess and GAZELLE TWIN.
---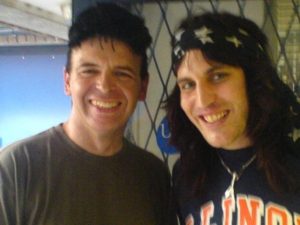 'The Mighty Boosh: Series 1-3'
DVD Box Set is released by 2entertain
GARY NUMAN 2012 live dates include: Southampton Guildhall (2nd December), Manchester Ritz (3rd December), Edinburgh Picturehouse (4th December), Norwich UEA (5th December – rescheduled from 7th September), Wolverhampton Wulfren Hall (6th December), London Forum (7th December), Nottingham Rock City (8th December)
---
Text by Chi Ming Lai
9th October 2012