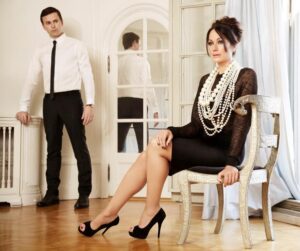 JULIAN & MARINA is a new Swedish pop collaboration between Marina Schiptjenko and Julian Brandt.
Marina – a famous Swedish art gallerist and style icon – is perhaps best known internationally as a member of the electropop band BODIES WITHOUT ORGANS (BWO), who had great success in both Swedish and European charts with hits such as 'Sunshine In The Rain' and 'Lay Your Love On Me'. BWO once played in front of some quarter of a million people during a single event in the Ukraine.
However, Marina was also an electronic music pioneer in one of the first Swedish synthpop bands ever; PAGE. They formed in 1980 and are still active. She was also later part of electronic band VACUUM.
Meanwhile, Julian has been involved in several indie pop bands like BOBBY and was a member of the classic Swedish new wave / new romantic band LUSTANS LAKEJER who had their third album 'En Plats I Solen', produced by JAPAN's Richard Barbieri.
It all started when Julian asked Marina if she would like to work on a song called 'Moon & The Stars'. The end result was enjoyably dreamy and reminiscent of ALPHAVILLE's 'Summer Rain'. Soon realising that they shared the same views on music and complemented each other well, they quickly decided to form a band together.
'Absence' is JULIAN & MARINA's debut EP, consisting of five tracks, with 'The Knight' as lead single. Inspired by classic French pop, great 20th century singers like Frank Sinatra and a love for electronic music, they have created their own sound – "electro crooner". This tag suits the distinct sound of JULIAN & MARINA very well. The music is quite laid back, soft and very elegant with Julian's very special soothing voice on top of it all.
Of the five songs on this EP, the more upbeat synthpop of 'Blocking The Line' and 'The Knight' are the highlights. The EP also features an atmospheric electro lounge cover of a virtually unknown ELVIS PRESLEY ballad called 'A House That Has Everything' which featured in his film 'Clambake'.
---
'Absence' is released by Pop On The Moon as a download EP and available now via Amazon and iTunes
https://www.facebook.com/JulianandMarina/
---
Text by Johan Wejedal
Additional Material by Chi Ming Lai
16th October 2012