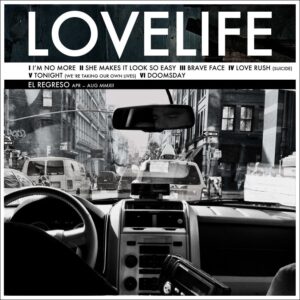 LOVELIFE are one-time MIRRORS man Ally Young and vocalist Lee Newell, formally of indie band VIVA BROTHER.
The New York based duo have been refining their concept in the Big Apple with a series of live shows that have included the famous venue Webster Hall, sometimes supporting critics faves THE NEIGHBOURHOOD.
Meanwhile, their musical fusion has been attracting a number of admirers with their most high profile collaboration to date being a remix for MAROON 5 on the track 'One More Night'.
Although still synthetic in nature, LOVELIFE point West towards more Trans-Atlantic climes after the distinctly European arthouse aesthetics of MIRRORS. It would appear though that former supporters of VIVA BROTHER are slightly bemused and clearly not enjoying this new direction with one blog Electric Banana saying "The new songs seem to indicate that LOVELIFE are a synthpop band. Christ!"
Young and Newell recently unleashed the first fruits of their labours, an EP appropriately entitled 'El Regreso' which in Spanish means "I return". The EP's highlight is undoubtedly 'Braveface', a chillingly rousing piece of mood music which comes over like OMD fronted by HARD FI! Here, Newell attacks with: "Never in my life have I met such a waste of air… I thank you for this hell on earth" – so could he be talking about the NME with whom he had a fractious press relationship? Never one to steer away from controversy, he amusingly told the Guardian: "You know what? Much as I love The Stone Roses, I was absolutely gutted they got back together because I thought: that's gonna keep NME in business for another f*cking year".
With the other tracks on 'El Regreso', the Cool Britannia meets Synth Britannia fusion continues with 'She Makes It Look Easy' and 'Love Rush'. One could imagine these two were perhaps once bluesy melodic rock numbers but are now swathed in electronics and vibey beats, punctuated by the sort of raw heavy soul vocals that come over like Noel Gallagher weaned on THE ISLEY BROTHERS.
The influence of hot buttered grooves and R'n'B flava on tracks like 'Doomsday' and 'I'm No More' certainly make for an unusual sounding synthesized template while 'Tonight (We're Taking Our Own Lives)' adds in some funked-up bass over its whirring organ vibrato.
LOVELIFE's genre blend may be confusing indie and electronic music fans, but at least it's taking a different slant from the expected sound spectrum.
---
'El Regreso' is available from LOVELIFE's website as a free download EP from: http://www.lvlf.info/
They also play the following live dates in New York:
Santos Party House (18th October), Studio Webster Hall (19th October), Bowery Electric (20th October)
http://www.facebook.com/LVLFinfo
---
Text by Chi Ming Lai
17th October 2012