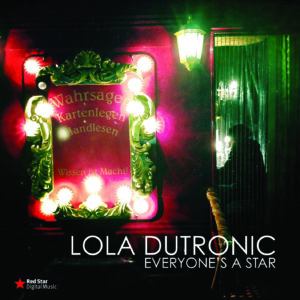 Following on from the Jean Luc Goddard soundtrack in the 21st Century mini-album of 'Musique' featuring the dreamy Martin Rev co-write 'Whisper', LOLA DUTRONIC's new long player 'Everyone's A Star' develops on their established JANE BIRKIN meets SAINT ETIENNE template.
The album's lead single 'Everybody Loves You When You're Dead' features backing vocals from Chris Frantz and Tina Weymouth of TOM TOM CLUB and TALKING HEADS fame. Of LOLA DUTRONIC's exquisite German vocalist Stephanie B, Weymouth said: "I wish she were our singer!"
The song itself is a bittersweet roll of honour wryly reflecting on society's obsession with flawed deceased characters. Michael Des Barres, one time live vocalist of THE POWER STATION and co-writer of ANIMOTION's international smash 'Obsession' commented: "Premature deaths may mean legendary status but there's a down side – you're dead! This witty, poignant song and clever video has a dual purpose – to entertain and enlighten. It does both".
Continuing a theme from previous EP 'New York Stories' which featured five CBGB era covers such as BLONDIE's 'In The Sun', 'Everyone's A Star' contains a trio of reinterpretations including a monotone take on DIRE STRAITS 'Sultans Of Swing' in the style of TRANS-X's 'Living On Video', a cute girl rendition of 'Girl On A Carousel' and an atmospheric electronic update of 'L'Amour Est Bleu', a Gallic pop tune which first found prominence by coming 4th in the 1967 Eurovision Song Contest.
Performed by Greek songstress VICKY LEANDROS for those perennial contest cheats Luxembourg, she eventually won the 1972 contest with the ultimate guilty pleasure 'Apres Toi'. Over the years, the Grand Duchy have engaged the services of Frenchman SERGE GAINSBOURG, Spanish maidens BACCARA and Belgian punk PLASTIC BERTRAND in their various attempts to win!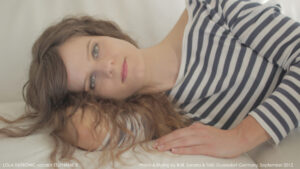 All the other songs are original tracks written by LOLA DUTRONIC main man Richard Citroen. Of those, there is the sublime ballad 'On My Radio', the sweet VANESSA PARADIS twirl of the title track and the breathy piano based dance grandeur of 'Last Night A DJ Ruined My Life'.. Meanwhile, 'Happy Birthday' sweetly borrows the chord progression from Pachelbel's 'Canon' à la 'Go West'.
Call it electro Yé-yé, LOLA DUTRONIC happily continue their heavenly tradition of chouchou et chichi sophistication on 'Everyone's A Star'.
---
With thanks to Marty Thau
'Everyone's A Star' released by Red Star Digital Music as a digital download and CD
http://www.facebook.com/pages/LOLA-DUTRONIC/80232595392
http://www.myspace.com/loladutronic
---
Text by Chi Ming Lai
20th October 2012