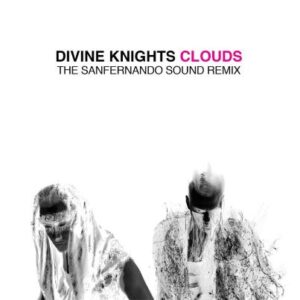 One track getting a lot of love following a preview on blogs such as Bop2Pop is DIVINE KNIGHTS' 'Clouds' remixed by THE SANFERNANDO SOUND.
Dark and dramatic, there is less emphasis on dance and more on dreamy atmosphere with the track coming over like THE SOUND OF ARROWS meeting a gothic PET SHOP BOYS! THE SANFERNANDO SOUND aka Jason Persad told ELECTRICITYCLUB.CO.UK about his collaboration with DIVINE KNIGHTS: "I remixed their track 'Clouds' sing only the vocals and adding all new synths. They liked it so much they have released it and made a video!".
The accompanying video for 'Clouds' is suitably monochrome and theatrical. For this, DIVINE KNIGHTS happily lay on the slap…
Comprising Gerard Anthony and Beef, the Sydney based duo have been described as "the future of Australian pop". Compared with their compatriots THE PRESETS, they are perhaps less full-on dance and not so Trans-Atlantic focussed. Indeed, an earlier DIVINE CLOUDS single 'Storm' from their debut album 'Midnight' indicates they are possibly the most European sounding act to have come from Antipodean shores with influences such as DEPECHE MODE, PET SHOP BOYS and BRONSKI BEAT whose 'Smalltown Boy' they have also covered.
Meanwhile, THE SANFERNANDO SOUND has been steadily building his portfolio with a number of remixes from his Manchester base including Matthew Duffy's cover of Pete Shelley's seminal MC8 driven tune 'Homosapien' and STARLINGS 'Dark Arts'. What is refreshing about Persad's remixes is that they manage to be danceable while not being overbearing and in-your-face which is one of the big headaches with modern dance oriented pop music right now.
---
DIVINE KNIGHTS 'Clouds (The Sanfernando Sound Remix)' is available via Amazon and iTunes
http://www.divineknights.com.au/
http://www.facebook.com/divineknights
http://www.facebook.com/thesanfernandosound
http://www.soundcloud.com/thesanfernandosound
---
Text by Chi Ming Lai
28th September 2012