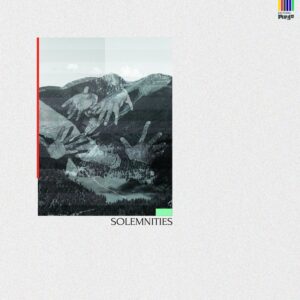 For Bristol-based Finlay Shakespeare, his interest in synthesizers came from his parents' record collection, with iconic music from the likes of JEAN-MICHEL JARRE, KRAFTWERK, THE HUMAN LEAGUE and JAPAN.
An independent musical device manufacturer, he founded Future Sound Systems, building modular synthesizer components, predominantly for the Eurorack format.
But with his own music, his complex modular construction and anxious theatrics were inspired by Warp Records stalwarts AUTECHRE.
With a crystal clear modular synth sound coupled to claustrophobic vocals like they were buried in a box in the manner of FAD GADGET, among those impressed was Neil Arthur who invited Shakespeare to tour with BLANCMANGE in 2019. Live, he possessed the persona of a restless IT technician, delivering a hybrid of THE FAINT, THE KILLERS and THE BRAVERY dreaming of wires rather than guitars.
The material on his debut album 'Domestic Economy'
was initiated by improvisation whilst being recorded live, with one of its highlights 'Amsterdam' being an example in modern Motorik. But 'Solemnities'
is a definite progression, offering more shape and structure than its predecessor, but maintaining a distinct post-punk anguish.
Finlay Shakespeare said on Twitter: "Many of these tracks are becoming weirdly prescient with the current situation. I hope it'll bring some degree of comfort, but simultaneously bring about some kind of call to arms. Things have to change and soon."
The opening track 'Occupation' is superb, a metronomic squelch fest about social injustice which sees an angry and impassioned Shakespeare conduct a raucous avant noise experiment in song with penetrating noise percussion and icy retro-futuristic string machines.
The following 'Fortune' sounds almost synthpop in comparison; rather like Daniel Miller, Eric Random, Chris Carter, Thomas Leer and Robert Rental morphed into one, it is cold enough to be credible but melodic enough to have been in the charts back in the day alongside John Foxx, Gary Numan and Dindisc-era OMD.
'The Information' recalls THE HUMAN LEAGUE when Martyn Ware and Ian Craig Marsh were helming the instrumentation, particularly 'The Path Of Least Resistance' although with more of a percussive groove.
However, as the synths starting ringing, it steadily mutates into Da League MkII with echoes of 'Love Action'.
Moving at a more energetic pace and with Shakespeare's honest vocals complimenting the backdrop, 'Second Try' makes good use of a tight pulsating bassline and synth generated rhythms like THROBBING GRISTLE reworking KRAFTWERK's 'The Robots'.
The banging techno punk of 'Crisis' is hypnotic and poignant to the current world health emergency, embroiled in a wall of thrusting energy, electronic voice approximations and screeching synths for something oddly euphoric. Its urgent on-message vocal charge isn't far off from being an electronic take on THE JAM; an odd comment maybe but what's not widely known is that Paul Weller was a fan of the John Foxx-led ULTRAVOX!
'Fantasy' is less shouty and more haunted vocally for what could only be described as an industrial ballad. The eerie electronic texturing and a multi-tracked choir of himself then mutates into a crystalline passage driven by heavy militaristic drum samples and ending with the blast of a deep synthetic kazoo section!
The metallic shiver of the frantic 'She Says / Nothing Ends' closes with a sub-eight minute epic. At times, it does sound like a range of crockery is being bashed in the manner of DEPECHE MODE's 'Shout', but as the track builds with layers of sequenced electronics and Shakespeare's snarling voices, it verges on being almost trippy like a banging trance version of THE FAINT.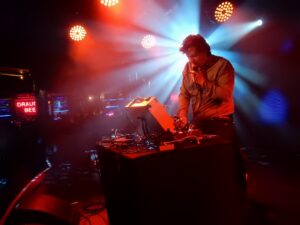 Wrapped in a marvellous dynamic tension with a balance of melody and freaky angst, Finlay Shakespeare delivers a fresh take on the experimental side of Synth Britannia that is strangely pop, but will satisfy those seeking more of a colder mechanised edge.
'Solemnities'
contains a captivating mixture of flavours that work well together, capturing the intense spirit of his live performances.
There are a number of acts being hailed as the new saviours of electronic pop, but Finlay Shakespeare is the real deal, a gloriously wayward soul who simultaneously is also intriguingly disciplined.
---
'Solemnities' is released by Editions Mego in vinyl LP and digital formats, available now from https://editionsmego.bandcamp.com/album/solemnities
https://www.facebook.com/FinlayShakespeareUK/
https://twitter.com/FinShakespeare
https://www.instagram.com/finlayshakespeare/
https://www.futuresoundsystems.co.uk/
https://open.spotify.com/album/6ULuwiMRH1q4lm5scs6KHb
---
Text by Chi Ming Lai
Photos by Rob Davison and Chi Ming Lai
24th April 2020