As prolific as ever, Neil Arthur has a new BLANCMANGE album set for release in May 2020.
Entitled 'Blancmange'
, it will be the eighth full length long player of new material since 2011's return with 'Blanc Burn'.
Despite their success, Neil Arthur and Stephen Luscombe only released three albums during their original heyday which began in 1982 with the hit single 'Living On The Ceiling'.
While BLANCMANGE are also known for their cover of ABBA's 'The Day Before You Came', Neil Arthur has also notably reinterpreted CAN and CHIC.
When Stephen Luscombe was unable to continue with BLANCMANGE due to illness after 'Blanc Burn', Neil Arthur continued alone, working on other projects such as NEAR FUTURE, FADER and KINCAID while driving his main vehicle in parallel.
In his tenth interview with ELECTRICITYCLUB.CO.UK, coinciding with the tenth anniversary of the site, Neil Arthur chatted about his mindset, his music and his motivations…
Does 'Mindset' have a concept?
It's not a concept album. Lyrically with the title song, there's a part that says "so much for giving, so much for taking…" – it has two meanings, there's looking for truth, so I'm saying "so much for giving" but that could also be "so much forgiving…", I felt that set the tone.
I'm on a bit of a journey where I'm looking for truth, where you think about the mass of information and misinformation that's around, and somehow we've all got to make some sense of it. Even if we don't choose, we're filtering things all the time, this "what's going on here?".
This isn't just in a virtual reality world, it can be applied to the way people end up being acting themselves or socialising. It's not all bad, but I'm observing stuff and looking for other worlds at the same time we're living in this one, several things at once and questioning how people react with others, how they're feeling about themselves and how that impacts on other people.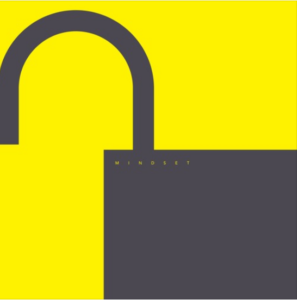 Has politics affected you?
Right back to 'Happy Familes'! Listen to the link between 'Wasted' and 'Living On The Ceiling'! *laughs*
Back then, we were writing pop songs but I haven't changed my tact on that in a way, but I'm not really writing singles now for a record label. But of course the politics and recent events have affected me sonically as well as lyrically.
I'm an artist and I observe what's going on around me, for better or for worse, I reflect that. But I don't have a soapbox to stand on or find it particularly easy, but this is the way I get my thoughts out. There's ambiguity in there as well so you can take things in many different ways. There's a lot of choruses on the album, I deliberately wanted them on quite a lot of the songs, there's more structure, it's not all of them but that was my general approach with the music and I wanted some of the sounds to convey what I was saying lyrically.
So for example, there's a song called 'When' and the chorus goes "When is anything about what it's about?", so I'm asking the question… you know when somebody says something to you? You could take them at face value and you can trust that and it's great… but sometimes, when somebody screams and shouts, you're thinking "what's going on here?" and of course, you don't know half the story. What you're getting is what you're receiving at the moment…
All the way through the song, there's the sound of a panic alarm, it's musically there to represent a state of panic. So they're not only trying to deal with their own emotions, but whoever else is offloading their baggage onto them.
The first single is the 'Mindset' title song and it's very band sounding with that staccato Velvets / Bowie piano and guitar, but then those psychedelic vibes clash with that arpeggio during the close?
I write a lot of songs on guitar but it doesn't always end up on the album. While we were doing this, Benge and I had a chat and he felt the very simple guitar part really needed to stay, as he thought it was fundamental to what had been written. With the instrumentation, I wanted a repetitive piano thing which was slightly and deliberately out of time now and then, and also an odd note like a 7th. The one reference that was definitely discussed was NEU! and that period when Michael Rother first went solo. It sent us on a creative journey and I ended up going away to listen CAN again. It was good fun to put together, but most of the time, we took stuff out rather than adding.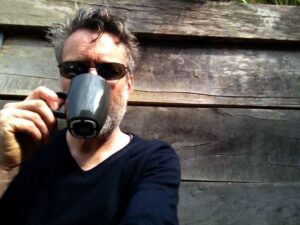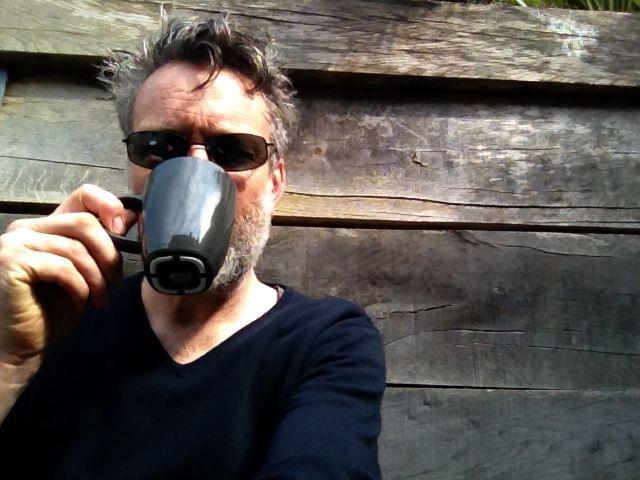 'Clean Your House' though is very synthy with that bubbling bassline and those gated pulses…
It has a really simple synth line and gets busy on the outro but we tried to keep it reasonably empty so that there was a dynamic emphasis on the chorus when that arrived.
Lyrically, you could say it's reflecting on events of recent times or you could it slight more personalised like a relationship.
'This Is Bliss' appears to be a musical relative to 'Clean Your House', but adds a trancier element perhaps not heard a lot on previous BLANCMANGE songs?
Maybe I should have added a question mark, y'know 'This Is Bliss?', is this it? Or again, this IS bliss. I spend a lot of time playing with words and moving them round with the music, if it doesn't need anything else, it's best to leave it like that. With the music, it's very stripped down.
In terms of the content, I wanted to have a good groove to it and I thought if we can make it work with the least amount of elements, it might have a chance. I didn't want to add little bits to it, you can but it would be very difficult to keep simple. So when the chorus comes in and repeats itself and does the breakdown, the lyrics become a musical noise, so it takes you into that trance thing. Its original title was 'The Lost Wallet Experiment' and now it's called something in the chorus which is 'This Is Bliss'! *laughs*

You are working with Benge again, did you find any gear that had been new to you that fascinated you?
We had a Polymoog on it, one of things we had to do was keeping it in tune, there were a few issues with it but Benge got it absolutely spot on.
The Buchla was doing some rhythm parts, there's a Jupiter 4 and a Jupiter 6 on the album, some nice unique stuff.
Benge's band OBLONG are opening on the first leg of the tour, 'The Sea At Night' is a rather good album…
Yeah, I like both their albums, that and 'Indicator' the one from ten years before that. Great sounds on them, there's going to be more people with the opening act than will be with the main act! *laughs*
Is there a reason why you tend to tour in small chunks around weekends rather than whole weeks at a time?
Yeah, I want to go home! *laughs*
I'm looking forward to taking 'Mindset' on tour, but as you know, I don't like the miles. A lot also depends on the venues and their availability. There's all sorts of reasons but if you can do a Thursday-Friday-Saturday, it's a lot better than doing a Monday-Tuesday-Wednesday in terms of footfall, that comes into it.
From my point of view, I've done long tours and I'd much rather do it like this without a doubt.
The likely demographic for BLANCMANGE tends to not want to go out on a 'school night' but can handle Thursdays-Fridays-Saturdays… *laughs*
Yes, that comes into it. It's difficult because there are some areas where it wouldn't make so much difference, but in general, it's better to do a Thursday-Friday-Saturday, Saying that, we do get some younger inquisitive people coming along who are getting into BLANCMANGE because of younger DJs who are playing the music. It's funny because we notice that little pockets of them are all dancing while other people are going "What are people dancing for? We want a seat!" But they're all very welcome *laughs*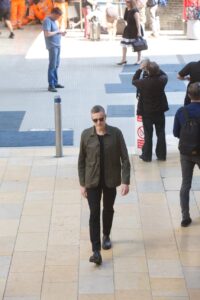 There's an Roman Flügel remix of 'Living On The Ceiling' that's just come out and an upcoming remix of 'Blind Vision' by Honey Dijon as part of 'London Remixed', are you happy with how they've turned out?
Yes, I particular like the Dub mix that Roman's done. I was very flattered because I really like his work. And to get Honey Dijon to do 'Blind Vision', I've heard the test pressings and what she's done is phenomenal. The thing is, for some people, the mix of 'Living On The Ceiling' that was done all those years ago is always going to be THE MIX.
Nobody is trying to make it better, it's just another interpretation. And if you can introduce another audience to your music by doing that, then so be it. Nobody is saying "this is how it should sound", it's just an interpretation, it's only a bit of music and you shouldn't get too carried away with it. I'm flattered they wanted to do it but of course, I'm being paid for it *laughs*
I'm all for different stuff, you know me, I'm not that nostalgic, for me, nostalgia is history without the guilt. I'd much rather deal with the history, deal with the guilt… yeah, all these things happened, it's not sometimes quite how you'd like to remember it, it was slightly different y'know. I'm also very much interested in the future.
Looking back on your return in 2011, how do you look back on the body of work running from 'Blanc Burn' to 'Wanderlust'? Any personal favourites?
I don't have a favourite as such. I feel lucky I get to do what I do and I look forward to doing more. I really enjoying working with Benge on BLANCMANGE and FADER, I would love the opportunity to take the FADER project out live. In terms of a musical moment I am most proud of, that was when I stood on stage with my son for the first time in Liverpool Arts Club, when Joe under the name KINCAID, opening for CREEP SHOW on tour. That was a really significant moment for me.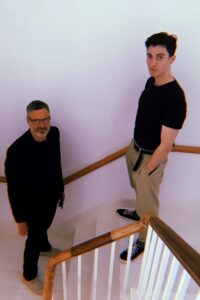 Has it been better than you thought it would be?
There's been a few surprises, I'm quite a nervous person, sometimes I feel more comfortable on stage than I do off it.
I was very nervous about coming back with BLANCMANGE. I didn't know what to expect or whether it would be just one album. The opportunity came along but Stephen had to stop doing what he did for health reasons and it gave me a kick up the arse to get on with it, which thankfully I did.
It was very different because I had been signed to a major record label, this is no disrespect to London Records because this is how all labels operated back in the day, I have a lot more control now over everything that we do, albeit on a much smaller scale.
I am under no illusions that I will have huge success, I am very happy doing what I'm doing. And if people are interesting in buying, or listening or coming to a show, that's fantastic. I'm doing it because it's my job, I need to work and earn money, and this is a great way to try and do that. It's tough without a doubt, you've got to do a lot of legwork and but I don't mind that.
As long as I can, I'm going to keep doing it, it's not easy but I think I enjoy it a bit more now than I did in the 80s. And I think I'm more appreciative… I was then, but even more so now.
---
ELECTRICITYCLUB.CO.UK gives its warmest thanks to Neil Arthur
Special thanks to Rosalia Ferrara at Hush PR
'Mindset'
is released by Blanc Check on 22nd May 2020 in CD, vinyl LP and digital formats
BLANCMANGE Rescheduled 2021 'Mindset' tour includes:
Tunbridge Wells Forum (11th September), Colchester Arts Centre (16th September), Norwich Arts Centre (17th September), Birmingham Institute 2 (18th September), Gloucester Guild Hall (23rd September), Exeter Phoenix (24th September), Nottingham Rescue Rooms (25th September), Blackburn King George's Hall (29th September), Newcastle Riverside (30th September), Edinburgh Liquid Room (1st October), Glasgow Oran Mor (2nd October), Southampton The Brook (13th October), Bristol Fleece (14th October), Northampton Roadmender (22nd October), Manchester Club Academy (27th October), Leeds The Wardrobe (28th October), Liverpool Grand Central Hall (29th October), Brighton Concorde 2 (17th November), Harpenden Public Halls (18th November), Cardiff Portland House (25th November), London Under The Bridge (26th November), Shrewsbury Buttermarket (27th November),
https://www.facebook.com/BlancmangeMusic
https://twitter.com/_blancmange_
https://www.instagram.com/neilarthur/
---
Text and Interview by Chi Ming Lai
19th February 2020, updated 21st May 2021