BLANCMANGE's Neil Arthur is probably the most prolific man in electronic music at the moment.
Hot on the heels of 2017's 'Unfurnished Rooms' comes 'Wanderlust', an album which sees a more expansive sonic palette after the minimalistic approach of its predecessor.
Co-produced again by Benge, the synth collector extraordinaire best known for his work in JOHN FOXX & THE MATHS, WRANGLER and CREEP SHOW, it sees the continuation of a productive relationship which has also led to artists such as John Grant and Hannah Peel contributing their talents to the BLANCMANGE cannon.
Although best known for hit singles like 'Living On The Ceiling', 'Blind Vision' and 'Don't Tell Me', since the return of BLANCMANGE in 2011, there have been no less than six full length albums released, twice as many as there were during the first phase… and all this without including Neil Arthur's side projects FADER and NEAR FUTURE.
In a break from making preparations to head out on another concert tour this Autumn, Neil Arthur kindly chatted about the making of BLANCMANGE's latest opus.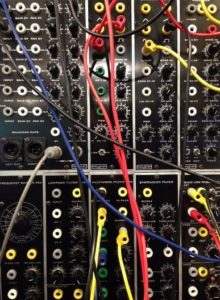 'Wanderlust' comes over as possibly one of your best bodies of work during your 21st Century comeback? What are your thoughts?
I'm just digesting what you just said!! *laughs*
It's difficult from my point of view to answer that question because obviously, I'm very close to it and it's not long since I've finished it. I'm about to dissemble and deconstruct the whole thing to understand it in a different way to take it out on tour.
As far as writing and producing it, you're always learning. I don't want to repeat anything really. You're always looking to surprise yourself and if it continues like that, I'm happy.
I don't really have a formula, I'm just following my nose. I know it's a bit dark and I'm not writing; even in the old stuff like 'Blind Vision', ok it was a pop song because it had dance grooves in it, but it's not exactly a happy song. Neither is 'God's Kitchen' or 'Feel Me' or 'I've Seen The Word'.
The sound is sort of fuller, a bit more expansive maybe?
I don't like putting too much in, like with 'Unfurnished Room's which was pretty minimal at times, there was a deliberate thing to really strip back. But with 'Wanderlust', I didn't concern myself so much with that, although me and Benge didn't put anything on it that wasn't needed. If each individual part can't stand up, you don't put something over the top to cover it up!
What I did was write the songs and send them down to Benge… we started replacing some sounds but my guitar stayed. Although David Rhodes is playing on one track, he didn't do the others because Benge felt the guitar was working and served the purpose. With each of the synths, quite often we would replace but not add, we were just looking for better sounds. Benge is an analogue synth master, he has access to all this equipment but we don't use everything.
Were there any particular synths you'd not used before that you got to play with?
We used a Canadian synth called a Modcan and I'd never even seen one before, plus we used a Putney and I played it with the joystick on 'Gravel Drive Syndrome'. There's also a Butler 100 which I remember we used on the 'Wanderlust' track itself.
There are probably more verses and choruses on this album, it just came out that way although lyrically, I'm just carrying on my not-so-merry way. I'm trying to be as honest as I can, I feel so lucky to be able to do what I want to do, for better or for worse, exactly how I want it.
Putting it together is so exciting. Some of the synths we use never sound the same twice! *laughs*
Has some of the sonic progress come because you are now comfortable working with Benge as this is your third album together? Is he now someone you can trust to bounce off and realise your ideas in the way you did with Stephen Luscombe?
It's a very different situation, I don't think there's any comparison actually. Studios were very expensive back then and we only got in there when got a big record deal. Today, technology and the digital process allows you to do a lot of stuff as prep to take into another environment like the fantastic space Benge has, and that frees you up because you're not clock watching. But we don't just spend endless weeks there, Benge has lots of projects on, so we do have to think quite carefully about how to get all this done.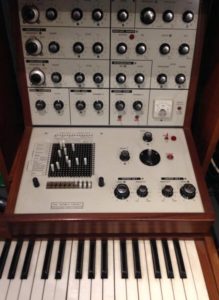 You make decisions quickly and stick with it, which is not a bad thing. You have to let stuff go, you could fiddle around forever and maybe make it better, but how much better?
When I work on FADER with Benge, it's completely different approach because whereas with BLANCMANGE, I write the embryonic songs and I take them to Benge so we develop them further. In FADER, Benge will send me the embryonic musical idea and I'm reacting to what he's given me.
Aspects of that are how me and Stephen would work. But we'd rarely sit and write a song absolutely together ever. It could be Stephen would come up with an idea and I'd react to it, or I'd come up with an idea and he'd react to it. Sometimes, one of us would write most of it on our own and then offer it into the pot.
'Distant Storm' is unusual with its dance beats and arpeggios, it has an almost spiritual quality about it?
Sometimes you're writing, you think "oh, I should do something with more dancey grooves" and quite a few songs start off like that; 'Last Night (I Dreamt I Had A Job)' from 'Commuter 23' started as a loop and developed from there but it doesn't tend to extend through the album.
But this time, I wanted to do more dance grooves, 'Insomniac Tonight' which is not on the album was one and 'Distant Storm' was another; I wanted to sing it as though it was really detached with my voice being synthesized. So the song went down this route, we had a sequence going and Benge added another one to it and dropped it down so it went to nothing. KINCAID has done a remix which is sounding terrific.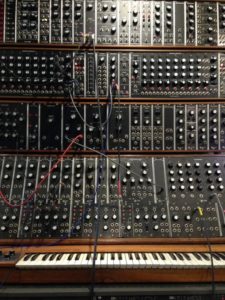 'In Your Room' is a nice bit of robopop? Was it influenced by anyone in particular musically?
That started life a number of years ago and I kept it on the backburner, it felt right for this album. The intention was to leave it pretty minimal… lyrically it was about being content with something quite simple, to keep away from being out there, of being in your comfort zone. The idea came from when I used to visit my partner when she was a student, that to be together was enough.
With those two, you play with vocal treatments a lot, something which is quite prominent on the album overall including the closing title track?
On 'Wanderlust', we used a Roland vocoder to treat some of the vocal parts in the latter part of the song and we felt it worked better at that point. You sometimes have to back off a bit and give a bit more space by changing the sound of the vocal, to create a more interesting type of vista sonically.
'Not A Priority' is like gloomy KRAFTWERK, I first thought those female backing vocals were you pitch shifting yourself and then I found out it was Hannah Peel!!
Ha ha! Hannah's going to be well pleased when I tell her that! *laughs*
The idea of this was to keep it really simple and I wanted the music to carry the voice and storyline, so it's borderline minimal wave. I wanted the vocal to be a straight delivery and it was Benge who suggested Hannah to sing higher register backing vocals. When she sent it back, she'd added vocal treatments other than on the chorus, so we used some of those which was fantastic.
I'm happy for people to have their own interpretation and if I start saying "this is what the song is about", it's a bit like telling you the last page of a book before you'd read the first, I like people to make their own minds up.
It drives me nuts when I see people living their lives in certain ways on social media, you're thinking "hold on a minute, what about the rest of the people? Ease up a minute!"
There's this feeling of a lack of empathy in the world and sometimes, you get the impression that people don't see each other as equals in so-called friendship situations. I think a lot of this is down to the things that can be said without feeling the ramifications of what's been said, for example via social media or text message or email. They're very impersonal but to the reader, they can carry a massive weight. It's very easily misconstrued.
Beyond that, in friendships, there are feelings where it's not reciprocal, there's not a balance. We all deserve to be respected, it's an extension of that but you get the impression some people value themselves higher than certain friends. It's very easy to distance themselves from the reality of what's going on.
People will say things in a text message what they wouldn't be able to say looking you in the eye. How did you think I was going to feel? It's going to be much better just to have a talk about this.
'Talking To Machines', continues your love / hate relationship with smart phones and what is now becoming anti-social media?
There's the ambiguity there. Everybody's had this experience to try and deal with anything from banks, government departments or whatever it might be, you've got to go through this Kafka-esque nightmare just to get to the person you want to talk to. So there's that which is on a sort of superficial level.
But there's other side of it when you could be having a conversation with somebody and you might as well be talking to a f***ing machine and they're in the same room as you, it's like talking to a brick wall! *laughs*
I like the idea of how we do talk to a lot of machines these days, but we interact with them. I mean, I've made a lot of music with them and I love it, I talk to them and they talk back to me. My reference for the music was actually PLASTIC ONO BAND and a bit of THE FLYING LIZARDS! There's a good and a bad thing…
'TV Debate' covers politics and nobodies becoming celebs? There's rather a lot of it at the moment!
I gave myself a bet that I could get Jacob Rees-Mogg, the b*stard, into a lyric! Smarmy b*stard! *LAUGHS LOUDLY*
I was listening to the radio one morning rather quietly and the bits I picked up, these words came out and I thought "I'm going to have them!". I had been listening to some Northern Soul so when it got to the chorus, I thought I'd put that sort of rhythm on it and it went from there, this kind of poem that found itself in a song. It's just disjointed fragments of observations.
I like what you've said, but the intention is to provoke some thoughts. I'm creating imagery and now I've got politicians doing a conga, it's a mess! We're a nation who watch cookery programmes but can barely cook!
You are extremely prolific and have now done twice as many BLANCMANGE albums as you did in your first phase, and this does not include NEAR FUTURE and FADER. How do you do it?
I am driven to write, it's my art and I want to be creative. It's one of the places I'm happiest and most comfortable. I'm bloody lucky to get to do it because I have a fantastic manager who helps create situations where I'm able to collaborate with new people, like Jez Bernholz and Benge.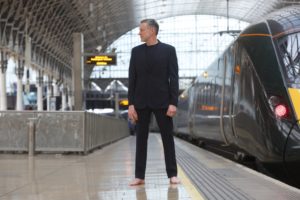 I have no intentions of stopping and will do it as long as I am able to in the future. Within reason because I have my own label, we release when we want to. I'm not thinking about having to write singles and I'm not a young man anymore, I don't do a lot of interviews or many photo sessions, all these things. But I'm happiest writing. although I love performing live… I don't particularly enjoy touring, but enjoy the bit on stage.
Although I did a lot of stuff in the intervening years after BLANCMANGE first stopped, I'm catching up in what I think is unfinished business, I'm just in a position where I'm experimenting all the time. I do what I want and it's a bonus that some people like it. I absolutely love collaborating, I'd advise anybody to do it.
With two albums released in two years, that must throw up some interesting conundrums with the setlist for the upcoming tour? How much flexibility can you give it in terms of pre-programming and learning new songs?
A good question! I don't have a direct answer, obviously I'm promoting 'Wanderlust' so there will be a number of songs off there, and I haven't decided which ones yet. We're going to do a couple from the last album, but I'm thinking of a couple of surprises from several decades ago and giving them an airing. There will be the usual suspects because I know that the dedicated audience who come to see us, although they embrace the new material, they really enjoy hearing some of the old stuff.
It will be a balance, I've got quite a catalogue now as well as the stuff Stephen and I did all those years ago, so there's a lot of songs to choose from. We normally do about 22 songs in rehearsal and a couple don't make it but they're there in case we decide to change it while were on tour.
But once we're there, we tend to jiggle it round and then it's bedded in and that's how it's going to be.
---
ELECTRICITYCLUB.CO.UK gives it sincerest thanks to Neil Arthur
Additional thanks to Steve Malins at Random Music Management
'Wanderlust' is released by Blanc Check on 19th October 2018 in CD, vinyl LP and digital formats, pre-order from http://blancmange.tmstor.es/
BLANCMANGE 2018 'Wanderlust' tour includes: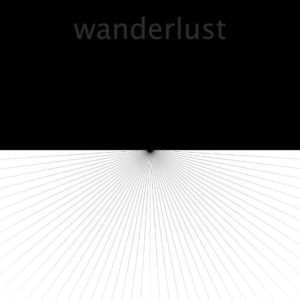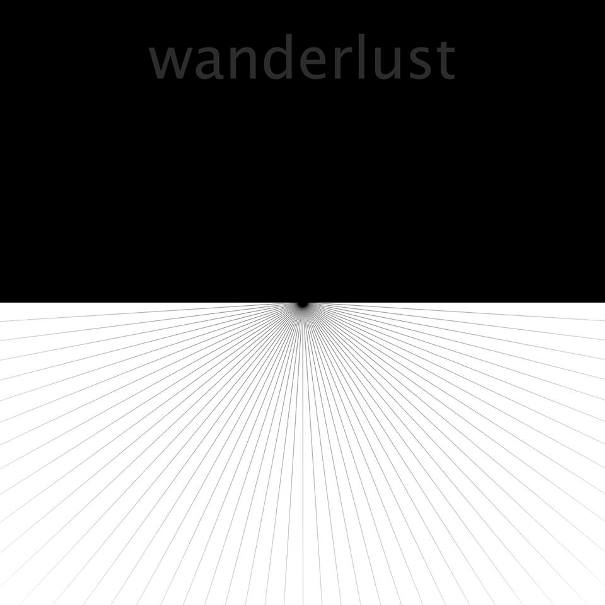 Norwich Arts Centre (1st November), Nottingham Rescue Rooms (2nd November), Cardiff Acapela (3rd November), Bristol The Fleece (4th November), Darwen Library Theatre (7th November), 8 Edinburgh Voodoo Rooms (8th November), Glasgow Oran More (9th November), Newcastle The Cluny (10th November), Brighton The Old Market (15th November), Southampton Brook (16th November), Dover Booking Hall (17th November), Wolverhampton Robin 2 (22nd November), Gloucester Guild Hall (23rd November), Northampton Roadmender (24th November), Leeds The Wardrobe (29th November), Derby Flowerpot (30th November)
https://www.facebook.com/BlancmangeMusic
https://twitter.com/_blancmange_
---
Text and Interview by Chi Ming Lai
Portrait Photos by Piers Allardyce
Studio Photos Courtesy of Neil Arthur
3rd September 2018