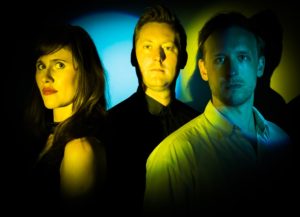 With their brand new album 'Kinetik', pop trio EKKOES are continuing their upward momentum following a prestigious slot opening for THE HUMAN LEAGUE on 2016's 'A Very British Synthesizer Group' tour.
Comprising of Jon Beck, Dave Fawbert and Rosalee O'Connell, EKKOES released their well-received debut album 'Elekktricity'
in Summer 2016.
Three of its tracks were co-written and co-produced with MARSHEAUX's production team FOTONOVELA, while respected Berlin based remixer Mark Reeder has been a notable champion of their music.
The new album's launch single 'You Got The Light' is a catchy slice of shiny electronic pop which could be their most accomplished yet, while the rugged drive of the bittersweet 'Love Won't Save You Now' maintains EKKOES' aim for "maximalism". That ambition continues in abundance with the seven and a half minute title track.
A North West vibe emerges with 'When You Wake' on which O'Connell sings the verse lead, the guitar and synth backing echoing THE RAILWAY CHILDREN in their latter day Virgin guise.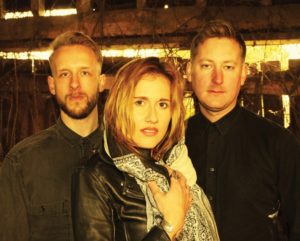 The vibrant Italo house flavoured 'Victim Of Love' is not a cover of the ERASURE song but is equally danceable, while the spirit of PET SHOP BOYS can be heard loud and proud on 'Without You I'm Nothing', complete with muted synthetic trumpet solo.
Dave Fawbert from EKKOES kindly took time out from rehearsals for their album launch gig in London for 'Kinetik'
to answer a few questions about their career to date…
What influences shaped the EKKOES sound?
It's the clichéd answer but really it's a combination of everything that we've ever listened to. You can write something and then realise later that it's based on a snatch of lyric or melody from some long-forgotten hip hop track you listened to back in 1997 or something.
But I guess the artists we love the most come through the strongest: the pure pop songwriting of the likes of PET SHOP BOYS, ERASURE and Max Martin, the sonics of NEW ORDER and newer stuff like CHVRCHES, the precise guitar playing style of Johnny Marr, the atmospherics and beauty of SIGUR RÓS, a touch of MASSIVE ATTACK, the beats of LEFTFIELD, the euphoria of great trance – it's all in there somewhere.
How did the dual male / female vocal template emerge?
Myself and Jon have always made music together and EKKOES was formed out of the ashes of a previous band – we just decided to do something new where it was just the two of us and we didn't have to rely on, or wait for anyone else to do what we wanted (that went as far as me making the decision to learn how to produce as well, so we could literally do everything ourselves), so we didn't initially plan on having any vocals other than Jon's.
But we briefly worked with the legendary manager Jazz Summers – just before he had to step back from music due to illness – who suggested we try adding a female vocal into the mix. Rose was the first person to apply via a good old-fashioned rehearsal room advert, we tried her out on a couple of tracks (I think the first one was 'Last Breath', which ended up being our first album opener), and we liked what we heard – it just added that extra lift and dynamic to the songs. Now it's hard to imagine our sound or songs without her.
In terms of writing and production, what is the creative dynamic between the three of you?
I'm a bit of a lone wolf when it comes to getting songs off the ground – I've tried co-writing and I find it quite difficult to have the confidence to experiment and work through a load of absolute rubbish, often for hours, before getting something great.
So usually I get a song 70% done on my own first and then take it to Jon, who'll suggest improvements and changes, and then we usually work on the lyrics together before finishing off the rest of it.
We've written together for a long time and we can be very honest with each other – virtually every suggestion he makes ends up being the right one. Rose usually comes in at the end and works on the harmonies and extra backing vocals to take it to the next level – she's a true pro and has a great ear for exactly what will work and benefit the song.
How did you come to the attention of Mark Reeder who then subsequently gave you your first official release with his remix of 'Ice Cold' on his 'Five Point One' album?
'Ice Cold' was the first track we ever stuck up on our Soundcloud and it was picked up by a blog called Electronic Rumors, who were big early fans of ours and passed it on to Mark Reeder cos they thought he'd be a fan. Lo and behold he was, and ever since has been a valued and enthusiastic supporter of ours. When he asked if he could remix the track for his 'Five Point One'
album, then of course we were hugely flattered and said yes… it's worth noting that this remix is credited to our old spelling of ECHOES – we should get that changed on streaming services actually!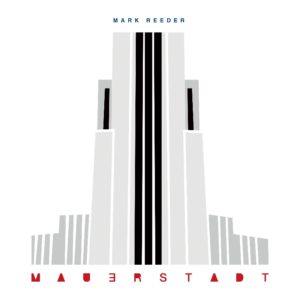 You did a couple of new tracks 'Electricity' and 'Heartbeat' recorded with Mark Reeder that were released in 2017, how was it to be working with him again?
Those songs actually came about while we were putting our first album, 'Elekktricity', together – we looked at Mark being the producer of the record and gave him those two songs to work on. We loved what he did with them, but ultimately decided that we wanted the first album to be self-produced – I think we'd spent so long working towards it that we just wanted it to be our 'statement' of exactly who we were.
In the end, it was quite lucky really, as neither 'Electricity' nor 'Heartbeat' ended up on the album, as they didn't quite fit with the other songs, so when Mark asked if he could use them for his 'Mauerstadt'
album, it meant that they were nice new songs to bridge the gap between 'Elekktricity' and 'Kinetik'. Our original version of 'Electricity' (which was mixed by the guys from SEEB, before they got mega famous with their brilliant Mike Posner remix) will be on 'Kinetik'.
You also entered into a collaborative partnership with George Geranios and Nick Bitzenis aka FOTONOVELA who produce MARSHEAUX, how did that happen?
We originally got to hear of George Geranios because he wanted to release our first album in Greece on his Undo Records label whenever it was ready. Then Wall of Sound came knocking and, with George being a huge fan of Mark Jones, he then said he'd be happy to just licence it in Greece from WoS.
That never ended up happening which was a shame (more on that in a minute) but while we were waiting for things to be sorted, he asked us if we wanted to work on a track together for his new FOTONOVELA album, 'A Ton Of Love'. He sent us some backing tracks as a starting point and we wrote 'Fight The Feeling' by chopping one up, rearranging it, writing the melody and lyrics and adding extra stuff to it. We were so happy with it we asked George if we could keep it to be the lead single for our own album and he said yes – but we said we'd do another one for their album.
Well the same thing happened again – twice! We wrote 'Heaven' and 'Last Breath' and asked if we could keep those too; luckily, George, being a lovely guy, said yes! Finally we wrote 'Arrows' and George and Nick got that one for 'A Ton Of Love'. We also asked them to do some extra production work on 'You Just Walked Away' – a song that we re-recorded about five times before arriving at a final version, and their finishing touches were exactly what was needed.
EKKOES had a few label upheavals which led to a delay in the release of 'Elekktricity', how do you look back on what happened?
I won't lie – it was enormously frustrating for us. We were signed to Wall of Sound and we had the album ready to go for around 18 months before it eventually came out – we waited and waited for label issues to be sorted out and eventually we realised that we'd be better off just going on our own.
We will always be grateful to Mark Jones though – we wouldn't exist were it not for him… not long after forming, we bumped into him on Oxford Street just before we did what we thought would just be a one-off gig before we went off to do other things, and he asked us to send him our songs, so we thought there might be something in what we were doing after all. But yeah, it's a shame we couldn't have released that album earlier than we did – but we got there in the end.
What would you advise new acts to do with regards whether to go with a label or not?
That really is a difficult question to answer.
It's never been easier to release stuff yourself (and to record and produce it yourself) but the big problem is how to get anyone to take any notice?
Ultimately the big labels still control most of the access to radio and big streaming playlists – and they have the cash that sometimes you need to get off the ground.
If a good label approaches you with a sensible deal and an A&R that gets what you're trying to do and will support you through ups and downs, then signing a deal can still be a very positive thing.
On the other hand, there are countless acts that have signed deals and then something changes at the label and they never end up releasing anything, get dropped, and finish, having never achieved anything.
Either way, the bigger you can make yourself and the more work you do before going with a label, the better deal you'll be able to command, and the more artistic control you'll have. And, of course, if you can get popular without a label, then you'll make a hell of a lot more money as you own everything.
Some good friends of ours, a band called THE DAYDREAM CLUB, have racked up millions of Spotify plays releasing totally independently, so it can be done – but it's not easy, and you need patience, commitment and no small slice of luck. We've been lucky to release independently (KIDS Records is my own label, which I released stuff by lots of great artists on since 2005) but have the odd touch of help by people with industry connections to kickstart things – like Mark Jones, Mark Reeder and our manager Simon Watson.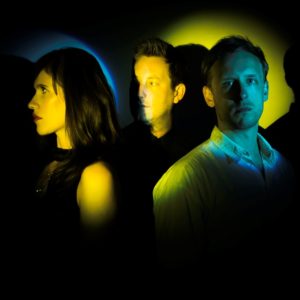 You opened for THE HUMAN LEAGUE at the end of 2016, what was the experience like for you to actually go on an extensive UK and European tour?
It was nothing short of incredible from start to finish. It was everything we've ever wanted to do. Over the course of our band – and ones before this one – we've often been promised stuff that has never materialised, so we learned not to get our hopes up, lest they be dashed at the eleventh hour. Right up until the tour started we were convinced it was all going to fall through; that we'd be replaced, or one of us would break our arm or something.
So the first show, in a snowy Stockholm, was amazing for us – just to get through the gig, our first to crowd of that size in a very long time, and our first outside the UK. Of course, once we'd made it through without disaster, the next task was to actually get the set to be as good as it could be – there's nothing like a run of gigs to enable you to sharpen every aspect of a set, from the music itself to the stagecraft. I remember by about the fourth or fifth show suddenly realising that I'd played the whole set without even thinking about what I was actually playing with my fingers, or worrying about it – I'd just been enjoying it and putting everything into the performance, and that's an amazing feeling, to be in total control of what you're doing.
The show in Berlin was particularly memorable – to play in such an iconic city of electronic music supporting pioneers of the game – I remember playing the first chord and then thinking, "well, if I drop dead now, I can still say I played a gig in Berlin". And then the UK shows were a total joy – we had the set nailed, we were confident, and playing arenas for the first time – in Brighton, Birmingham and Sheffield – was a great experience. Of course, it helped that THE HUMAN LEAGUE crowd were so friendly and enthusiastic and keen to give a new band a chance – we had virtually full houses for every show.
Over the past few years, you've also opened for ERASURE, BLANCMANGE, BEF and xPROPAGANDA… have there been any concerns that EKKOES might get pigeonholed?
Yes, it's definitely been something we've talked about, but fundamentally, we love and respect all of these bands and anyone should feel lucky to have the opportunity to play in front of those crowds. We'd love to also support newer big bands like CHVRCHES, ST LUCIA or anyone really, but so far we haven't been asked and we're not exactly going to turn down chances to play with these legends.
We personally don't feel that we're a total 80s retro act – while, of course, we are heavily influenced by it, I think we have plenty of other more modern influences that come through in our songs as well – but if fans of 80s acts like us, then we're certainly not going to complain – it's an honour that anyone takes the time to listen to our music or see us live.
You like your cover versions, with 'Self Control' on 'Elektricity' and 'Wallflower' on your new album 'Kinetik', they're from quite opposite ends of the spectrum? Any other ones you'd like to try?
Making a cover version is an incredibly enjoyable experience. It sounds obvious, but simply because all of the pressure is off in terms of songwriting – you know it's a great song, otherwise you wouldn't be covering it – so you can concentrate purely on the sonics and the arrangement and really experiment in that department. It's just really, really fun.
Of course, the world is full of covers these days so you have to try and find something interesting and unusual to stand out; 'Self Control', while obviously an iconic song, is still something of a cult hit (I'd never heard of it until my hairdresser recommended I check out the version by RAF – we literally recorded our version of it the day after), while 'Wallflower' isn't even on Spotify – a travesty, given that we think it's a total lost classic.
We have a constant and ever-expanding list of songs we want to cover – forgotten classics, overlooked album tracks, modern hits from a completely different genre – we've mulled over the idea of a covers EP at some point, but it would need to be seriously good for it to be worthy of releasing.
Your new album 'Kinetik' appears to be a step forward, with 'You Got the Light' possibly being your best single yet, have you made any changes in approach with regards recording?
Yes, we got stuck straight into it pretty much straight after finishing THE HUMAN LEAGUE tour. My initial instinct had been to do that whole introspective, darker thing on the second album, but I soon realised that actually we should do the exact opposite.
I was constantly moaning about how boring so much modern pop music was – minimal, introspective, zero dynamic, virtually no big melodies or choruses – and suddenly thought, well why would we want to add to that? Why not go in the total opposite direction?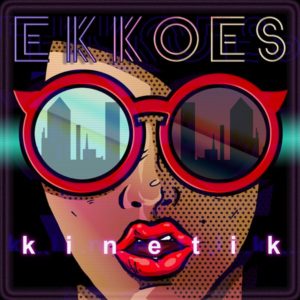 Go huge. Go technicolour. Make everything big and euphoric. Go 'maximal' instead of minimal. And the first two tracks that came out of it were 'You Got The Light' and 'Wallflower', and they set the template for the rest of the album.
Sonically I wanted massive drums, big sweeping synths, huge vocals – I invested in a few new nice plugins and a new vocal mic to achieve all this. We also got Stu, our live percussionist, to record parts for virtually every track – he wasn't on the first album and I think it makes a massive difference that he's on 'Kinetik'.
Some observers have found some of your music a bit on the polite side, what would you say to that?
It's funny, listening back to 'Elekktricity' after finishing the tour with THE HUMAN LEAGUE, I kinda understood that. Playing the songs live we'd ended up beefing them up with extra guitar parts, Stu's live percussion on top and the confidence of gigging them night after night – and they sounded massive. So listening back to the album, it did sound a little polite in comparison. I guess this is inevitable though really, and I'm still really proud of the album – ultimately, the songs, I think, are strong and will stand the test of time.
The new single is called 'Love Won't Save You Now', what's that one about and how did that come together in the studio?
It's actually a song that's been knocking around with us for a while. We've always loved it, and wanted to save it for the second album where it could really get its moment of glory. I've always liked songs that have the confidence to take their time building, knowing that the final payoff will be worth the wait, which is why we decided to have the song in two parts – to really build that tension and let that glorious synth pad roll around for the first minute and a half before any drums come in. When the first 'big' chorus kicks with, with guitars blasting away, that bubbling arpeggiated synth and Jon and Rose going for it, it really is a moment.
Lyrically – it's a strange one, the chorus words just came to me without thinking as I was writing the melody, and then when me and Jon sat down to finish the rest of we realised it kinda sounded like a murderer – who regretted what they'd done, but a murderer nonetheless – on the run, so we just went with that theme. What would be going through your head if you knew the net was closing in on you and no one was going to believe you?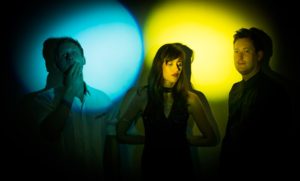 Which is your personal favourite song on 'Kinetik'?
I think 'Wallflower' is probably my favourite – just because I have such an emotional attachment to that song; I loved it as a kid and have pretty much been waiting my whole life to cover it – and we even have the blessing of Gerry and Danny from MEGA CITY FOUR, who like our version, which means a lot.
But I'm also very proud of the last track on the album, 'Nothing Here Lasts Forever', which is totally restrained – there's no drums, it's just guitar, piano, some very subtle synths and Jon's vocals – and it has a certain magic to it – it's both desperately sad, but also quite touching I think. Stu says it reminds him of Johnny Cash's version of 'Hurt' and I can't think of much higher praise than that.
What are your hopes and fears for 'Kinetik' and the future of EKKOES?
I remember Jazz Summers telling us that if one person enjoys your song, then you've made a positive contribution to the world. You've created art from nothing, and you've improved one person's life, no matter how small an improvement that might be. It's always stuck with me, particularly as someone who previously worked in the music industry and saw how easy it was to get sucked into toxic talk of units, sales and profitability.
Our only hope is that more people like 'Kinetik' than dislike it, and that as many people like it as possible – be that a hundred, a thousand or a million. As for EKKOES, we want to keep making music as long as we're able to, and as long as people are interested. It's a simple answer, but it's true.
---
ELECTRICITYCLUB.CO.UK gives its grateful thanks to Dave Fawbert
'Kinetik'
is released by KIDS Records on 7th September 2018 in CD and digital formats
EKKOES play live at The Lexington in London on Monday 10th September 2018 with special guest RODNEY CROMWELL
https://www.facebook.com/ekkoes
https://twitter.com/ekkoesmusic
https://www.instagram.com/ekkoes/
---
Text by Chi Ming Lai
Photos by Dan Beck
5th September 2018