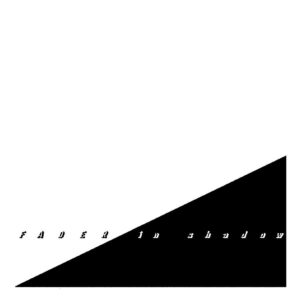 Synth superduo FADER have followed up their 2017 debut album 'First Light' with a collection of slightly more minimal introspective songs appropriately entitled 'In Shadow'.
Comprising of Neil Arthur from BLANCMANGE and Benge, best known for his work with WRANGLER and JOHN FOXX & THE MATHS, this is a less aurally harsh proposition than modern day BLANCMANGE.
Delicate in disposition, darker and moodier overtones exude with the spectre of insomnia a dominant factor.
Allowing more time for deeper thinking and worry, Neil Arthur's lyrics play with the disturbed consciousness, while from his Memetune Studios in the Cornwall countryside, Benge concocts a minimal underground aesthetic to surround it.
With the frantic powertrain of 'Always Suited Blue' and its obvious state of the nation commentary, all appears business as usual for FADER but it's something of a red herring. The phrase "the psycho in you, in me" is anger fuelled by a dislike of politicians, particularly the worldwide rise of the right wing.
Although upper mid-tempo, 'Midnight Caller' with its primitive drum machine is quite minimal, naturally nocturnal in air, sombre in its bass structure. Taking a steadier stuttering pace, 'What Did It Say' also follows the minimal path, with Arthur deep in thought, asking lots of questions and seeking lots of answers.
The solemn 'Youth On A Wall' with an electronic processed vocal template asking "why is everyone sick on TV?" features some fabulous buzzing reverberant synths which act as an appropriate backdrop to whatever is "fading from our view". Taking to 6/8 time, 'Whispering' is stark and stripped with Arthur doing as it says on the tin, accompanied by haunting sweeps of synths.
With an 'Aspirational' lift, the second half screeches to life with wobbly squelches and dystopian counterpoints providing a Cold Wave air reminiscent of Eric Random and John Foxx. 'Enemy Fighter' diverts to a bit of drum n bass, even sounding hand played for a looser feel while swathed in mysterious electronic voice treatments. But the mood subsides on 'Mindsweeper' and the 'In Shadow' title track with sparing guitar appearing on the latter.
With a hypnotic arpeggio, 'Every Page' alters the palette and adopts some subtle metallic rattles next to sharp Klingklang percussion blips, but is very bare in its exquisite presentation, haunted by a recurring ghostly chant of "No1". Closing with the pressure drop of 'Reporting', Arthur displays a total air of resignation like the aural equivalent of The Bends.
A by-product of the gloomy world that we currently live in, 'In Shadow' reflects an understated anger that will be seen by future generations as a time capsule capturing one of the most bizarre periods in modern British history, a time when the working classes backed disaster capitalists like turkeys voting for Christmas…
---
'In Shadow'
is released by Blanc Check Records on 25th October 2019 as a CD and download, pre-order from https://fader.tmstor.es/
https://www.facebook.com/WeAreFader
https://twitter.com/WeAre_Fader
---
Text by Chi Ming Lai
19th October 2019