OMD have been a recording unit for 40 years; ELECTRICITYCLUB.CO.UK has been attending their gigs for 39 of them!
A recent cartoon meme went "I like beautiful melodies telling me terrible things" and that sums up OMD in a nutshell. The subjects in Andy McCluskey and Paul Humphreys' music have included the suicide of a charismatic musician, the suicide of a woman who worked as a stripper because she had no other means of supporting herself, the racially motivated massacre of five innocent demonstrators by the Ku Klux Klan, the death of over 100,000 people by nuclear attack and most notably on two hit singles, the brutal execution of a teenage girl!
It's been a glorious achievement so to celebrate their four decade anniversary, OMD have issued their 'Souvenir'
, a lavish deluxe boxed set containing 5CDs, 2 DVDs, a hardback book, a fold-out poster and a set of quality 10 inch silver-on-black art card reproductions of sleeves such as 'Electricity' and 'Telegraph'.
However, for the more cautious consumer, the set is also available as a truncated 2CD 40 track singles collection concluding with the brilliant new song 'Don't Go'; a great grandchild of Klingklang and cousin of 'Metroland' from 'English Electric' refined for BBC Radio2 airplay, it captures the essence of OMD's enduring electronic appeal. With crystalline melodies from Paul Humphreys and a spirited vocal delivery from Andy McCluskey attached to a hypnotic Synthanorma backdrop, it is a better career spanning trailer than 'Dreaming' was for 1988's first greatest hits 'The Best of OMD'
.
As a definitive singles anthology, also included are the superior single mix of 'Shame' produced by Rhett Davies, the underrated wintery soundscape of 'Never Turn Away' and the pretty Pachelbel's 'Canon' tribute 'La Femme Accident'. However, the inclusion of everything means that although OMD released that sublime singles series of 'Messages', 'Enola Gay', 'Souvenir', 'Joan Of Arc' and 'Maid Of Orleans', they were also capable of total stinkers like 'Stand Above Me' and 'If You Want It'!
While the singles are known by many, when assisting with the remastering of the first four OMD albums at Abbey Road, Paul Humphreys paid a visit to the huge EMI tape archive near Heathrow. While he was there to check and annotate the correct versions, he uncovered a treasure trove of shelved recordings and demos. The reels of vintage tapes were then baked to minimise risk of breakage and after some thoughtful listening and reminiscing, he compiled and painstakingly mixed a selection of unreleased songs and ideas to become 'Unreleased Archive Vol1'
Paul Humphreys told ELECTRICITYCLUB.CO.UK: "I found 22 tracks, some of which are full songs and some are just experiments that were never developed, but I had great fun mixing them. I mixed them only using FX and E's that we would have used at the period, spring reverbs, crappy delays and Eventide Harmonisers. I had so much fun doing them and there are a couple of absolute gems in there! The big take away for me in this whole exercise was to see how we used to work, pre-computers."
Although it was known that OMD had a number of unreleased songs in the vaults and several featured on the 2014 reissue of 'Junk Culture', the revelation that there was enough material to make up a 56 minute CD was a surprise.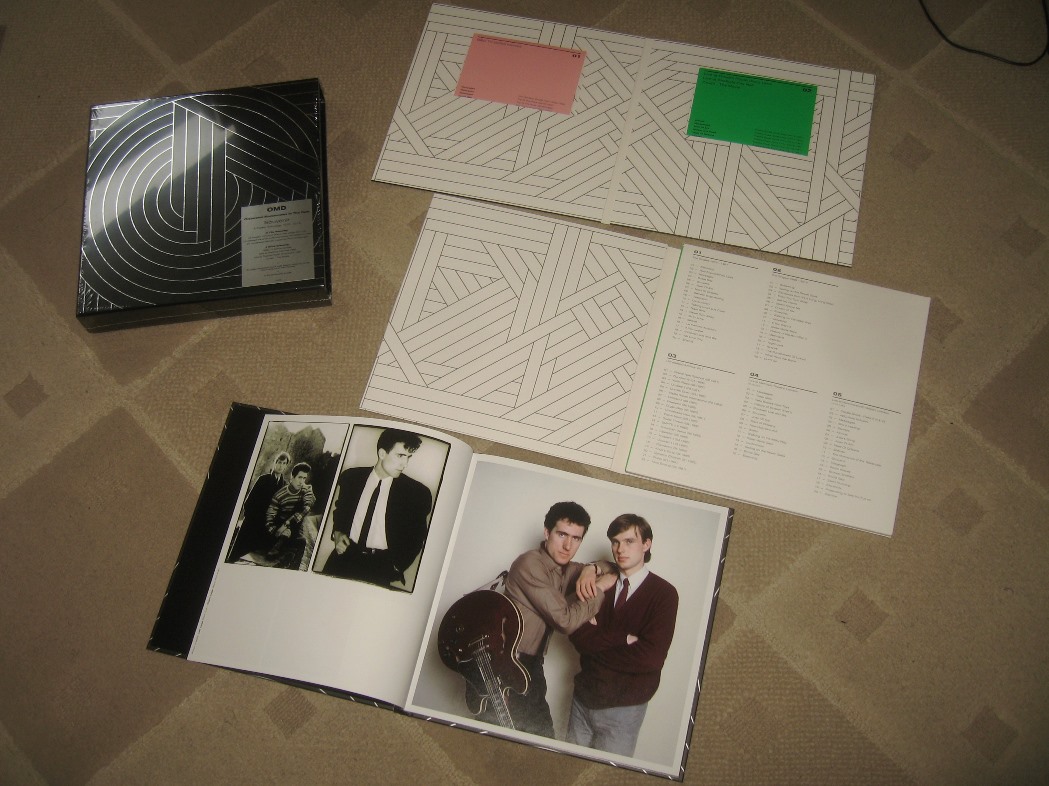 "We basically used to lay down 5 minutes of one idea, then when we wanted a change of chord, we'd drop in the new section on different tracks, so on the desk we'd have to hand mute the first idea so they wouldn't play together." elaborated Humphreys on these memories, "But of course I can't remember where to mute things now as I barely even remember the songs themselves, never mind what our vision was at the time, so I was left with a giant puzzle working out what tracks have to be on or off at certain points of the song…"
It all begins with the wonderful 'Brand New Science' recorded in 1981, a gloriously haunting and minimal slice of synthpop. The lyrics "there's a brand new science, for a brand new world, with no moral codes and no big words…" actually appeared in the 'Dazzle Ships' tour programme of 1983, which begs the question as to how a recording of such quality was left off the parent album? However, a bizarre interview by McCluskey and Humphreys for BBC Radio1 with Richard Skinner from the period highlighted that other distractions may have come into play.
Although Andy McCluskey states in the accompanying notes that "it didn't work", 'Dumbomb' from 1986 with its wordplay, symphonic synthetic strings and Shakuhachi samples coupled to a rousing chorus is actually very charming, despite obviously needing more work.
Born to hand jive, the superb 1985 vintage of 'Liberator' sees OMD doing electro rock 'n' roll with a rhythmic backbone like a collaboration with BOW WOW WOW! It is certainly better than 'Maria Gallante' which was released from the same sessions as a B-side to 'So In Love' and beats hands down most of the contents on the eventual 1993 McCluskey steered long player that was actually called 'Liberator'
.
Fully formed songs from 'The Pacific Age' era such as 'Cut Me Down' and 'Cajun Moon' reveal their Fairlighted origins and a mish-mash of styles; the former features an oddball mix of LA DÜSSELDORF and jazz, while the latter showcases a love of PRINCE but oddly sounds like DURAN DURAN offshoot ARCADIA and their 'Say The Word', a song that appeared in the film 'Playing For Keeps' to which OMD also contributed an early version of 'We Love You'.
From the musique concrète inspired experiments of the 'Dazzle Ships' period, 'Radio Swiss International' (affectionately referred to  by OMD drummer Mal Holmes as "the ice cream song") is coldly eerie with drifting synth drones and signal interference alongside the station call sign. Meanwhile of the earliest recordings from 1980, 'Organ Ditty' is just that, while 'Ambient 1' has the ringing melodic bones of 2013's 'Our System' and the speedy 'Unused 1' was probably not developed due to its inherent similarity to the theme from 'Stanlow'. Fairlight driven demos from the 'Crush' and 'The Pacific Age' make up the majority of the actual songs on 'Unreleased Archive Vol1' and 'Weekend' shows potential; on closer scrutiny, it is actually not that dissimilar to 'Final Song' from 2013's 'English Electric'.
Understandably, not all the material is of such high quality but most of it is at least interesting. The motorik 'Untitled 2' from 1981 is undoubtedly a blueprint for 'Genetic Engineering', a song that itself influenced by Brian Eno's 'China My China'. But the kosmische template is taken further on 'Guitar Thrash' from 1982 which sees OMD emulating NEU! in a more blatant manner. Continuing the Brian Eno connection, 'Violin Piece' is a 1982 recording of yes, Andy McCluskey trying to master a violin that comes over like an audition for THE PORTSMOUTH SINFONIA.
1990's 'American Venus' from when Humphreys and McCluskey were drifting apart musically sees the front man playing around with vocoder dressing, which is at least closer to what could be considered as sounding more like OMD than the Latin brass-assisted romp of 'Dynamo Children' which sees them amusingly mutate into MODERN ROMANCE! Then there's also the 1990 waltz of 'Flamenco' laced with its Spanish and blues guitar samples. The bones of a percussive sketch come with 1984's 'Flutey' before 'Unreleased Archive Vol1' closes with 'Nice Ending' which does exactly what it says on the tin with a choral typewriter collage constructed in 1981.
The labelling indicates there will be an 'Unreleased Archive Vol2' but what could be included on it? There is a Paul Humphreys song entitled 'Suspicion' which was discussed in the 1988 fan club newsletter, while McCluskey's theme for the Danny Boyle directed political drama 'For The Greater Good' has yet to receive a formal release. Then there's ballads such as 'Kiss Of Death' and 'Twins' which were left off 'Liberator' due to their more introspective outlook.
Meanwhile from the same time as they recorded THE XX's 'VCR' in 2010, there is also known to be a cover of 'Shelter' in the can as well. Plus there is a synthpop take on 'If You're Still In Love With Me' which was mooted as a single in 1993 but then re-recorded with a string quartet for 1996's more organic and traditional 'Universal' album, plus a slowed-down house number called 'Resist The Sex Act'.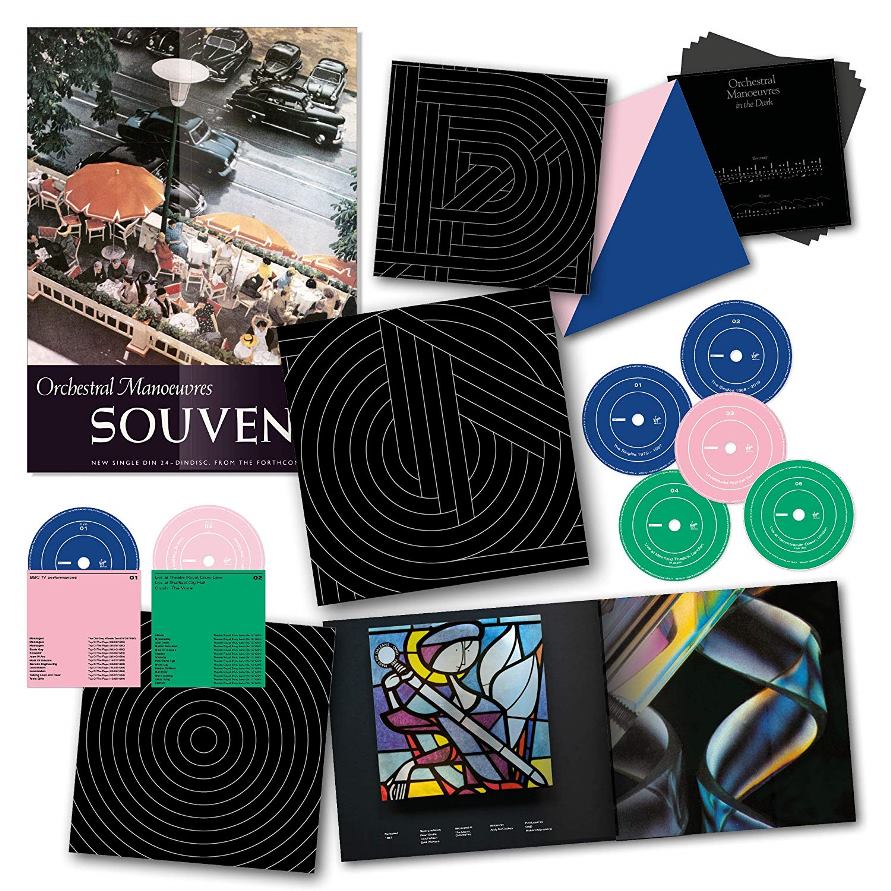 Add in a superb audio document of the 1983 'Dazzle Ships' live presentation (minus 'Genetic Engineering' which OMD got badly wrong on that final night of the tour at Hammersmith Odeon), BBC video material like 'Top Of the Pops' appearances and the once only broadcasted 'ORS' 1985 concert special from Sheffield City Hall plus the documentary 'Crush The Movie', 'Souvenir' is a worthy manageable package with a wealth of hard-to-get and unreleased material to satisfy OMD enthusiasts.
Yes, OMD have not merely plonked 13 albums into a boxed set… 😉
---
The 'Souvenir'
5CD + 2DVD deluxe boxed set is released by Universal Music
OMD Souvenir 40th Anniversary 2019 – 2020 European + UK Tour, dates include:
Belfast Ulster Hall (23rd October), Dublin Olympia (24th October), Nottingham Royal Concert Hall (26th October), York Barbican (27th October), Hull Arena (28th October), Gateshead Sage (30th October), Glasgow Royal Concert Hall (31st October), Manchester Apollo (1st November), Sheffield City Hall (3rd November), Liverpool Empire (4th November), Birmingham Symphony Hall (5th November), Leicester De Montford Hall (7th November), Bath Pavilion (8th November), Oxford New Theatre (9th November), Guildford G Live (11th November), Portsmouth Guildhall (12th November), Watford Colosseum (13th November), Cambridge Corn Exchange (15th November), Ipswich Regent (16th November), Bexhill De La Warr Pavilion (17th November), Bournemouth Pavilion (19th November), London Hammersmith Apollo (20th November), Rostock Stadthalle (25th November), Dresden Kulturpalast (26th November), Leipzig Haus Auensee (28th November), Berlin Tempodrom (29th November), Hamburg Grosse Freiheit 36 (30th November), Saarbrücken Saarlandhalle (2nd December), Stuttgart Leiderhalle (3rd December), Düsseldorf Mitsubishi Electric-Halle (5th December), Frankfurt Jahrhunderthalle (6th December), Krakow Studio (3rd February), Warsaw Progresja (4th February), Oslo Rockefeller Musichall (7th February), Stockholm Berns (9th February), Malmo KB (10th February), Copenhagen Vega (12th February), Brussels Ancienne Belgique (14th February), Utrecht Tivoli (15th February), Paris La Cigale (16th February)
https://www.facebook.com/omdofficial/
https://twitter.com/OfficialOMD
https://www.instagram.com/omdhq/
https://open.spotify.com/album/5CVouzgQnK0xK3M3YC8ncs
---
Text by Chi Ming Lai
20th October 2019