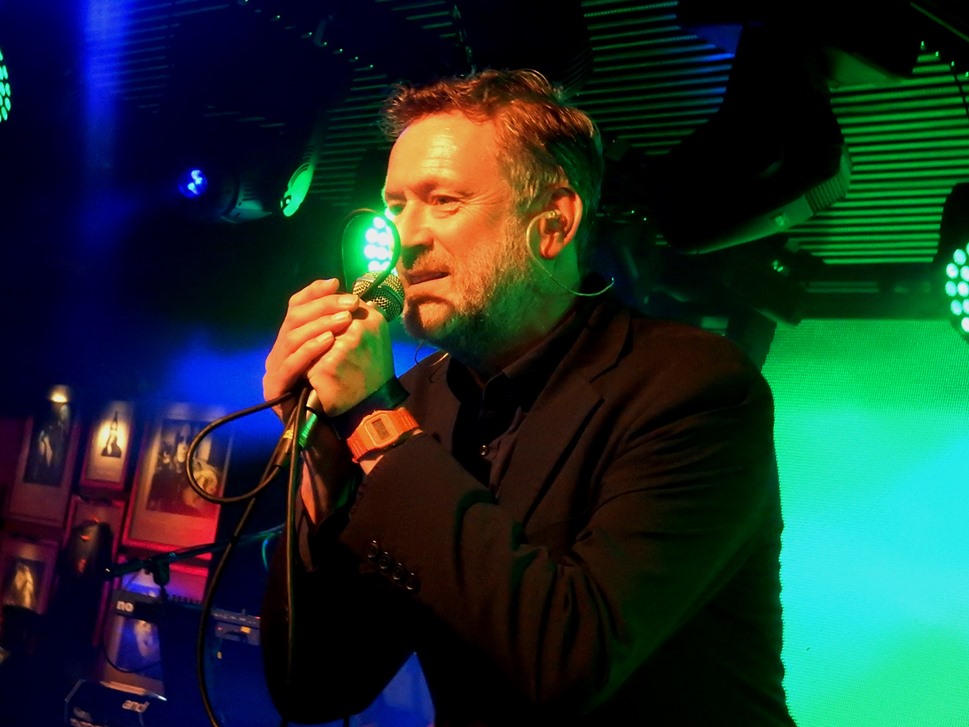 Neil Arthur has become possibly the most prolific man in electronic music with eight albums of original material released since 2011…
Adopting a more layered sound than on more recent long players, 'Wanderlust'
co-produced and mixed with Benge is possibly his best body of work as BLANCMANGE in its 21st Century incarnation, themed around "the pretence of a normal world being erased."
For the 2019 leg of the 'Wanderlust' tour, he went Under The Bridge, a lavish venue with great sound and long LED screen with a fully equipped media infrastructure literally underneath Chelsea FC to ensure all present could enjoy the BLANCMANGE experience either standing or seated, in front of the stage or via large TV screens.
But opening was FINLAY SHAKESPEARE with a crystal clear modular synth sound coupled to claustrophobic vocals like they were buried in a box. Offering actual songs amongst his electronic experimentation, the material on his debut album 'Domestic Economy' was originally initiated by improvisation whilst being recorded live.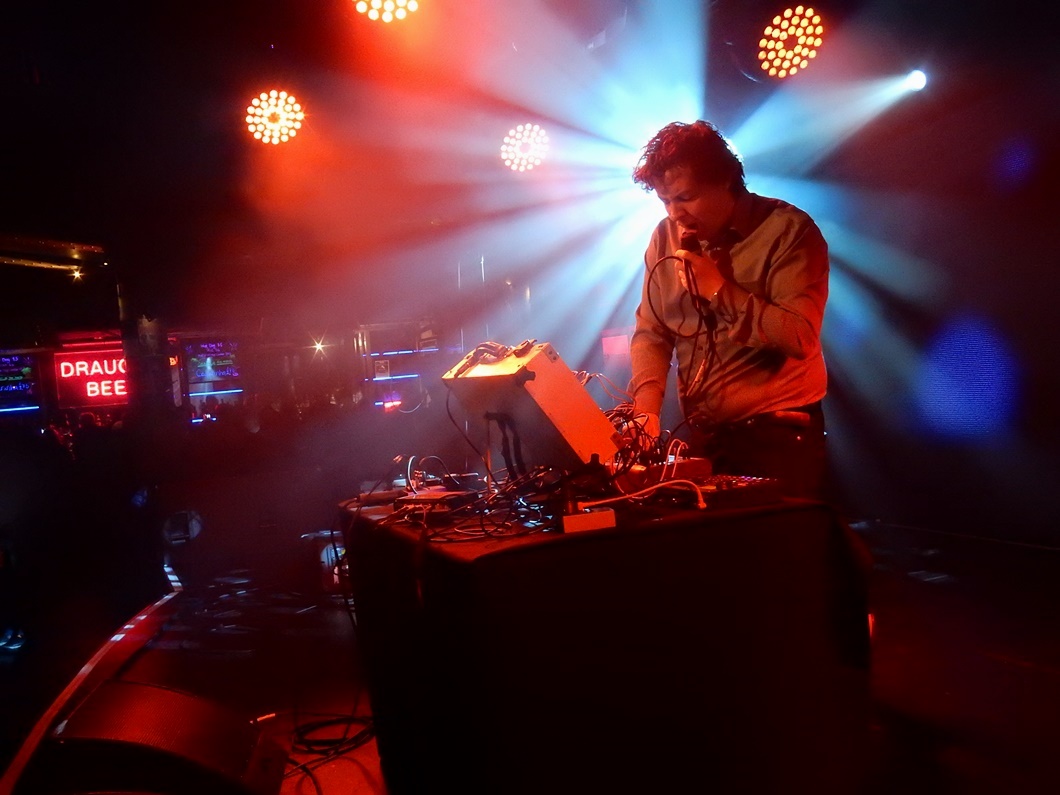 With the persona of a restless IT technician and musically coming over like a hybrid of THE FAINT, THE KILLERS and THE BRAVERY dreaming of wires rather than guitars, the frantic energy of 'Luleå' and 'Benedict Canyon' certainly roused.
As the hypnotic tension of closing number 'Amsterdam' offered some modern Motorik, discretely watching on the sidelines was Neil Arthur, sitting impressed.
The trance-laden 'Distant Storm' began BLANCMANGE's proceedings with Arthur using his more natural vocal presence compared with the synthetic larynx on the 'Wanderlust' album version.
The brilliant vocoder assisted synthpop of 'In Your Room' outlined everything that is still great about BLANCMANGE; melodic, intense and danceable, it slotted quite nicely next to 'Game Above My Head', highlighting the two numbers were not from entirely different places despite being 36 years apart in genesis.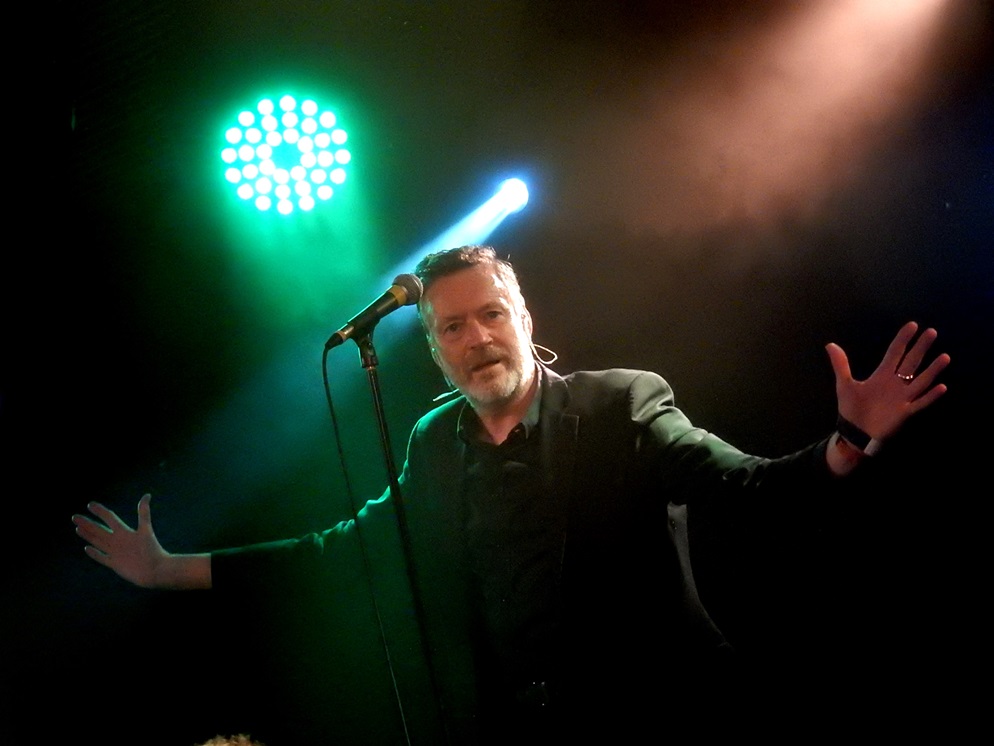 Meanwhile the metronomic 'Not A Priority' added some string machine chill via Jean-Michel Jarre as Arthur affirmed it was best to "be yourself, you can't be anybody else".
It was testament to the enduring appeal of BLANCMANGE that the maturer demographic in the audience could be observed mouthing along to these newer songs from 'Wanderlust' and its predecessor 'Unfurnished Rooms'.
'I Can't Explain' and 'I Smashed Your Phone' gave Arthur his opportunity for catharsis, "better out than in" as he remarked while his attack on the smarmy Victorian-minded politician Jacob Rees-Moog was loud and clear on 'TV Debate' as he satirised the "Mummy's boy" who is definitely NOT the "People's friend".
Accompanied by regular accomplice Ogoo Maia on Jupiter 80 and vocoder, a new twist in the BLANCMANGE concert presentation was added courtesy of standing electronic drummer Liam Hutton, who provided the variance which in the past has included family members guitarist David Rhodes and percussionist Pandit Dinesh.
A surprise but welcome inclusion came with 1985's 'What's Your Problem?', a single from the 'Believe You Me' album which scraped into the Top40 while the starkly rhythmic 'I Prefer Solitude' from Arthur's FADER side-project with Benge was another pleasant addition.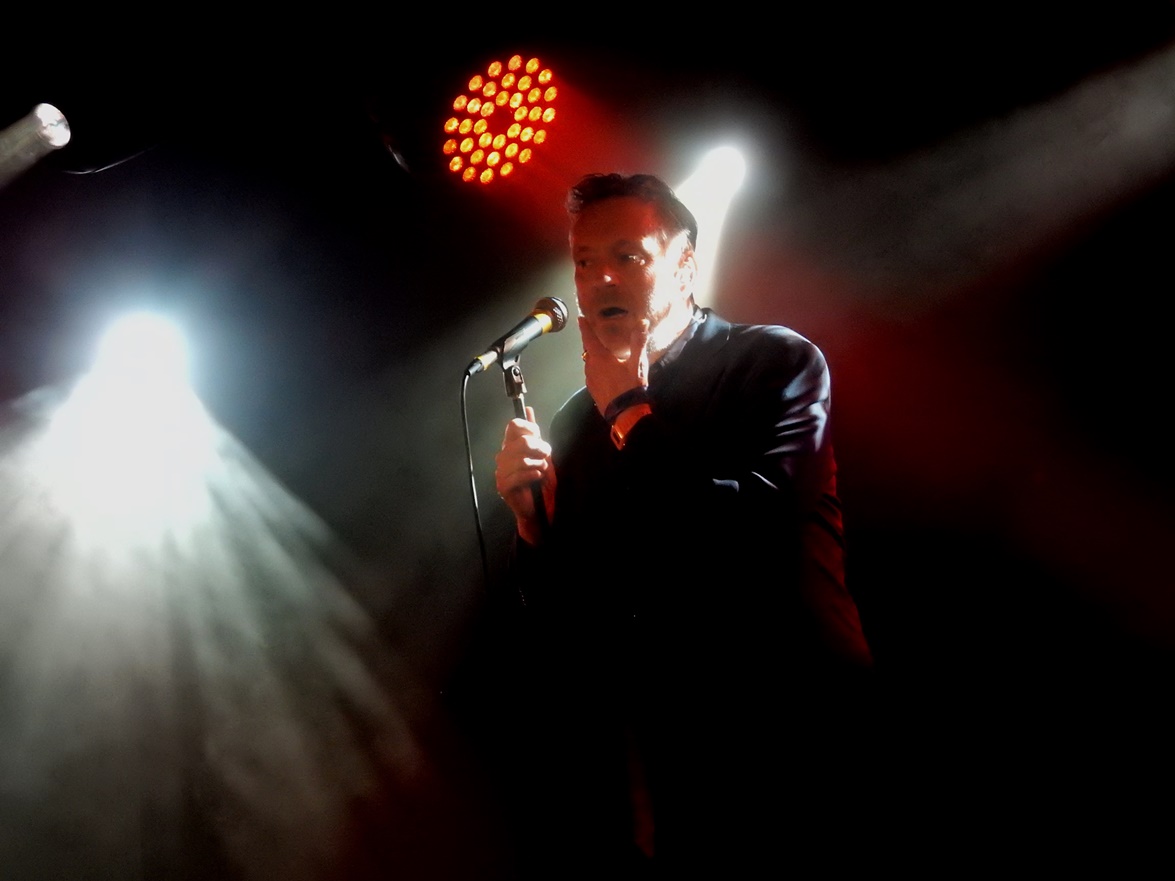 From the appropriately titled 'Anna Dine' to the fierce 'Last Night (I Dreamt I Had a Job)', Arthur still had it in spades as he charmingly presented his not-so-merry lyrical witticism with the odd stare but always a knowing grin.
Finishing the evening with a quartet of hits in 'Living On The Ceiling', 'Feel Me', 'Blind Vision' and 'Waves', this was a superb evening capturing the past and present of BLANCMANGE.
With how the Under The Bridge lighting played out, it looked at times like Superb Saturday Service at The Church of BLANCMANGE with a musical sermon by the Reverend Neil Arthur… indeed, the congregation left fulfilled and blessed.
---
With thanks to Steve Malins at Random Management
'Wanderlust'
is released by Blanc Check in CD, vinyl LP and digital formats, available from http://blancmange.tmstor.es/
BLANCMANGE 2019 live dates include:
Sheffield Leadmill (3rd May) Liverpool Arts Club (4th May), Manchester Gorilla (10th May), Birmingham Hare And Hounds (11th May)
https://www.facebook.com/BlancmangeMusic
https://twitter.com/_blancmange_
https://www.instagram.com/neilarthur/
https://www.facebook.com/FinlayShakespeareUK/
https://twitter.com/FinShakespeare
https://www.instagram.com/finlayshakespeare/
---
Text and Photos by Chi Ming Lai
30th April 2019