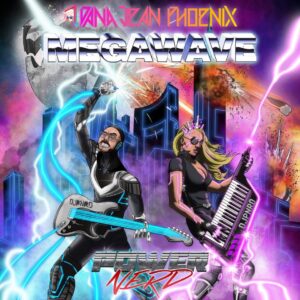 The Canadian princess of slinky synthwave DANA JEAN PHOENIX has grabbed the attention of not just her homegrown fans, having established herself as the top retro female artist.
She toured extensively throughout Europe last annum after the release of her superb long player 'Pixeldust'.
The tiny powerhouse is a rocket on stage and her live performances have you dancing from the onset, thanks to Phoenix's fabulous persona and her ability to get the audiences moving, nurtured over the years on the musical theatre stage.
Having collaborated with many artists within the genre, the slinky pursuer of endless possibilities joins forces with Vienna-based POWERNERD. The POWERNERD guys are rather elusive, describing their product as "synthwave with heavy metal vocals", which sounds hard to fathom and whets the appetite even more.
'Megawave'
is the baby of this unlikely collaboration, seeing the Toronto princess lend her sweet vocal to create something uniquely enchanting. The title track establishes the tone of this sunny record, with a classic easy listening tune, good enough to fall in love to, with the retro offerings the dainty singer is well known for.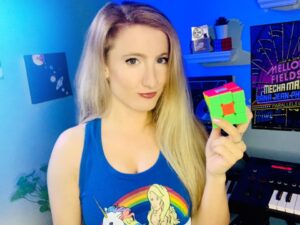 Next she's fighting robots, oh yes, but she doesn't want to do it by herself. 'Fight These Robots' is a classic funky number with a dose of girly cheekiness, while 'Living Rent Free' introduces more electronica, still holding on to the retro themes, blossoming into a perfect summer's day song.
'Sunrise Stance' gets one up and dancing, Dana style, it's bouncy, cool and glossy; leg warmers off, hair down and neon lycra mini dress on.
Thanks to the wonders of 'New Technology', Phoenix and co create an extraordinary synth ballad. But it's 'Moves Moves Moves' that lures you back into the arcade and out again to the disco. The electrifying twister beams with musicality and craziness of the long gone era, creating nostalgic nod to the bygones.
'Figure Me Out' presents itself twice, first as a grand synthylicious piece, then remixed by NEW ARCADES. The latter is deliciously current, being scrumptiously old worldly, no cloud in the sky, sun beaming high and Dana's in her element.
However, it's the glorious arpeggios of 'Fight These Robots', this time remixed by STRAPLOCKED that shines most brightly on the new offering. This version is punchy, straight to the point and very wholesome.
Phoenix has previously worked with POWERNERD who produced 'Only One For One Night', as well as STRAPLOCKED who helped her with 'Iron Fist'. Collaborations are plenty in the world of synthwave, which the Toronto artist fully appreciates.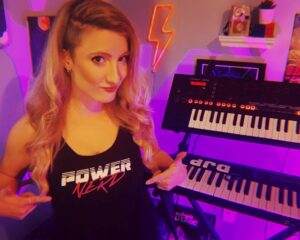 She's also glad for the fact of not having been born in the midst of the synthpop era, as she feels she's got more musical freedom in the world of today.
"I'm actually so glad to be here and now. as awesome as the 80s were" she said, "there were huge barriers of entry for artists who weren't willing to have record companies dictate their sound and image."
Nobody dictates what DANA JEAN PHOENIX does, she's her own boss and does extremely well for it.
---
'Megawave'
is released on 24th April 2020 by Outland Recordings as a CD, transparent violet vinyl LP or download, available from https://danajeanphoenix.bandcamp.com/album/megawave
http://www.facebook.com/danajeanphoenix
http://twitter.com/danajeanphoenix
http://instagram.com/danajeanphoenix
https://www.facebook.com/pwrnrdmusic/
https://twitter.com/powernerdband
https://www.instagram.com/powernerd_official/
https://open.spotify.com/album/3ft0lmyttvgoCrja0jAI0Q
---
Text by Monika Izabela Trigwell
17th April 2020, updated 23rd October 2020