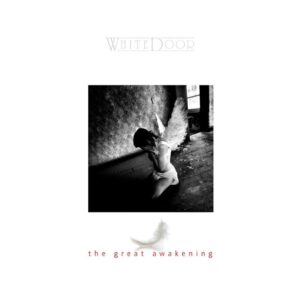 If there is one person who has probably sparked the realisation of a long-awaited second WHITE DOOR album, then it has to be the synth Superswede Johan Baeckström.
A solo artist in his own right but also a member of synth duo DAILY PLANET, the young Johan Baeckström was a fan of the first WHITE DOOR album 'Windows' released in 1983.
When he needed B-sides for the singles from his own 2015 solo debut 'Like Before, he covered 'Jerusalem' and 'School Days'.
Although Baeckström has been unashamedly candid about the influence of Vince Clarke on his music, his musicality was also been shaped by the small catalogue of songs by Mac Austin, Harry Davies and John Davies.
While Mac Austin and Harry Davies have continued to perform in their prog combo GRACE over the years, Baeckström sowed the seeds of a WHITE DOOR reunion when he and DAILY PLANET bandmate Jarmo Olilia invited Austin to provide lead vocals on 'Heaven Opened' on their 2017 album 'Play Rewind Repeat'.
That sparked a WHITE DOOR reunion and as a newly confugured quartet, Mac Austin, John Davies, Harry Davies and Johan Baeckström now present 'The Great Awakening'. Baeckström gives the pulsing Vince Clarke-isms a breather and swaps it for the more polyphonically formed keyboard interventions of his other heroes like Howard Jones.
A joyous tune that sets the scene, the exotic sophistication of 'Among The Mountains' possesses the soaring windscreen poise of A-HA with a flawless vocal from Mac Austin while the soundscape is sweetened by flute, providing an interesting timbral contrast.
Acknowledging the theme of 'Get Carter' but with a more brassy flair, 'Resurrection' surprises with a bouncy Giorgio Moroder inspired stomp and the lift of a rousing chorus. Meanwhile Mac Austin manages to sound like a cross between Morten Harket and Chris De Burgh over some beautifully symphonic synth and subtle slapped bass in a guest appearance from Baeckström's son Simon.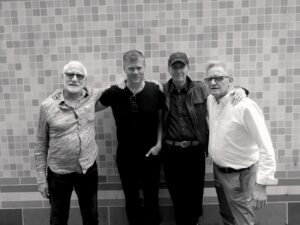 'Soundtrack Of Our Lives' captures the joys of spring, with the English folk austere that was very much part of WHITE DOOR's make-up playing a key role with the harmonious vocal arrangement.
A sparkling production with space for all the elements to shine, there's even a few classic Linn Drum sounds thrown in too. Yes, they are more recollections of A-HA although of course, the 'Windows' album came out a year before 'Hunting High & Low'.
Holding down the steadier mood with a synth arpeggio, the richly layered 'Lullaby' makes what appears to be a simple arrangement sound grand and complex in a cleverly configured traditional tune that steadily builds and surprises with a burst of saxophone in the final third which also glistens ivory-wise in the manner of Howard Jones.
Beginning with a slightly stuttering rhythm, 'Angel Of Tomorrow' bursts into life with a spacey buoyant pomp that captures an air of Vangelis.
An elated majestic tone ensues as staring mortality in the face, 'The Great Awakening' celebrates an embracment of life and second chances with a range of complex synth motifs. All wondefully complimenting one another, it is akin to a casade of church bells ringing on a Sunday morning.
The spritely 'Simply Magnificent' does as the title suggests and is pure sequenced synthpop in the vein of early ALPHAVILLE, the distant transistor radio ending acting a nice tribute to bygone listening experiences.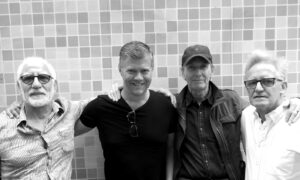 Ending the album, 'Beautiful Girl' is classic WHITE DOOR and a song which Harry Davies describes as "a wonderful song for making babies to". Vocally like a modern hymn with patterns of hooky chimes, there's even a surprising lilt of sax that suits the electronic backdrop, with a gorgeous sweeping polysynth conclusion that CHINA CRISIS would be proud of, recalling the feel of their appropriately titled tune 'The Soul Awakening'.
Hopeful, mature and joyous, 'The Great Awakening' grandly blows away the attempted sensitive synth overtures of the young pretenders almost half their age. It is twilight magic provided by the sorcerers and their apprenctice. Nearly four decades on, WHITE DOOR have again passed the test with commendation.
Of his role in 'The Great Awakening', Johan Baeckström said to ELECTRICITYCLUB.CO.UK: "I really wanted to do my best to maintain the WHITE DOOR sound and spirit in the production on this album".
Mission accomplished ?
'The Great Awakening' uses the following synthesizers: Roland Jupiter 6, Roland Juno 106, Akai AX73, Minimoog, Korg Mono/Poly and ARP Odyssey
---
'The Great Awakening' is released by Progress Productions on 17th April 2020, pre-order download from https://whitedoor.bandcamp.com/album/the-great-awakening
Pre-order CD or white vinyl LP from Progress Productions at https://mailchi.mp/9e7025e1bf26/whitedoor
https://www.facebook.com/whitedoorband/
https://twitter.com/Bstrommusic
https://open.spotify.com/album/3bU49HHzLHxEDQAeVpEROJ?si=ZwnqbshNQ-CB6C2P85HH9Q
---
Text by Chi Ming Lai
15th April 2020, updated 17th April 2020