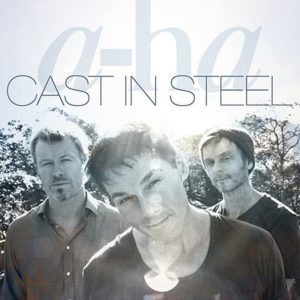 "We are not getting back to stay together. We've agreed to come back for a set period: one album, one tour. It's a great opportunity and allows us to write another chapter": MORTEN HARKET
A-HA's 'Cast In Steel' is the Norwegian trio's tenth studio album, and the first new material since the group disbanded after the success of their 'Foot Of The Mountain' long player in 2009. The album was a triumph with the title track being one of the highlights on the subsequent tour while 'Nothing Is Keeping You Here' captured the combination of heartfelt melancholy and emotive melodies that A-HA have always done best.
Having played what appeared to be their farewell concert at the Oslo Spektrum in December 2010, Morten Harket, Paul Waaktaar-Savoy and Magne Furuholmen embarked on a variety of separate activities. Harket's own solo career, while moderately successful, had the identifiable ingredients of A-HA but lacked the unique songwriting panache of Waaktaar-Savoy and Furuholmen. Like many groups, the sum proved to be greater than the individual parts.
With no record deal in place, no pressures and no touring commitments, A-HA reunited in a relaxed manner that recalled their days as a fledgling band seeking fame and fortune. The new album sees trio reunited on a number of songs with Alan Tarney, the noted producer who produced many of their biggest hits including 'Take On Me', 'The Sun Always Shines on TV', 'Cry Wolf' and 'Stay On These Roads'. Meanwhile, the 'Foot Of The Mountain' production team of Steve Osborne and Erik Ljunggren also return.
Set in stone, the 'Cast In Steel' title track is a classic string laden midtempo ballad written by Paul Waaktaar-Savoy, a fine example of the sort of songs that have allowed A-HA to continue their career into the 21st Century. Following on, 'Under The Makeup' features those characteristic Bond Theme elements that have sat in A-HA's work since 'The Living Daylights'. It's another soaring offering from Waaktaar-Savoy that signals the album's artistic intentions; a maturer but still melodic A-HA playing to their strengths as an adult pop combo.
Morten Harket's solo career has had mixed reactions and his songs on A-HA albums have sometimes gone down the way that a certain Richard Starkey's used to. But 'The Wake' takes a leaf out of Waaktaar-Savoy's songbook with a wonderful chorus supported by cinematic overtones and muted guitar. Meanwhile the faster paced pop of 'Forest Fire' will remind those who left behind A-HA after 'Stay On The Roads' why they should return to the fold and not to be left out, Magne Furuholmen's 'Objects In The Mirror' is something of a beauty.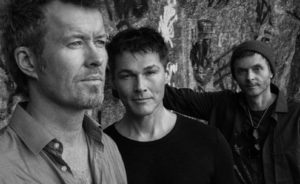 The first of the Alan Tarney comes with 'Door Ajar', buzzing with sequenced synths and driven by a drum machine while syncopated with choppy guitar. 'Living At The End Of The World' sees lighters (or rather smart phones) aloft; this is a swaying anthem with gently pulsing synths, sparring guitar and those Barry-esque orchestrations. It's one of Morten Harket's too, confirming his development as a songwriter.
But 'Mythomania' misfires and is a bit of a let-down, but it had to happen at some point. Predictably, this one is of a rockier disposition… 'She's Humming A Tune' has hints of 'Scoundrel Days' in a lower key with sweeping synths, bottle neck six string and live drums moulding the chilling soundscape with that exquisite Nordic allure. A slight offbeat provides the backbone to 'Shadow Endeavors' while the catchy beat laden 'Giving Up The Ghost' soars with dramatic strings and synths as with many of the key tracks on this enjoyable album. The loose drum driven 'Goodbye Thompson' closes 'Cast In Steel' with subtle snatches of RADIOHEAD's 'No Surprises' creeping in.
As is standard now with the modern album format, there are a number of bonus tracks which are interesting rather than essential, although the crystalline 'The End Of The Affair' should have been part of the main act of 'Cast In Steel' instead of 'Mythomania'.
The other tracks have been culled from the early 'Foot Of The Mountain' sessions circa 2008-2009 and give an insight into how A-HA's songs develop. Although often almost fully formed, they go up a level once rearrangements and synthetic enhancements away from conventional traditions are allowed to be nurtured. So 'Mother Nature Goes To Heaven' is merely a plodding rock ballad in its original form compared to a thumping DEPECHE MODE styled number it became.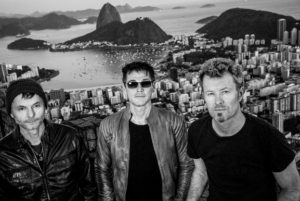 Meanwhile the acoustic demo of 'Nothing Is Keeping You Here' here was turned into a pièce de résistance by Steve Osborne's electronic reworking for the UK Radio Edit. A not particularly good Mark Saunders remix of 'Foot Of The Mountain' does the deluxe package few favours, but the customer has their choice at the end of the day.
'Cast In Steel', like 'Foot Of The Mountain' before it, is classic A-HA and not the threesome trying to be CROSBY, STILLS & NASH like on 2005's Marmite offering 'Analogue'. It balances between synthpop and filmic orchestrations, with Morten Harket's trademark vocal taking centre stage. The only person who perhaps ever exceeded his capabilities is the late Billy Mackenzie and Harket's crying falsetto makes its presence felt throughout 'Cast In Steel'.
But while A-HA are inherently melancholic, like with all good Nordic pop, there's that contrasting glorious optimism which gives the songs that vital all-embracing lift. If this is to be the last A-HA album, then 'Cast In Steel' is a worthy one.
---
'Cast In Steel' is released in CD, deluxe 2CD, metal fan box 2CD, vinyl and download formats by Universal Music
A-HA 2016 live dates include:
Manchester Arena (25 March), London O2 Arena (26 March), Glasgow SSE Hydro Arena (28 March), Birmingham Barclaycard Arena (29 March), Stuttgart Schleyerhalle (3 April), Zurich Hallenstadium (4 April), Munich Olympiahalle (4 April), Leipzig Arena (7 April), Nürnberger Versicherung (9 April), Vienna Stadthalle (10 April), Berlin O2 (13 April), Hamburg O2 World (14 April), Bremen ÖVB Arena (16 April), Hannover TUI Arena (17 April), Halle Gerry-Weber-Stadium (19 April), Oberhausen König Pilsener Arena (20 April), Mannheim SAP Arena (23 April), Frankfurt Festhalle (24 April), Cologne Lanxess Arena (26 April)
https://www.facebook.com/officialaha
---
Text by Chi Ming Lai
6th September 2015