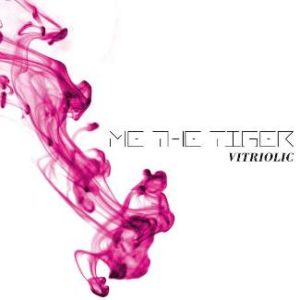 Falun in Sweden is the hometown to yet another superb electronic act from this Nordic land.
Gabriella Åström (vocals synths), Tobias Andresson (synths / guitars) and Jonas Martinsson (drums / programming) are the trio who comprise ME THE TIGER. Given the fact that the band set out on their journey only in 2012, they can boast about such achievements as playing alongside none other than VINCE CLARKE, PANDA DA PANDA, KITE and many others. Their hometown awarded the band a diversity scholarship and their work has been nominated for a number of awards.
Having recently played at Electronic Summer 2015 in Gothenburg with great success, the band are already well established and popular with the synth fanatics. 'Vitriolic' opens with 'As We Really Are'; delicate girly vocals gently ease the audience into a massive bridge and chorus, which is larger than life, with heavy drums and a powerful guitar. 'Never Said I' classifies as a perfect dance tune, depicting a complicated love story, while 'What Promises Are Worth', the first single from the production, hits with synthy scenery, another powerful chorus, instantly making the tune a dance anthem of the new era.
'Control' is a short, semi-instrumental track but lyrically full however. 'Myheroine' steps in with fast tempo, MESH-like synths and controversial lyrics, another larger than life but rounded tune. Starting with a Eurovision-esque sequence, 'Heartbeats' is a riven, energetic and spirited panorama of sound with a perfect danceability factor.
'Headlines' opens with a dirty, interesting synth, instantly making it the best song on the album. Gritty vocal over simple, yet sophisticated melody, resembling solo outings from Melanie Chisholm. The following 'Apart' sounds like a fresh take on the dance floor anthems of the gone by years, fully twinkling with fresh electronica and persevering drums, it is big and bold.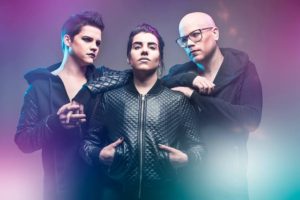 'We Sell For Free' is marked by calmer synergy of gentle vocal and subdued resonance, while 'Like Feathers' comes back with faster, quirkier tonality.
'Dreams' calms the senses again for a short while, leading to '2013, It's Finally Over', which is the closing track of the album. Keeping it harmonious in unison of slower and gentler tone, the song perfectly rounds up the production.
ME THE TIGER have been described as "the next generation of electronic music", and the "vitriolic wind of change in the deadlocked electronic music scene". With strong lyrics, powerful choruses and anthemic tunes, they are likely to succeed in what they are aiming for, to "contaminate your ears and the dance floors".
Driven and forward thinking, they represent a fresh approach to modern electronica, which is gutsy and in-your-face, yet melancholic and subdued at the same time. Best observed live, the band surely have many successes to come their way.
---
'Vitriolic' is released on CD and digital formats by Repo Records
https://www.facebook.com/MeTheTiger
---
Text by Monika Izabela Goss
7th September 2015