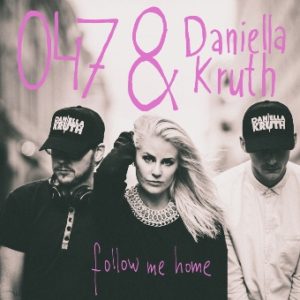 Forming in 2001, Swedish duo 047 began their chiptune experiments through a mutual appreciation of vintage video games.
After a couple of self-released albums, 'Robopop (Vi Tar Cdn Dit Vi Kommer)' was their first proper long player in 2006.
But Peter Engström and Sebastian Rutgersson began to evolve from their minimalistic beginnings to incorporate melodic song based elements and even pop. Collaborating with other artists, 047 started to incorporate vocals into their music.
The end results led to the impressive debut album 'Elva'; released in 2011 on the Gothenburg independent label Killing Music, it featured the YELLOW MAGIC ORCHESTRA musical salute 'Kanpai!' and the rich Lisa Pedersen vocalled Scandipop of 'Everything's Fine'.
Combining blurry soundscapes and pulsing reality, Engström and Rutgersson are back with a new single 'Follow Me Home'. Featuring Östersund born vocalist Daniella Kruth whose debut album 'Kill It Slow' was released in 2014 , it is a story about standing strong despite inherent vulnerabilities.
Encased with a syncopated pop structure, the whispering tones soon break out loud and clear with Kruth's more indie inclined sensibilities adding a fresh slant to the electronically derived backbone.
With further vocal based recordings on the horizon, all bodes well for 047's follow-up to 'Elva'.
---
'Follow Me Home' is released as a download via Killing Music
https://www.facebook.com/047music
---
Text by Chi Ming Lai
9th September 2015