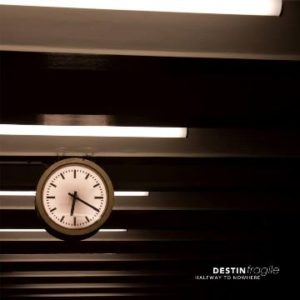 Some bands crop out of nowhere, quickly put together the material, not knowing what the real direction of the album they're writing is, then place high hopes for a fast success.
Other musical creatures work for years to develop their sound and perfect their trade, while branching out into other projects, just to come up with a masterpiece. The formation of DESTIN FRAGILE dates back to 1993 when Swede Pontus Stålberg started collaborating with various musicians before joining forces with Daniel Malmöf and Stefan Nilsson for live performances.
Nilsson and Stålberg ran a side project, the EBM inclined SPETSNAZ, who released four albums and enjoyed fair amount of popularity. Malmöf returned to complete the DESTIN FRAGILE cycle, which has culminated in the release of 'Halfway To Nowhere' on Dark Dimensions.
Since it's been a 20 year wait for the album, the expectations run high; 'Run Away', which opens the production, immediately brings to mind a mixture of vintage DEPECHE MODE and elements of Germany's AND ONE with a clear vocal by Stålberg, that is quite different from what SPETSNAZ 's fans are used to hearing. Ethereal and gentler in tone, it somewhat resembles Mark Hockings of Bristol's own UK electronica masters MESH.
Clever, heavier synth follows on 'In Your Eyes'; burly, very AND ONE and decadent, it leads to 'In the Frame', which is characterised by CAMOUFLAGE-like landscape, off beat drum patterns and irregular keys. 'Alive (It's Up To You)' opens with a recognisable Gahan influence, a definite gloomy love affair, bearing Doug McCarthy's vocal stamp, with a filthy synth finish. The poppier and gentler title track floats in, with TEARS FOR FEARS meets 'Ultra' era DM qualities. Rather superb in its simplicity, it is roughly interrupted by the incoming 'April Light', which couldn't be more AND ONE in its texture.
The rhythmic 'Change' brings out qualities of SPETSNAZ at first, to transcend into the perfect synth pop tune, just before 'Worlds Apart' breaks the beat, followed by 'In Plain Sight'.
Unsurprisingly, elements of FROZEN PLASMA are rather palpable; many a band this year has used their influence in their own creations. A dance tune at its best – fast, to the point, not over complicated with unnecessary filler sounds and simple enough to please.
'Out Of The Darkness' is delicious vocally and musically alike. The PET SHOP BOYS styled production is marked with eloquent formulation of synths from the lost era, combined with AND ONE's 'Virgin Superstar' style of manufacture of a superior electronic track.
The closing bonus '11' is fabulously surprising, a vintage Merry- Go- Round, Victorian music box, horse cart and choir certainly aren't a concoction one would expect as the culmination of this record. But that's exactly what you get. Truly inspired and wonderfully wrapping this excellent album up.
To some, the obvious DEPECHE MODE and AND ONE characteristics, so often audible on this production, could be a turn off. It has to be said, however, that DESTIN FRAGILE have made those influences their own and the overall effect is highly pleasing.
Sweden certainly doesn't cease to give birth to some excellent acts in the genre. Stålberg and friends have the aura of the weathered, grown up daddies of electronica about them, which differentiates them from many an act on the scene.
DESTIN FRAGILE recently showcased their material at Gothenburg's Electronic Summer 2015 Festival at The Brewhouse with considerable success. Let's hope they continue creating synthpop soundscapes worthy of the ever expanding electronic Swedish music scene.
---
'Halfway To Nowhere' is available as a CD or download via Dark Dimensions
https://www.facebook.com/destin.fragile.pop
---
Text by Monika Izabela Goss
10th September 2015