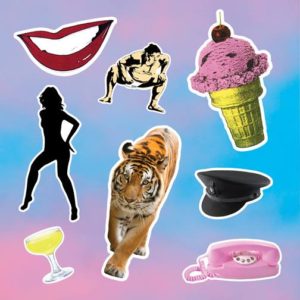 'Paper Gods' is the 14th album from New Romantic survivalists DURAN DURAN.
It ropes in an expansive line-up of featured artists and collaborators – from fellow Birmingham artist Mr. Hudson (who additionally takes on production duties) through to 'The Reflex' remixer Nile Rodgers and one of their previous producers Mark Ronson.
Less predictable are the appearances by ex-RED HOT CHILI PEPPERS guitarist John Frusciante and Lindsay Lohan who contributes spoken word elements to 'Danceophobia'.
The amount of collaborators here could be viewed in two ways, either to set off warning bells of a band potentially struggling to produce material as a self-contained unit or as a way to stay relevant and appeal to a wider demographic; but look on the positive side though, at least PITBULL and AKON aren't featured…
The opening eponymous title track is certainly a statement of intent, clocking in at 7 minutes, 'Paper Gods' is a wildly adventurous piece which starts off as lo-fi gospel with counterpointed vocals before a drum machine and synth combo straight out of DEPECHE MODE's 'Delta Machine' takes the track in a completely different and unexpected direction. The addition of guitar and John Taylor's bass give the track more of a DURAN-style feel but the electronic drums never quite propel the song to the heights required. A half-hearted dub-style middle section eventually leads back into what is undeniably a strong chorus, but one which would have fitted better into a shorter, more conventional song structure.
'Last Night In The City' showcases KIESZA's vocals and ditches the live bass of John Taylor for more of an electronic EDM-style one, but the song itself comes across as a failed attempt to cross-fertilize current electronic elements into the DURAN DURAN sound.
'You Kill With Me Silence' is the first track to potentially get old school Duranies excited as its intro section alludes to elements of 'The Chauffeur' from 'Rio' with its synth-driven intro before morphing into a 10CC styled chorus with electric piano and layered vocals. Again this song feels like a wasted opportunity, a big melodic chorus wasted on a mismatched production style…
'Pressure Off' brings a slice of funk with CHIC's Nile Rodgers adding his trademark guitar sound and what is the most cohesive track on the album so far. But compared to, say, 'Get Lucky' or 'Uptown Funk', this is a second division effort. Just as the listener is getting ready to give up on the album, 'What Are the Chances' finally delivers what we know DURAN DURAN are capable of… more in the downtempo vein of 'Come Undone' or 'Ordinary World' and not trying overly hard to be down with the kids.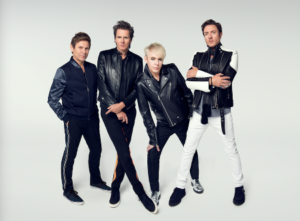 THIS is the direction that the band sound most comfortable with and is easily the strongest song and production on show here. Lyrically the track explores themes that recall the film 'Sliding Doors' where fate dictates the outcome of a relationship depending upon a person's location at a certain time. The fact that out of all the songs here, this is the only one which is hooky enough to stay ingrained in the memory once the listener has walked away from the album, speaks volumes…
'Sunset Garage' with its urgent snare work has an uplifting Motown / pop feel about it, and with the autobiographical line "Whatever happens we'll be ok!" showcases a sound (as on 'What Are the Chances') that feels more natural to the band. Of the remaining songs, 'Change The Skyline', 'Butterfly Girl' and 'Only In Dreams' scream FILLER! and it's left to 'The Universe Alone' to end the album in emotional but downtempo fashion – at its climax, Frusciante's guitar solo melting under a wall of track distortion.
'Paper Gods' showcases how important the right producer choice is – in comparison with Mark Ronson's work on the revitalised 'All You Need Is Now' (which steered the band back into a more 'Rio'-like sound), Josh Blair and Mr. Hudson's work doesn't seem to fit the band dynamic, songwriting and SOUND of DURAN DURAN.
Some credit must be given to the band for taking a risk and giving the album to a pair of relatively untested producers (Hudson is more known for his collaborative artist work than his production), but throughout, there is a lack of 'band' cohesion with drummer Roger Taylor and John Taylor's signature bass sound both feeling under-utilised.
This album was two years in the making, but with its stream of featured artists feels paper thin and sadly far from God-like…
---
'Paper Gods' is available in a variety of formats internationally via Warner Music
https://www.facebook.com/duranduran
https://twitter.com/duranduran
---
Text by Paul Boddy
13th September 2015