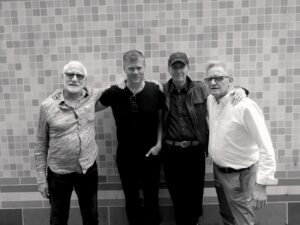 Melodic synth trio WHITE DOOR released their only album 'Windows' in 1983.
But despite the title song being a Record Of The Week on Simon Bates' BBC Radio1 show, it was unable to gain wider traction.
WHITE DOOR were to gain cult status over the years and one young fan was Swedish synthesist Johan Baeckström who later covered 'Jerusalem' and 'School Days' from 'Windows' in 2015.
Although Baeckström has been unashamedly candid about the influence of Vince Clarke on his music, his sound and that of his other project DAILY PLANET has also been shaped by the Andy Richards produced songs of Mac Austin, Harry Davies and John Davies.
While Mac Austin and Harry Davies have continued to perform in their prog rock combo GRACE over the years, Baeckström sowed the seeds of a WHITE DOOR reunion when he and DAILY PLANET bandmate Jarmo Olilia invited Austin to provide lead vocals on 'Heaven Opened', on their 2017 album 'Play Rewind Repeat'.
Then, there was a live reunion in 2019 when Baeckström invited Austin and the Davies brothers to join him for renditions of 'Jerusalem' and 'School Days' at Synth Wave Live 3 in London.
So after 37 years, a long awaited second album from WHITE DOOR will emerge this April featuring eight new songs to follow-up 'Windows'.
A four way collaboration between Mac Austin, John Davies, Harry Davies and Johan Baeckström, the newly confugured quartet present 'The Great Awakening'
. Three of the band kindly chatted to about their recorded return…
At what point did a new WHITE DOOR album become a realistic proposition?
Harry: Johan and Mac are best to answer that. But for me it is when we heard a first draft by Johan of a song we recorded on a phone.
Mac: I think the relationship evolved over time, Johan got in touch about covering 'School Days' I think it was, then a while later I was asked to do a vocal for the DAILY PLANET album which was a real honour. In the meantime we were messaging about the music we were both doing and eventually Johan asked if we had thought of doing a second WD album and that was that.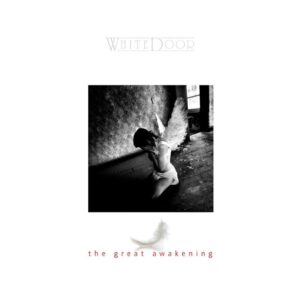 So the WHITE DOOR line-up has been expanded?
Harry: We feel that the producer is an integral part of any band and Johan is both a song writer and a perfect producer for WHITE DOOR.
Without Johan's input, this album would not have happened. He is also more photogenic than the rest of us.
Mac: Yes mate we are now a four piece, well it worked for THE BEATLES. Couldn't be happier. Johan has given us so much, the music is massively richer from Johan's presence.
The new line-up made a two song live debut at Electrowerkz in London in June 2019, how was that for you?
Mac: It was a great experience, meeting yourself Chi and the moment we met Johan for the first time. I really enjoyed the gig though I did cock up 'Jerusalem', it was a real great couple of days.
Harry: It was very surreal for me, although my input to the performance was minimal, I was still very nervous.
Is having Johan in the band almost like fulfilling the role Andy Richards played in 'Windows'?
Harry: Yes, and more so, Johan instantly identified himself with that genre of music of the 80s.
Mac: It is in a way because of his great technical ability and beautiful playing. but with Johan we also have his amazing vocals and writing skills which takes us on to a different level creatively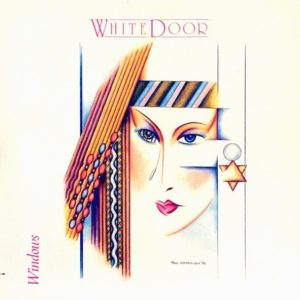 Were there any particular musical reference points you discussed and had in common?
Mac: The main reference point was we all loved 'Windows' and wanted to build on that album and hearing Johan's albums, we seemed to be very close in our writing and sound.
Although until we started to get the first drafts back from Johan, I did not know just how good this combination could be.
With remote working happening between England and Sweden, how was the creative dynamic?
Johan: We´re fortunate to live in an age where technology has made the world a lot smaller and with great tools for communication and transfer of different data. A lot of the tracks started with the guys in the UK sending me rough demos from which I could start my programming and pre-production work. Vocals and woodwinds were recorded in a studio in the UK and then sent to my studio in Sweden where I would add my backing vocals and finalize the production and mixing.
What synth toys were being brought into the production?
Johan: Most of the synths in my studio was used for this album but compared to my solo work, I've leaned a lot more on poly synths for this project, so the Roland Jupiter 6, Roland Juno 106 and Akai AX73 was used quite extensively on all the tracks and even the good old Yamaha DX7 was called for on a couple of the tracks. The most used mono synths were probably the Minimoog, the Korg Mono/Poly and the ARP Odyssey.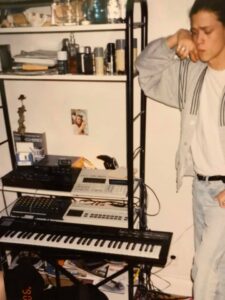 How was it to wear the WHITE DOOR hat, did you find yourselves slipping into GRACE or DAILY PLANET modes? Or is that irrelevant, that the WHITE DOOR chemistry is because it's the four of you?
Johan: Well, for me the WHITE DOOR music has been a part of me since I was a teenager, and the WD sound has always been an inspiration in my other projects.
Having the opportunity to actually be part of making a follow-up album with these wonderful guys, is a blessing and I really wanted to do my best to maintain the WHITE DOOR sound and spirit in the production on this album – familiar, but still fresh.
Mac: For me as a vocalist, it's the instrumentation that makes the difference. Johan was influenced by the 'Windows album' and had covered 'School Days' and 'Jerusalem', so the WHITE DOOR sound was easy for him to reproduce. Our demos were very loose, giving him the opportunity from these ideas to create great sound tracks for the vocals. The way we work for WHITE DOOR is completely different than GRACE where the guitar and keyboard sound is very up front, with real drums making a much harder sound. I find with WD, the vocal melodies are much more intricate and easier to develop.
'The Great Awakening' and 'Among The Mountains' are quite grand titles, what are they touching on lyrically?
Harry: The two songs are intrinsically linked lyrically. In 2015, I was diagnosed with a life changing condition that left me very fatigued and dependant on blood transfusions. I loved hill and long distance walking especially in Scotland, which I found impossible to pursue, sometimes I found it difficult to walk across the road.
'Among the Mountains' is about mourning that loss. As time went by my condition was deteriorating both physically and mentally. A search began for a stem cell donor. A possible donor was found and was given an appointment with a leading transplant specialist. You can imagine my elation and excitement to get my life back. That is where 'The Great Awakening' came from. John was going through a very at a difficult time and that influenced him with the chord structure. In the end, the donor was not suitable but with an amazing support team I am off the transfusions and doing ok.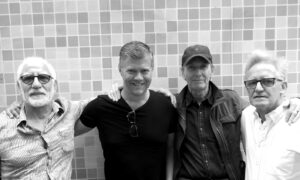 'Beautiful Girl' has something of a classic WHITE DOOR feel, what was its genesis?
Johan: It´s funny that you say that – the seed to this song was actually a chord progression and melody that Jarmo and I was working on for DAILY PLANET, over 20 years ago. I remember that we talked about how this chorus almost felt like a mix between WHITE DOOR and A-HA.
I sent it over to Mac to see if he, Harry and John could do something with it. After a while, I got a demo back with the complete song structure that you hear on the album today, with an even stronger melody line in the chorus as well as brand new, killer verses.
Mac: When Johan sent over the music demo, John played the chords and I just started to sing along with lyrics from a song idea I had years ago that seemed to fit this music. We worked out the structure and I finished the lyric and sent our demo back to Johan for him see what or if he could do anything with it. The rest is history as they say.
What are your own favourite tracks from the album?
Harry: Of course 'Mountains' and 'Awakening' mean such a lot to me, but I love 'Beautiful Girl', it's a wonderful song for making babies to and the lyrics take me back to the 70s and watching the girls dancing around their handbags. But if I'm doing the housework, 'Simply Magnificent' takes some beating.
Mac: For me it depends on the mood I'm in, they are all very strong and I think 'Beautiful Girl' has a great hook; 'Among The Mountains' and 'The Great Awakening' mean a lot because of the incredible moving lyric by Harry which moves me every time I hear them. 'Lullaby' was written years ago to help my two girls to feel safe in the beds. I'm not sure it worked but they both love it. 'Angel Of Tomorrow' is a great song to sing I love it.
Johan: I can´t really say one song is more of a favourite than the other, but the first one I started working on was 'Lullaby', which I got a demo of from Mac in a very early stage of the project and I fell in love with it right away. I could instantly hear in my head what it should sound like, production wise, and I must say I am very happy with how it turned out. That, track made me realise that "I think we can actually do this – bring WHITE DOOR back to life again", so this makes 'Lullaby' a bit special to me, I guess.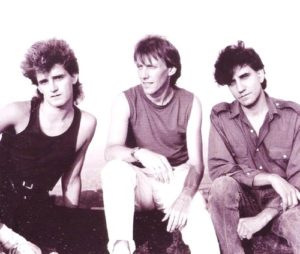 Music is an ageless artform? Discuss! 😉
Harry: I would like someone else to start that.
Mac: For me, most music records moments in time, whether it be country, folk, punk, prog, blues, even classical, they capture those moments with lyrical poetry and music to not only relate the stories but lay an emotional thread with the style of music. I believe it will always be the case.
What next? Any thoughts about playing live together for a full WHITE DOOR set?
Harry: Love to, barring problems with corona virus and the 'B' word, we have started to discuss a set list. Be interesting to get feedback to help us decide on tracks maybe.
Mac: I would love that, I am so proud of this music it would really work in a live situation.
Johan: Yes, that is certainly in the scope when the world has come back to some sort of normal again. Watch the WHITE DOOR facebook page for info.
---
ELECTRICITYCLUB.CO.UK gives its sincerest thanks to WHITE DOOR
'The Great Awakening'
is released by Progress Productions on 17th April 2020, pre-order download from https://whitedoor.bandcamp.com/album/the-great-awakening
Pre-order CD or white vinyl LP from Progress Productions at https://mailchi.mp/9e7025e1bf26/whitedoor
https://www.facebook.com/whitedoorband/
https://twitter.com/Bstrommusic
---
Text and Interview by Chi Ming Lai
2nd April  2020