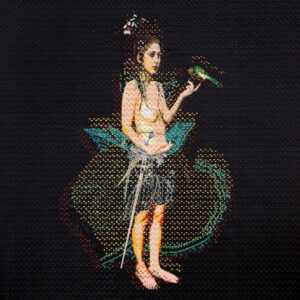 As ZOLA JESUS said recently, looking inwards is something she does a lot of, and in these unprecedented times, isolation and concentration on self, will be something that even the biggest extroverts will have to work on.
Not too dissimilar from Ms Jesus, Sufi inspired Iranian born, Berlin based artist MENTRIX, debuts with her long player 'My Enemy, My Love'
in which she looks towards the core of her existence, intertwining her varied experiences with wonderfully unique musicality derived from Persian poetry and modern electronica.
Samar Rad moved to France when she was eight by the end of the Iran-Iraq war. Aged fourteen she moved back, and had to re-discover her Farsi mother tongue, going from learning Latin and French literature to Arabic and the Qu'ran. Later, Mentrix spent some time in Britain and now the Iranian desert rose lives in Berlin.
Drawing from her experience of an immigrant deserter, not really belonging and missing her home land, Rad says: "This album reflects my relationship with the contrasting worlds I lived in, with myself, and all my existential wanderings."
'My Enemy, My Love' is being released on MENTRIX's own label, House Of Strength. The name comes from the gathering place "Zoorkhaneh", where warriors would train in secret during the Arab invasion of Persia in the Seventh Century. The men would gather there to fuel patriotic feelings. "Women for instance do not train in these places," explains Rad, "this idea of solidarity must be revived, everywhere, yet the patriarchal aspect must still be fought."
The long player unfolds in eight tracks, each one unique and derived from a different source within the artist's psyche. The captivating 'Nature', with its enchanting video, filmed in the stunningly beautiful landscapes of Kavir-e-Lut, in eastern Iran, known to be one of the hottest places on earth, is as hypnotic as it is tantric. Played on Daf and Tombak, both traditional Iranian drums, with the inclusion of Sufi inspired lyrics, the track is electrifying.
'Walk' is packed with tribal qualities, almost devoid of any sound, except for the floating vocal and metallic shuffling until further instrumentation is introduced to create a very ZOLA JESUS-like landscape. 'Dreams' continues the trance twists with a numismatic concoction of swirling sounds à la THE KNIFE, while 'Igneous Sun' releases more reflective textures over sparkling synths.
The title track races towards its culmination with distinctive Iranian instruments such as the tombak, kamancheh, ney and daf, each sounding alien to the western ear but bring the artist a great deal of national pride.
The inclusion of marching drum on 'Loyalty' sustains the feeling of urgency, where Rad calls out for "patience". Inspired by traditional Mooyeh mourning chant from Lorestan in Iran, 'Longing' brings raw quality to the recording, with sounds derived from desert sand and mountain winds.
"It is very important for me to associate my music with the landscape of Iran," explains Rad, "I am forever attached to my birth place, and my identity and aspirations are very rooted in Iranian culture. Since the West so often portrays Iran in a questionable way, I feel obliged to share its diverse and positive faces to the world."
'If', however, sounds perfectly western, perfectly synthy and perfectly soulful; it's an urban ballad of uncertainty and thoughtfulness.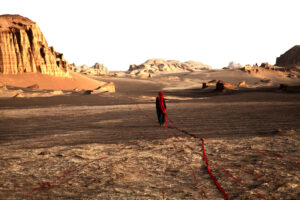 Deeply connected with her beloved homeland, MENTRIX re-defines women of Persia and women living all over the world.
This feminist theme stretches to the fact that featured on the record are primarily women, such as Claire Bay playing the ney, to multi-award winning legendary New York-based mastering engineer, Emily Lazar.
Previously, MENTRIX used to lend vocals on other people's music. But on 'My Enemy, My Love', she ushers in the era of Rad, debuting with a unique sound, bridging eastern and western cultures. This isn't your standard feminist stance, however, in the way the likes of REIN would approach the subject.
Her femininity and musical landscapes, paint the picture of maturity and grace, highlighting the strength and resilience to overcome all adversities. And now, more than ever, we need those attributes in order to survive this Armageddon.
---
'My Enemy, My Love'
is released on 3rd April 2020 via House of Strength
https://www.facebook.com/mentrixmusic/
https://www.instagram.com/mentrixmusic/
https://www.hosrecords.com/artist-mentrix
---
Text by Monika Izabela Trigwell
1st April 2020