After the unexpected success of his 2016 CIRCUIT3 debut 'siliconchipsuperstar', Peter Fitzpatrick bought some more synths and followed up in 2019 with 'The Value Of Everything & The Price Of Nothing'.
Like a dystopian Howard Jones album fashioned from the roots of Synth Britannia, Martyn Ware of HEAVEN 17 said: "The album sounds great! Glad current artists are keeping the faith with quality songwriting"
Indeed, the most Howie sounding of its tracks 'The Rain' has been issued a single, complete with a host of remixes.
Now while DEPECHE MODE play in the rain and so does Taylor Swift, CIRCUIT3 uses 'The Rain' as a metaphor to embrace all emotions in life so that the good times will come over even brighter. The original version was like 'Don't Always Look At The Rain' from 'Human's Lib' reimagined by Philp K Dick, a musical coping strategy with a touch of Guinness that the late Rutger Hauer would have been proud of for all sorts of reasons.
The GravitySlip Remix adds a synthetic percussion backbone which works well in more noisy environments like cars and pulls of the feat of not being too overbearing on the original song, even maybe enhancing it in an understated manner. Meanwhile Acko's Remix begins in a rather funereal fashion before exploding into steadfast gothic rock halfway through and the CHON Dublin Remix adds a MASSIVE ATTACK vibe.
There is also instrumental dub version included which allows the more subtle elements of 'The Rain' to be heard more clearly; but speaking of instrumentals, the EP include three original previously unreleased instrumentals which will appeal enormously to fans of atmospheric synth B-sides from back in the day.
The best of these is 'Overview Effect', a classic synth number with fabulous textures, voicing and rhythmic effects, each part having its place like in all the great instrumentals.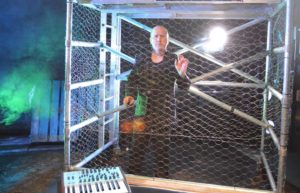 The more atmospheric 'Transmissions' is punctuated by Jarre-like beeps and sweeps but perhaps more surprisingly, there's a sharp burst of digitised slap bass.
Meanwhile, 'Blinded By The Sun' could be retitled 'Blinded By the Odyssey' with ARP derived sirens penetrating the Moog Sub37 bass, sparking Roland Jupiter 4 arpeggios and CP70 ivory foundations.
These three instrumentals are actually tasters for the third CIRCUIT3 album and with a planned lyric for 'Blinded By The Sun' going "count the lies from 1 to 45", the midlife angst continues for Peter Fitzpatrick. Now that can only mean the potential for even more great synth music to emerge from CIRCUIT3.
---
'The Rain' EP is released by Diode Records on 3rd April 2020, pre-order as a CD or download from https://circuit3.bandcamp.com/
CIRCUIT3 presents an Online Live Streaming Synth Gig on Saturday 4th April 2020 at 2000 GMT, details on the Facebook event page at https://www.facebook.com/events/218651819353562/
https://www.facebook.com/Circuit3music
https://twitter.com/Circuit3Music
https://www.instagram.com/circuit3music/
https://soundcloud.com/circuit3/
https://www.youtube.com/channel/UCmo6IkKRlL718vAg6GpXsdQ
---
Text by Chi Ming Lai
28th March 2020