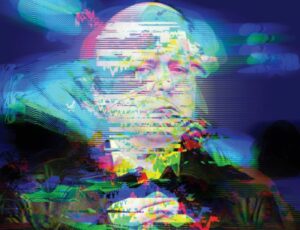 "My debut album sold out… so I spent all the money on more synths…Why not?"
'siliconchipsuperstar', the debut album by CIRCUIT3 slipped out quietly in December 2015 but became one of the surprise independent success stories of 2016. Behind the CIRCUIT3 persona is Dubliner Peter Fitzpatrick, whose new synths have now been put to good use on 'The Price Of Nothing & The Value Of Everything', the long-awaited follow-up to 'siliconchipsuperstar'.
But some things in the music biz never change, whatever the level and it has been that difficult second album. "Midway through the writing and recording of the album I paused to write a completely different album and look after my mental health", Fitzpatrick recalled, "It was worth it. I feel better and I've got the next album already written. Every cloud eh?"
With a body of work that explores mental health, politics, human rights, love, contentment and dreams which feature Martin Gore in leather, in a CIRCUIT3 interview with ELECTRICITYCLUB.CO.UK, Fitzpatrick added "With so much populism and division undermining our society I want to focus on the value and not the price."
It was a dream about a leather clad Martin Gore that his friend Brian McCloskey had that inspired the lyrics to the excellent album opener 'Safe To Sleep'; dressed in that iconic Vox Humana Polymoog made famous by Gary Numan, its booming sound is offset by breathy girl whispers from Nicola Stephanie Sangs.
Referencing corruption and various abuse scandals in Ireland, big blocks of sinister human host from a Behringer VC340 vocoder expose that 'Dirty Little Secret'. The feistier ambition of 'Sold My Soul' punches to illustrate Fitzpatrick's assertion that "At some point you have to do or die" while 'Electric' does what it says on the tin with bleeps and a big synthetic brass line.
Dealing with the spectre of depression, 'DNA' is a sombre but positive statement on how to accept and work around it. It's a steadfast take on a subject that Rodney Cromwell touched on  with'Black Dog', utilsing crystalline synths and effective use of Compurhythm while allowing a confession that "some days are better than others". 
Rigid and melodic, 'Fall In Love Again' expresses that feeling of finding happiness while attached to a sprightly Clarkean backdrop. But that joy becomes tempered on the emotive 'Face In The Crowd'; dedicated to Alan Kurdi, the Syrian boy of Kurdish ethnic background whose image made global headlines after he drowned in the Mediterranean, the song needs no explanation as a sad musical eulogy to a wasted life and the lack of compassion in today's societies.
'Breaking Point' offers some political reflection and highlights the absurdity of the current divisive stand-offs. Amongst the impressive layers and different textures that waft in and out, Fitzpatrick socks it to those pompous power hungry posh boys: "But you took back control? How are you feeling about it in the cold?"
Sparse raindrop arpeggios from a Jupiter 4 shape 'The Rain' which could be Howard Jones' 'Don't Always Look At The Rain' from 'Human's Lib' reimagined by Philip K Dick; it acts as an embracement of the rain, because it makes the sunshine seem much brighter. It is a musical coping strategy with a touch of Guinness that should be embraced; the late Rutger Hauer would be proud for all sorts of reasons.
Closing with the previously released 'For Your Own Good', if the idea of a dystopian Howard Jones album fashioned from the roots of Synth Britannia appeals, then 'The Price Of Nothing & The Value Of Everything' is for you. Channelling middle aged angst and concerns about steps to the right in a world that is becoming more and more like punk never happened, this album is melodic vintage synth ear candy with a dose of gloom.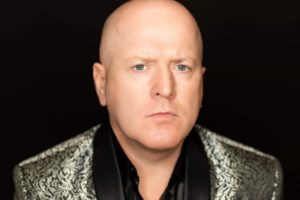 "I want to keep getting better at songwriting and making music that people want to listen to" that CIRCUIT3 synthpop chap said.
"With the new album 'The Price Of Nothing & The Value Of Everything', I feel I'm doing that. I'm keeping the flame alive for those sounds and hopefully developing my songwriting along the way" – well, as far as CIRCUIT3 is concerned, Fitzpatrick has achieved that!
---
'The Price Of Nothing & The Value Of Everything' is released by Diode Records, available as a CD, vinyl LP or download from https://circuit3.bandcamp.com/
https://www.facebook.com/Circuit3music
https://twitter.com/Circuit3Music
https://www.instagram.com/circuit3music/
https://soundcloud.com/circuit3/
---
Text by Chi Ming Lai
28th September 2019