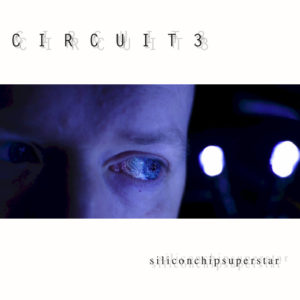 CIRCUIT3 is the synth laden project of Irish musician Peter Fitzpatrick.
The Dubliner was recently spotted confessing his love for all things electronic in the BLANCMANGE documentary 'You Keep Me Round & Round'.
'siliconchipsuperstar'
, the debut album from CIRCUIT3 is unashamedly synthpop in that classic 1978-1982 vein. The calling card 'New Man' is a statement of intent, ERASURE's 'You Surround Me' reimagined with the assistance of 21st Century technology alongside vintage bleeps and beats.
With a vintage rhythm machine as its backbone, second track 'Ghost Machine' interestingly features lyrics by LA based Irishman Brian McCloskey who hosts the blog 'Like Punk Never Happened' which features back issues of the magazine 'Smash Hits'. Layered in string machine, its treated vocal styling does slightly hint at Midge Ure, as does the vox on 'Those Who Were Dancing' with it distinctive DX7 bass sounds dominating proceedings. Meanwhile, ULTRAVOX musically lingers over 'Reverberate', thanks to a great Odyssey solo and pads of sweeping vibrato.
'Darkroom' adopts some atmospheric detuned pentatonics but parradoxically, 'One Night In Tokyo' drives along like a more aggressive ERASURE. The beautiful 'Blue Diary' brings together synthetic claps and crisp bell-like counter melodies sourced from a JX8P while on the rich ballad 'In Your Shoes', HOWARD JONES makes his influence felt.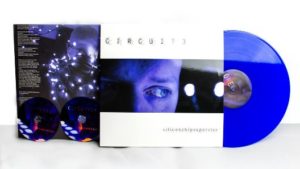 Ironically 'Running Out Of Time' goes on for far too long and makes an irritating filler but thankfully, the percussive closer 'Hundred Hands' is much better. With the sort of mighty Linn Drum engine room that would make Martyn Ware proud and punctuated with some rugged lead synth, there are even some hints of KRAFTWERK's 'Showroom Dummies' dropped in as a musical tribute.
'siliconchipsuperstar' is classic styled synthpop made by someone weaned on classic synthpop. This well-produced album is undoubtedly a labour of love and while there are echoes of the past like Clarke, Foxx, Jones, Numan or Dolby, the album is full of futuristic sounds that warble off and on.
Alongside KID KASIO and SUDDEN CREATION, CIRCUIT3 is another modern day disciple of the one man and his synth template made possible back in the day with MIDI and digital sequencing. And long may that continue; after all, who wants a drummer taking up all that room in the tour van?
CIRCUIT3 'siliconchipsuperstar' uses the following synthesizers: Roland Juno 106, Roland D50, Korg Poly800, Roland JX-8P, Roland JP-8000, Yamaha DX7, Arturia MiniBrute SE, Arturia Spark Vintage Drum Machine, Arturia Mini V
---
'siliconchipsuperstar'
is available now as a download or CD from
https://circuit3.bandcamp.com/album/siliconchipsuperstar
https://www.facebook.com/Circuit3music
https://twitter.com/Circuit3Music
https://soundcloud.com/circuit3/
---
Text by Chi Ming Lai
12th December 2015, updated 1st May 2020