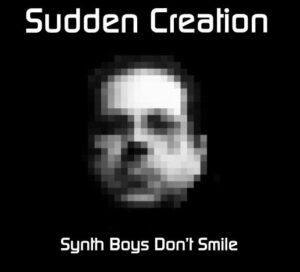 One man synth operation SUDDEN CREATION aka Chris Mines deserves an award or a straitjacket or something!
After several years of video previews and gigs showcasing his satirical but very musical songs, the Cambridgeshire based singer/songwriter has finally delivered his debut album, 'Synth Boys Don't Smile'. Long standing synthpop fans will also have fun listening out for geeky reference points and in-jokes. And while Mines might not be the greatest singer in the world, his delivery is sharp and honest while his lyrics make great stories, even without the music.
The actual 'Synth Boys Don't Smile' title track is a joy, sending up the likes of Vince Clarke, Dave Ball, Stephen Luscombe, Chris Lowe and Ron Mael. Those with man buns and a preference for hipster hosiery need not apply… and that could be the title of a SUDDEN CREATION song in itself!
Of course, the stoney faced ERASURE and YAZOO synth maestro was the subject of one of the first SUDDEN CREATION songs to have been previewed back in 2013. 'I Never Met Vince Clarke' is an amusing tale of managing to meet all your heroes, except that elusive one. "Every time I've tried to meet Vince I have missed him…" says Mines, "And to clarify, yes I have met everyone else mentioned in the song, but no, I still haven't met Vince …"
Lazy journalists, bloggers and ELECTRICITYCLUB.CO.UK are the target on the highly amusing 'Shouldn't I Be A Girl?' while remaining with the fairer gender, 'The Girl Rocks' is those rarest of things, a synthpop number using the blues scale!
Inspired respectively by MORRISSEY and MANIC STREET PREACHERS, 'Repellent Me' and 'Electric Light' explore some conventional musical avenues despite the use of synths, while also sending up the forthright miserablist overtures of the two.
Of the former, Mines says: "When someone like Morrissey makes a comment like 'There's nothing more repellent than a synthesizer', it's a bit like a red rag to a bull to me… the lyric is definitely taking comments he has made in several interviews and turning them around and firing them back at him …"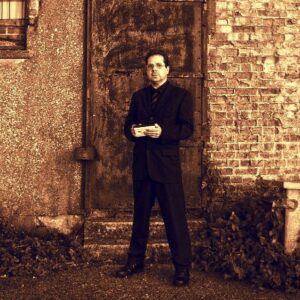 The amusing mid-life crisis referencing 'Fat Forty & Fashion-Free' explores the plight of older musicians in a music industry obsessed with the young, the thin and the trendy… with most artists performing synthpop being enclosed in this mature category, this most frustrating but real scenario will strike home. But it's not all tomfoolery and high jinks on this diverse observational collection of synthpop, as the closing numbers 'Goodnight God Bless Goodbye' and 'It Is What It Is' both testify. Inspired by loss and grief, despite the mournfulness, they are melodic and hopeful. Funny, technostalgic, deadpan and tragic, all within a space of 45 minutes… yes, 'Synth Boys Don't Smile' but you possibly will!
---
'Synth Boys Don't Smile' is available on CD or download from
http://suddencreation.bigcartel.com/
http://www.suddencreation.co.uk/
https://www.facebook.com/SuddenCreationOfficial
https://twitter.com/SuddenCreation
https://www.instagram.com/suddencreation/
---
Text by Chi Ming Lai
27th November 2015