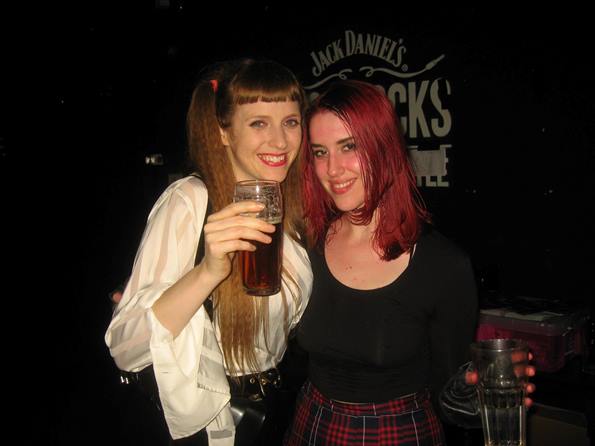 A fine line-up of electronic acts was assembled at Camden's Dublin Castle for a Trans-Atlantic showcase of the best in modern synthpop.
And when the line-up is right, the luminaries come along and join in the fun.
With key figures such as Rusty Egan and Sarah Blackwood in the audience, this was a very well-attended event for a mid-Autumn school night.
Fresh from playing a prestigious slot at Düsseldorf's ELECTRI_CITY Conference on Halloween and getting to visit the original Klingklang as their just reward, VILE ELECTRODES previewed a lot of new material from their long awaited and now titled second album 'In The Shadows Of Monuments'.
Some might consider the album title pretentious, but it is this avant pop approach reminiscent of early OMD that sets VILE ELECTRODES apart from the competition and makes them so captivating. One immediate stand-out was the dark, throbbing arpeggio laden 'As We Turn To Rust' which appeared to take its lead from DEPECHE MODE's 'Oh Well'.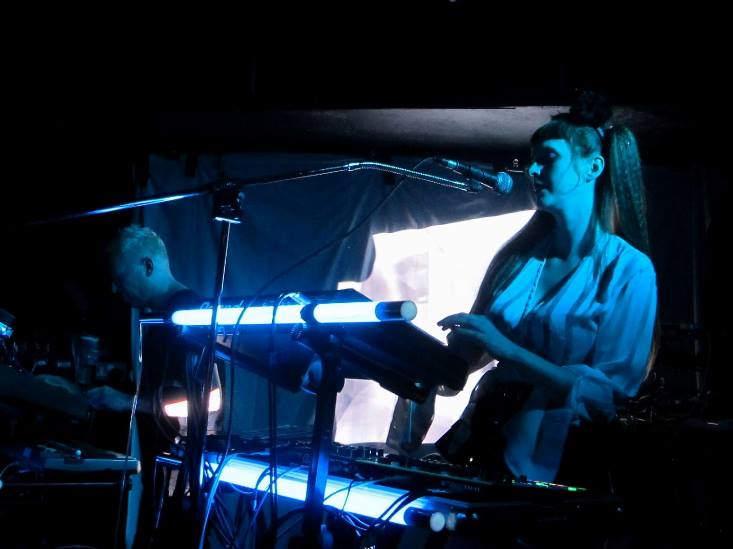 There was also 'The Vanished Past', a potent successor to 'Deep Red', complete with a mighty drum cacophony à la OMD's 'Navigation'.
It was a continuing indicator that Anais Neon and Martin Swan are still on the inventive but accessible path that has already led them to two Schallwelle Awards in Germany. VILE ELECTRODES really would be the ideal opening act for OMD's upcoming 'Dazzle Ships' / 'Architecture & Morality' boutique showcase at the Royal Albert Hall in May 2016.
NIGHT CLUB are unashamedly fans of Britney Spears, hence their marvellous Britney Gone Emo sound. With the visual demeanour of a rock band, Mark Brooks came over mean and moody as he stood behind his workstation, while singer Emily Kavanaugh was a bundle of feisty energy.
Starting with the bass driven attack of 'She Wants To Play With Fire' from 2014's 'Black Leather Heart' EP, this was a determined performance despite some persistent laptop glitches between songs.
There was the welcome inclusion of NIGHT CLUB's calling card 'Poisonous' from 'Love Casualty', the EURYTHMICS influenced template displaying the seedy edge that has always permeated within NIGHT CLUB's poptastic tendencies; it's a hybrid format which Kavanagh has previously described as what would happen "If Depeche Mode f*cked Britney Spears and had a baby who hung out in dark corners of seedy clubs…"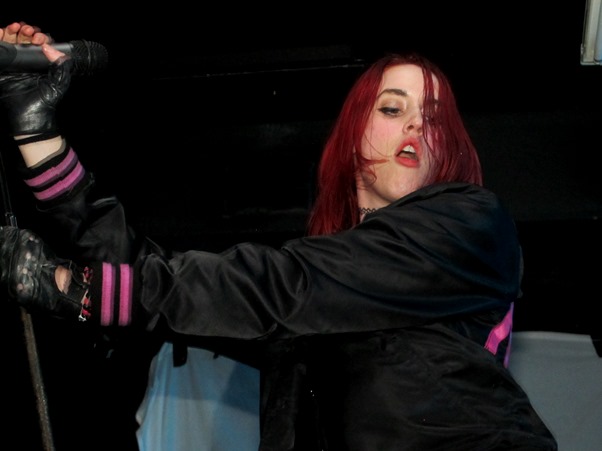 NIGHT CLUB showed their versatility with the ballad 'Not In Love', a song that easily could have merited inclusion in a Brat Pack movie back in the day.
But it was all back to dancing with the octave propelled 'Strobe Light' which was dedicated to Rusty Egan, while THE WHITE STRIPES 'Seven Nation Army' gone electro of 'Give Yourself Up' hypnotised an enthusiastic crowd as Kavanaugh threw herself into the audience and friskily teased those present.
The couple's cover of INXS' 'Need You Tonight' got a warm reception, providing yet another excellent example of why electronic acts should generally only tackle reinterpretations outside of genre to guarantee a unique selling point. The best was saved until last with the magnificent Electroclash pulse of 'Cruel Devotion'; complete with a dedication to ELECTRICITYCLUB.CO.UK, it concluded a fabulously sweaty evening of quality electronic music.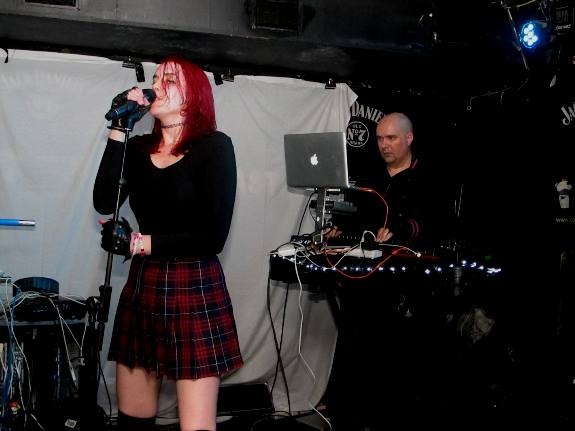 The rising trajectory NIGHT CLUB find themselves in, thanks to the 'Black Leather Heart' EP and the 'Moonbeam City' soundtrack, means expectations will be high for their next release, whatever form it eventually takes, be it EP or album.
But with their positive attitude and ability to a procure a real performance, this should be no problem at all for them 🙂
---
NIGHT CLUB's 'Moonbeam City (Original Series Soundtrack)' is released by Milan Records and available digitally and on CD. The duo's three EPs are available at
http://nightclubband.com/
VILE ELECTRODES 'Stark White' EP is available as a CD via their online shop at
http://www.vileelectrodes.com/
---
Text by Chi Ming Lai
Photos by Richard Price and Chi Ming Lai
28th November 2015