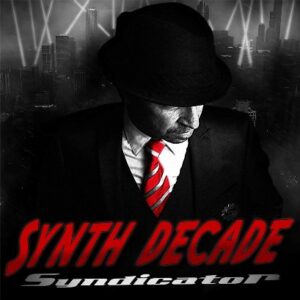 Back in May 2015, ELECTRICITYCLUB.CO.UK's radar pointed to a German band from Frankfurt, which formed in 2012 and promised to "revolutionise the Electronic Pop music sector", SYNTHDECADE.
Self-proclaimed as "the next generation of synth", which always invites interest and curiosity; the band, who already seem to have lost a member in Marc Renard on keyboards (perhaps he got tired of waiting!) is now consisting of the vocalist Rick Pleasant and programmer/keyboardist Sean Dexter.
Three years is a fair amount of time to write a decent album, especially one that has been heavily pushed on social media, with the accompanying photographs of immaculately groomed band members, pouting away at the camera, as if advertising a new aftershave.
Both tracks, which have been released with accompanying videos for the enjoyment of hungry electronica fanatics, 'Lighten Up The Darkness' and 'Facing My Fears' enjoyed more than moderate success, establishing the direction in which SYNTHDECADE had been heading. Heavily influenced by DEPECHE MODE, CAMOUFLAGE and DE/VISION, with these guidances clearly palpable on both songs, the hope was for 'Syndicator' to sound more original and fresh, and, indeed, to usher "the next generation of synth".
'Warm Welcome' creates an interesting intro to the production, with steady, authentic beats, promising a dose of "the good stuff", but is immediately followed with the, by now, familiar, 'Lighten Up The Darkness', totally CAMOUFLAGE-d up. The clean sounding 'Perfect Day' is an apt attempt at immaculate production, as is the following 'Love & Understanding'. The latter, an electronic ballad, is skilfully executed, both musically and vocally, leads into the second previously issued track, 'Facing My Fears'.
FRONT 242 meets PET SHOP BOYS on 'Your Soul', whereas 'Back Again' floats seamlessly over the sound of the harp, interwoven within magnificent synth. 'Change Your Life' is ultimately synthpop in a bottle. Melodious and dancey, it is much like its follower, 'Open Your Mind'. The guitar is introduced on 'Sons Of The Broken Bottle' with some more or less harsh, trashy sounds. The track comes across as an eclectic mix of many genres and is messy at times, creating confusion and a departure from the otherwise electronic feel of this record.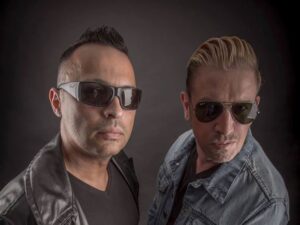 'Angels Are Calling Me' opens with an über interesting sequence, returning to the elegant synth dominated template. It's possibly the most interesting track on the album, with DE/VISION, CAMOUFLAGE and DM influences audible. This time, however, the song is as original as it gets; nothing is pushed to sound like something else and French horns wrap up the track, adding to the deepened mood magnificently.
The twelfth track, 'Home' brings back the uptempo feel, perfect for dancing, punctuated with a clever drum pattern and gentle piano. The closing 'Facing My Fears', this time in the 'Hypnotic Mix', concludes the production, thanks to a magnificent synth and cleverly enhanced vocal, at times sounding as if DE/VISION's Steffen Keth bumped into the boys from Italy's EIFFEL 65.
Anyone claiming that they're reinventing the electronic music is perhaps dreaming, and maybe "all men are dreamers". The claim that "the new generation of synth" is ushered is also a far-fetched fantasy.
All this said, SYNTHDECADE have pleasantly surprised; while one expected a blueprint of CAMOUFLAGE with added elements of DEPECHE MODE, shamelessly delivered with a 'Syndicator' sticker on it; one has got a grown-up, well produced and excellently balanced album, which is worthy of recognition of, clearly, hard work and proficient studio skills.
Well done SYNTHDECADE, you've obviously done your homework.
---
'Syndicator' is released by 15c Avenue via the usual digital outlets
https://www.facebook.com/Synthdecade
---
Text by Monika Izabela Goss
30th November 2015