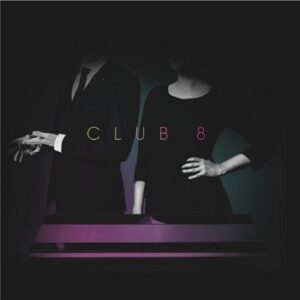 Sweden consistently delivers in the field of electronica and 2015 has been truly won over by the Swedes. New, fledging bands have surfaced with a quality of material, which some weathered UK bands should be jealous of.
CLUB 8, however, have been around for a long while. Twenty years have passed since teenager Karolina Komstedt, a gifted young singer, founded the enterprise, joined by Johan Angergård.
The duo's beginnings were more guitar pop, bossa nova style, than synthpop.
Signed to the Spanish Siesta label, their first trials were labelled as "anorak pop", and the first album 'Nouvelle' received a warm welcome. The second production, 'The Friend I Once Had' landed the Komstedt-Angergård collaboration their first gig in New York.
More albums followed with their self-titled third long player, 'Spring Came, Rain Fell', 'Strangely Beautiful', 'The Boy Who Couldn't Stop Dreaming' and 'The People's Record', before their "everything at once" record, 'Above The City' which featured the magnificent cult favourite 'Stop Taking My Time'.
Collectively, CLUB 8's albums have been released on over forty labels including territories in South East Asia. The band also prided themselves with the popularisation of indie pop genre in Indonesia, and starting up, what has become an extensive scene out there. 'Pleasure' is the ninth studio production from the duo, and Johan Angergård's 21st record, conceived and executed in their ever-changing Summersound Studios. The themes are love, sex and jealousy, "a strong congruous effort", as described as Karolina.
An unusually short album housing eight tracks only, it opens with the pessimistically titled 'Love Dies'. This slinky, shiny and sophisticated ballad leads into a pensive mood, which isn't representative of what the production is about. The mood swiftly changes with 'Skin', a dirtier, lustlier version of the following 'Late Nights'. The crisp vocals by Komstedt are girly and fresh, digging deeper into the matter of decaying love.
Meanwhile 'Kinky Love', apart from its obvious sexual connotations, is a superbly executed, PET SHOP BOYS style serenade. She wants it "strange", before 'Jealousy Remains' enters with a glossy and defined chorus, leading into 'Hush' which has ghostly echoes of ART GARFUNKEL's 'Bright Eyes' gone electro…
'Movement' lyrically continues the theme of wanting "some action", all heading in the direction of 'Promises We Never Meant To Keep'. The closing track, possibly the best on the album, softly cushions love's ups and downs, awakening the longing once more.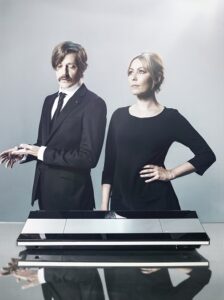 After twenty years of collaboration, five of which they spent as a couple, now describing their relationship as a "brother and sister love", neither Komstedt nor Angergård feel like they've learnt anything about how to conduct themselves in a union that would last.
Unhappy in love, "wanting things to be something that it will not be", "how love changes", are the themes explored on the opus, described by the band themselves as a "shimmering electronic pop album".
The erosion of love, which ultimately is a subject of this record, is a twisted form of "pleasure", as observed by Karolina: "We humans tend to enjoy the things that hurt".
What ABBA started, seems to continue. Sweden leads in the music field, whether it's pop, indie or synth, and they do it with poise, grace, power and determination, which is second to none…
Pay attention UK, learn and copy accordingly.
---
'Pleasure' is released by Labrador Records
https://www.facebook.com/Club8music/
---
Text by Monika Izabela Goss
24th November 2015