BLACK NAIL CABARET's debut London gig reinforced why European acts are ahead of the game with regards darker flavoured synthpop.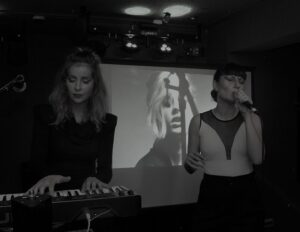 It was a fine, charismatic performance by singer Emese Illes-Arvai and keyboardist Sophie Tarr, accompanied by some beautiful and occasionally erotic arthouse visuals.
In a passionate set which comprised highlights from their second long player 'Harry Me, Marry Me, Bury Me, Bite Me' including 'Hair', 'Blonde' and 'Lovely Girl', it was evidence of how BLACK NAIL CABARET have made a sonic leap forward since their promising debut 'Emerald City' in 2012.
'Satisfaction' magnificently stole the show while proceedings were nicely rounded out with first album faves 'Let Me In' and 'Veronica', as well as a lively electronic rendition of STARSAILOR's 'Tell Me It's Not Over'.
Having supported CAMOUFLAGE, COVENANT and DE/VISION, the confidence of BLACK NAIL CABARET is on such a high right now that the duo have just released a four track EP in their native Hungarian. Entitled 'Steril', the title track is a moodily percussive composition that adds further to their enigmatic demeanour, thanks to the unfamiliar language tone.
Of the other tracks on the EP, 'Fekete' adds some viola by Celine Righi to bring some rich Lisztian spirit into the equation while 'Reggel' uses harmonium textures to procure a sparse, haunting soundtrack. But 'Mágia' provides a more obvious synthpop template from which listeners who enjoyed 'Harry Me, Marry Me, Bury Me, Bite Me' can reference from.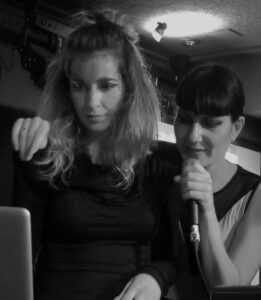 With songstress GWENNO having had her Welsh language album 'Y Dydd Olaf' recently reissued by Heavenly Recordings, electronic pop in something other than English is steadily gaining ground. But historically, this is nothing unusual as prior to the Synth Britannia dominance of the classic era, the UK first became enlightened to popular music of electronic origin thanks to 'Autobahn', a record that was of course, recorded in German!
On Facebook, the duo said: "There are several reasons why we wrote these on our mother tongue, one of them was that the rhythm of the lyrics suited better in Hungarian, it was a lot easier to express these feelings which are partly about our home and being away from it"
With the general open mindedness of many electronic music fans, the 'Steril' EP is timely. It is also an indication of BLACK NAIL CABARET's willingness to experiment and push artistic boundaries.
---
'Steril' is available as a download EP from
https://blacknailcabaret.bandcamp.com/album/steril
http://www.blacknailcabaret.com/
https://www.facebook.com/bncband/
https://twitter.com/Black_Nails
https://www.instagram.com/bncband/
---
Text by Chi Ming Lai
Photos by Richard Price
23rd November 2015