When Bionic Bubblepunk duo HYPERBUBBLE made a rare visit to the UK in 2014 to play at HELEN LOVE's 'Does Your Heart Go Boom?' all-dayer at The Lexington in London, there were a lot of smiles in the audience.
Now that performance has been released as album, titled appropriately 'Live in London'
.
It was their first gig in the capital and with the crowd convinced they were about to witness a mutant Country & Western duo, synthpop's own CARTER & CASH launched into a 45 minute performance of quirky electro with hints of The B-52s.
"We definitely play upon that" said lead singer Jess to ELECTRICITYCLUB.CO.UK, "because we see ourselves as part-performance art, kitsch cabaret pop…". Her partner-in-crime Jeff added: "With our stage clothes, we're playing up to people's expectations, then throwing in a paradox… looking like their pre-conceived idea of what a Texan is and then sounding nothing like it!"
'Live in London' is a highly quality recording featuring a set that could be regarded as HYPERBUBBLE's greatest hits! Beginning with their calling card 'Candy Apple Daydreams', fun uptempo numbers such as 'Synesthesia', 'Bionic Girl', 'Non-Biodegradable Hazardous Waste Disposal' and 'Chop Shop Cop' also figure.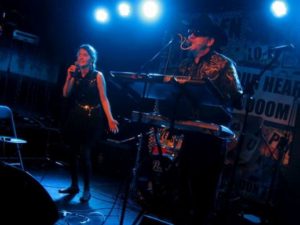 But this is naturally audio only, so one can only imagine the onstage spanking that Jess gives Jeff during 'Girl Boy Pop Toy'.
However, his charming larger than life personality more that comes over on the recording, as does Jess' Southern sweetness. This is Rayna and Deacon from 'Nashville', but in outer space! Despite having released five albums and several EPs, HYPERBUBBLE are still comparatively unknown in worldwide synthpop circles.
So 'Live in London' is a perfect starting point for those who are now curious.
---
'Live in London'
is released in CD and download formats by Pure Pop For Now People Records on 22nd November 2015, available from https://hyperbubble.bandcamp.com/album/live-in-london
https://twitter.com/Hyperbubble
---
Text by Chi Ming Lai
21st November 2015