A year since their last single 'Athletes', Brooklyn based electronic pop duo THE MYSTIC UNDERGROUND are back.
With the likes of PET SHOP BOYS, INFORMATION SOCIETY, KON KAN and NEW ORDER onimpresent in their sound, Vladimir Valette on vocals and Benedetto Socci on keyboards first started releasing music together back in 2010.
Their 2016 debut album 'Protagonist' gathered their best songs recorded over a six years period. But three years on, their new EP 'Simple Minds, Simple Pleasures' has nowt to do with Jim Kerr & Co and contains a declaration to "cast away your dreams and all those precious schemes"
Lead track 'Tempted By The Sound Of Violence' doesn't deviate too far from previous works as they continue the pair "life, set to a dance beat". With bleepy electro, house piano and a sample of snarl accompanying some dour but spirited vocals, there's a blistering synth solo to lighten the tension.
'Storm & Stress' is very New York, with break beats and rhythmic squelches in a dystopian club setting, a pop song for "the disenchanted, disillusioned and disenfranchised" as declared in previous mission statements.
But darker and more polarising with a sombre call to revolution, 'Paper Tigers' states "the hypocrites are plenty, the sycophants are ready"; it's THE MYSTIC UNDERGROUND's answer in spirit to DEPECHE MODE's 'Scum'.
With many things flaming vitriol and ignorance Stateside, Valette's mournful voice suits the unsettling state of the nation and the sentiments of THE MYSTIC UNDERGROUND on 'Simple Minds, Simple Pleasures' challenge that.
---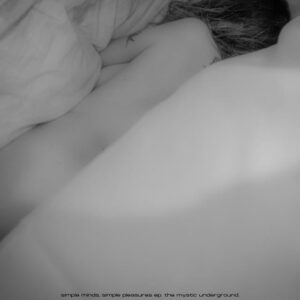 'Simple Minds, Simple Pleasures' is released on 27th September 2019, available as a download EP from http://themysticunderground.bandcamp.com/
THE MYSTIC UNDERGROUND play The Map Room at Bowery Electric in New York on Sunday 29th September 2019
http://www.themysticunderground.net
https://www.facebook.com/themysticunderground
https://www.instagram.com/themysticunderground/
---
Text by Chi Ming Lai
26th September 2016