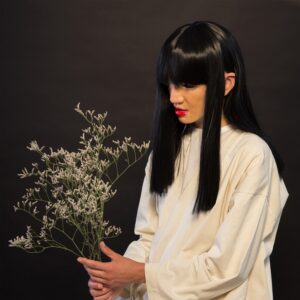 "A humanistic document of our ever-changing world", 'Losing, Linda' follows up Melbourne-based experimental electronic musician and performance artist SUI ZHEN's 'Secretly Susan' album from 2015.
"It's an album about missing people after they are gone and trying to pre-empt loss – not only loss of life, but memory and information" SUI ZHEN explained, "I see it mirrored in our increasing need for data storage. Why are we collecting and documenting so much, anyway? It's also a simple ghost story about being haunted by our other versions and our past selves…"
'Losing, Linda'
is understandably an introspective listen, the genesis of it came under the trauma of her mother's critical illness and eventual passing. Opening with 'Another Life', the ghostly track is held around a melancholic electric piano and unsettling eerie vocal chants; these elements loom heavily in the realisation that "all I see are things I could be missing, all I know are things from another life".
The effectively spoken word 'Natural Progression' exploits the use of drum machines and haunting voice treatments as sombre detuned synths in the vein of Ryuichi Sakamoto's 'Merry Christmas Mr Lawrence' soundtrack evoke isolation. But 'Matsudo City Life' offers more classic synthpop in its throbbing electronic bass synths before bringing NEW ORDER styled guitar into play, coming together like SAINT ETIENNE with an Antipodean twist.
Talking a diversion for a night out at Ronnie Scott's, the jazzier moods of Astrud Gilberto make themselves heard on 'I Could Be There', mixing synths and brass. Continuing the theme, 'Mountain Song' brings the bedsit jazz-inflected resignation of EVERYTHING BUT THE GIRL into the room. 'Being A Woman' furthers those jazzy inclinations, but that odyssey comes to a halt with the space reggae of 'Different Places'.
While that quartet might confuse electronic music enthusiasts, the album's best two tracks are saved until last. The best and most immediately accessible song is 'Perfect Place', a delightfully odd but wonderful slice of pentatonic avant pop, with eerie spoken passages and bursts of delightful melodica offset by hypnotic arpeggios and danceable rhythms.
Closing proceedings and not dissimilar in vein, 'Night River Rider' is a superbly quirky instrumental with beautiful whistling passages and exotic textures that offer lighter relief to end 'Losing, Linda' on a more optimistic note.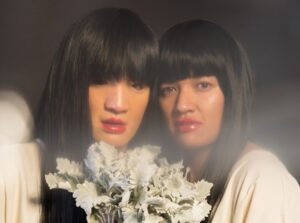 'Losing, Linda' is not an easy listen and a dedicated focussed mood is a must to appreciate its very personal craft.
But it is a thoughtful art pop record with enough synthy elements to sustain its surreal melodic quality to provoke existential questions on the human condition in the modern world.
---
'Losing, Linda'
is released by Cascine in North America and Dot Dash in Australia / New Zealand on 27th September 2019 in the usual formats
https://www.facebook.com/suizhen/
https://twitter.com/BeckySuiZhen
https://www.instagram.com/sui_zhen/
---
Text by Chi Ming Lai
Photos by Agnieszka Chabros
24th September 2019