It has been a tough 2020 for everyone, but one of the shining escapist highpoints has been 'Megawave', the most recent album from Toronto synthwave siren Dana Jean Phoenix.
Recorded in partnership with Viennese electro-rockers POWERNERD, 'Megawave' expands on their previous collaborations over a full-length DJPNRD work, lending a thematic consistency that has perhaps not been captured on her previous releases.
Futuristic, danceable and fun, 'Megawave' has been just the intergalactic tonic that this planet has needed. Dana Jean Phoenix kindly took time out to talk about the making of the album and the new 'Cobra Kai' inspired promo video for the slinky title song.
How did you first come together with POWERNERD?
Powernerd Paddy initially reached out to me to collaborate on the song 'Flame' from POWERNERD's album 'Testosterossa'. We played live together in Vienna, and continued collaborating on tracks for my album 'PixelDust' and their album 'Far From Human'. It's always such a wicked time whenever we collab and play live together.
In terms of creative dynamic and chemistry, what was the process with regards writing and recording?
We initially talked about what vibe we wanted for the album. Paddy would send me tracks and I'd get to work on the vocals. I felt I could lose my inhibitions more at the microphone because Paddy was so game to try anything. Then, we'd touch base about each track to see what tweaks or additions were needed. It was a very fun, exciting, and reciprocal exchange back and forth.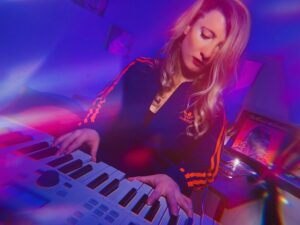 You've played live across the world over the past few years, had that been a factor in the eventual sound of the 'Megawave' album? It's a quite joyous record!
Thanks, and absolutely! For me, capturing the energy of live synthwave shows I've played was important in creating these songs. I've been fortunate enough to tour Europe, Canada, and the US a few times, and it's afforded me the opportunity to see which songs really resonate with an audience in real time.
It's also allowed me to discover things about myself as a performer and what kind of music feels most exciting and joyful to play and share with others.
How did it feel to be making a cohesive album artistically as a body of work as it would be fair to say that in the past because you've worked with lots of different producers, your previous albums have been more collections of songs?
I really enjoyed this approach. I often like the different moods and perspectives that emerge from working with various producers and their unique styles. With Paddy, he's quite prolific and versatile and there's always an edge and playfulness to his ideas. It always felt fresh and it kept me inspired to try new things, all while keeping cohesiveness and a good flow throughout.
Although you concentrated on lyrics and vocals on this album, you got your keytar out a couple of tracks on the album?
Performing with my keytar, Jareth, is the best. When I play the keytar, it feels like I'm donning a superhero cape – some other side of me emerges, particularly during a solo moment. I'm sure guitar players can relate. So, it was fun to jam on solos for 'Figure Me Out' and for 'Fight These Robots'. Jan-Friedrich Conrad played some absolutely killer key solos on 'Sunrise Stance' and 'Living Rent Free' and Paddy's guitar solo on 'Figure Me Out' is pure fire.
So what is 'Figure Me Out' about, or is the answer in the question? That choosing a different cassette intro is also a nice variation on what has maybe now become an overused idea 😉
I was really into solving Rubik's cubes at the time, and the song for me is about likening the complexities of a relationship to the world's most famous 3D puzzle. The process of finding solutions (or learning algorithms) can be extremely frustrating and requires patience, consistency, and understanding. Sometimes it can feel like you're taking several steps backward in gaining clarity, but perseverance, belief in yourself, and allowing yourself to see from a different perspective can carry you through.
I love the cassette intro – a sort of subtle way to set the listener up for a nice easy-going synthwave album, and then bam, the opening beat of 'Figure Me Out' is like a sucker punch. It lets the listener know they're in for a fun and funky ride.
The 'Figure Me Out' lyric video with you doing the Rubicks Cube was such a great concept, a lesson to many as to what can be done with presenting a visual aspect to music, how did you put it together?
The director of the video, PHATT al, suggested I solve a Rubik's cube as the lyrics of the song floated across the screen. I loved that idea and thought it would be so cool to have Powernerd Paddy and I interact too, (despite me being in Toronto, and him in Vienna). The most fun was sending Paddy a matching cube to make it look like we were sharing the same one 😉 It's a really well directed video and a fun way to introduce the first single of the album.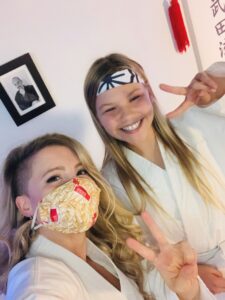 What was going through your head when you wrote 'Fight These Robots', was this harking back to your childhood and watching 'Transformers' cartoons?
To me, 'Fight These Robots' is a metaphor for resisting complacency and questioning the status quo. It's arguing that societal change happens when people join forces and fight for the greater good collectively – a plea for togetherness, not divisiveness.
The 'Transformers' cartoons are definitely cool and all – but I gotta say, that 'Metalhead' episode of 'Black Mirror' definitely shook me. I was envisioning those shoulda-been-cute, but terrifying robot dogs while I was singing "dee da deee da doo dee doo".
Was 'Megawave' both you and POWERNERD channelling some of those classic Jam & Lewis productions?
Personally, Jam & Lewis are always a part of the vibe I'm channelling. My obsession with them started when I saw them in Janet Jackson's 'Control' music video and realized they were the producers for so many of her best songs. Then when I discovered THE TIME and realized they were in that band too – it cemented in my mind that they were the coolest dudes ever. Their music always makes me smile, and they have such an unapologetically signature sound.
How did the video concept come together? Are you a fan of 'The Karate Kid' and 'Cobra Kai'?
Filip Vukcevic, the director, approached me with the idea of paying homage to 'The Karate Kid' and 'Cobra Kai', which was perfect, as I had just finished 'Cobra Kai' season 2 and totally loved it. It's such a funny and well-executed spin-off of the movies. Filip is an amazing director who I also worked with on my 'Only For One Night' video.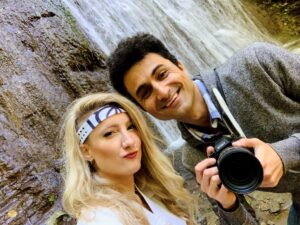 He has a real passion for storytelling, for going all out, and thinking outside the box. We had a great time planning, casting, and shooting.
I'm proud of how our nod to the 'The Karate Kid' turned out and it's always an added bonus when a music video gives a song new context. I feel 'Megawave' video captures the young-love message of the song, but also makes it about finding strength in oneself.
'Living Rent Free' plays with some soft midnight funk?
If you're talking sexy funk, then yes, that was mission number one with the album. 'Living Rent Free' was the first track Paddy and I created for the album. When he sent the instrumental, I was in the midst of rehearsals for a theatre production. On my lunch break, I remember waiting in line at a local coffee shop and listening to the instrumental for the first time on my headphones. I was very excited and couldn't help but dance in line, as it was exactly the sound I had in mind for the album. We had talked for a few weeks about the vibe, and direction, and then Paddy delivered 1000% from the first track.
There's a delicious dancey groove to 'Sunrise Stance' and some great synth solos, had it been a conscious decision to keep the 'Megawave' album quite lively and uptempo?
Oh yeah. Performing the songs live is always a consideration when creating an album, and it's so fun to perform lively, up-tempo songs. Jan-Friedrich Conrad's synth solo added such magic and captured the intensity and playfulness of the lyrics.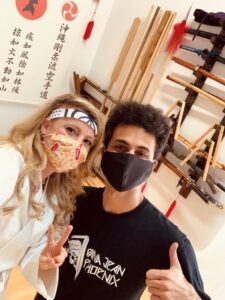 Saying that, 'New Technology' takes things down a bit and is more soulful, have you any particular influences in this area and what is the song itself about?
I was definitely feeling a Sylvia Striplin 'You Can't Turn Me Away' energy, but in a falling in love with a cyborg kind of way. I was also listening to a ton of Jamiroquai's album 'The Return Of The Space Cowboy' at the time, so that was definitely an influence.
It's about that buzz and excitement you feel when you interact with someone on a similar frequency, and how technology allows us to connect with people we never had the opportunity to do so with before. The synthwave scene in general is a great example of likeminded people coming together because of technology.
You chose to bolster the album with remixes of 'Figure Me Out' and 'Fight These Robots'? Was there any particular thinking behind this?
It's always awesome to include more talented friends on the album. STRAPLOCKED and I collab'ed on the songs 'All Day Heat' and 'Iron Fist' and performed together at NEON Retrofest in Rhode Island. I love NEW ARCADES' music and it was so great to hang out with them in London when we played an Outland show together in 2018, and again when I played an Outland show in London in 2019. Both artists did amazing remixes.
'Moves Moves Moves' is back on the dancefloor and closes 'Megawave with more electro-funk vibes, how do you look back on the making of this album?
The making of this album occurred during a time of significant personal transition for me. In hindsight, I was on the precipice of having to make some really tough but necessary decisions in my life. Songs that make me want to dance really hit me, as they can offer pure joy and a way to celebrate good times, and also offer catharsis and a way to cope through trying times.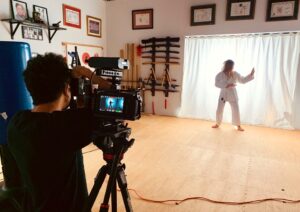 For me, the album is about self-discovery, empowerment, and remembering to spread joy and positivity, even in times of uncertainty. It's also a love letter to collaboration, nostalgia, and good times.
I wouldn't be here without the help and guidance of so many key people I've worked with, which includes Stu and Brett of Outland Recordings. I'm quite chuffed (see what I did there?) to have the album on their label.
You recently did a song called 'Freedom Pass' for the 'Vehlinggo Presents: 5 Years' compilation with DIAMOND FIELD, is he someone you would like to do more work with?
Of course! Working with DIAMOND FIELD on 'Freedom Pass' allowed me to explore a different sound in the retro scene. I really dig the pure beachy / summery feel but with a more pop / rock edge in that song. It was fun to sing about being independent while also embracing my super girly side. DIAMOND FIELD is a really great guy to work with, and so super talented.
Have you been back to the studio yet? Is there anything on the horizon?
There's been so much to digest and unpack this year – some pretty heavy questions about what the future holds, and how we can best move forward with more kindness, understanding, and more time for reflection. I've been writing and journaling quite a lot lately and jamming on some ideas for new material. I'm really excited to hunker down in the New Year to take those ideas off the page – and hopefully, when safe to do, onto the stage.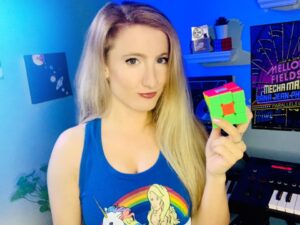 With everything going on, what are your own hopes and fears for the future?
My hope is that we all get to experience and share music together under one roof again someday soon.
My fear is that it may take a little longer than we initially anticipated. I feel incredibly lucky to be a part of a scene that fans continue to engage and support with so much enthusiasm online.
This past year has shown me that despite difficult times, the human spirit is incredibly resilient. With that knowledge, now more than ever, I feel optimistic about the future and the day we can all come together again.
---
ELECTRICITYCLUB.CO.UK gives its warmest thanks to Dana Jean Phoenix
Additional thanks to Stuart McLaren at Outland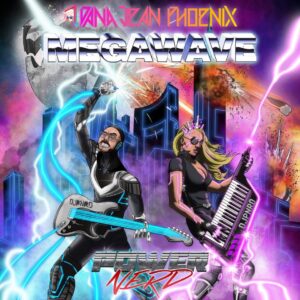 'Megawave' is released by Outland Recordings, available as a violet coloured vinyl LP, CD, cassette or download from https://danajeanphoenix.bandcamp.com/album/megawave
http://www.facebook.com/danajeanphoenix
http://twitter.com/danajeanphoenix
http://instagram.com/danajeanphoenix
---
Text and Interview by Chi Ming Lai
2nd January 2021