EMILIE SIMON's 'The Big Machine' has finally secured a UK release and a good thing too.
With the recent success of LITTLE BOOTS and the return of GOLDFRAPP, this electro princess has timed her entrance at just the right moment to join the party and unleash her Gallic style of avant-pop.
This chanteuse from Montpellier has been a leading exponent of electro-chanson in her home country for several years now, releasing her first self-titled album in 2003 and winning critical acclaim. Her second album in 2006 'Végétal' continued her success while her original score to the European version of the film 'March of the Penguins' helped maintain her profile.
Her covers ranging from DAVID BOWIE's 'Space Oddity' and IGGY POP's 'I Wanna Be Your Dog' to the more traditional 'La Vie En Rose' showed her diverse range of influences. But as with all music artists, the ambition for more people hear your work always prevails.
So looking forward internationally and with backing from the massive Universal Music corporation, her new album 'The Big Machine' becomes her first to be completely sung in English, although a few songs feature phrases in French. Emilie has produced the album and written the majority of the music herself, but some of the lyrics have been written by English novelist Graham Joyce. The album's release in France last September attracted an initially mixed response. Predictably, there was criticism to her singing in English and some even accused her of trying to go mainstream.
While EMILIE SIMON's use of the Yamaha Tenorion during her live shows may mark her out as the French LITTLE BOOTS, her artistic ambitions while using synthesizer technology put her more in same circles as GOLDFRAPP or BJORK. 'Dreamland' is a case in point. Weird and arty with toy pianos and Theremins but at the same time, accessible with a rousing chorus; it has an esoteric quality to takes female-fronted electro off the dancefloor and into the study.
Uptempo opener 'Rainbow' is driven by buzzing bass synths alongside brass stabs before heading into a piano driven chorus that inevitably recalls KATE BUSH. And it's this trait that will repel or endear you. However, Emilie's voice possesses a feline beauty and while firmly singing in a higher register, her gorgeous accented tones ooze sensuality. But as the real Kate hasn't produced anything worthwhile for many years, why not let her musical descendents take up the mantel and try to add something new to the template?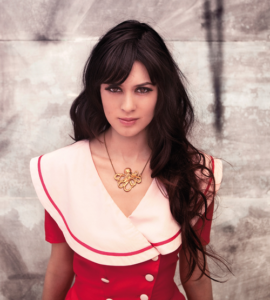 On the brilliant 'Chinatown' in particular, Emilie shows her love of the pentatonic scales in her vocals and instrumentation which punctuate the entire album.
Not since JAPAN's 'Tin Drum' has there been a European act that has successfully utilised such an electronically derived ethnic feel to as much effect.
In common with that album, 'The Big Machine' is uncluttered, using space and silence as effectively as the noise which makes up the music. At times, the aural stylings also bring to mind David Sylvian's underrated protogees SANDII & THE SUNSETZ who supported JAPAN on their final 1982 tour.
The Oriental flavour continues on one of the album's best tracks 'The Cycle' and the amazingly eclectic 'The Way I See You' which somehow manages to mix in some Balearic beats and a children's choir.
'Nothing To Do With You' and 'Ballad Of The Machine' are more in the traditional kooky girl on a piano vein but even on these types of songs, there is always a smattering of inventive electro madness to redress the balance. Mademoiselle Simon is nothing short of quirky as her electro jazz tap number 'Rocket To The Moon' proves.
But don't let the concept deter you… it's finger clickin' good! Think 'Satin Chic' by GOLDFRAPP! Punchy brass, thumping timpani and detuned bursts of synth modulation only add to this impressive highlight.
This is such a diverse and interesting take on electronic music. It's a rewarding left-field pop album. If you like a challenge, then 'The Big Machine' may be for you.
With the open minded musical landscape in the UK at the moment, Florence and Marina need to watch their backs as this raven haired beauty comes over to these shores!
---
'The Big Machine' is released by Universal Music
EMILIE SIMON plays at London's Jazz Cafe on Tuesday 20th April 2010
https://www.facebook.com/emiliesimonofficial/
https://www.facebook.com/emiliesimonofficial
https://twitter.com/emiliesmusic
---
Text by Chi Ming Lai
18th March 2010, updated 20th October 2013