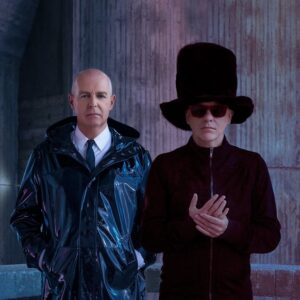 In 2019, sarcastic remarks about the current political situation found themselves on the 'Agenda', with the tongue-in-cheek EP blowing raspberries at Trump, Gove and other assorted political airheads, as well as wittily observed relationships with social media.
PET SHOP BOYS have enjoyed a lifetime spanning career, never shying from things in the spotlight, crudely observed realities and the knowhow of song writing.
Somehow they managed to stay fresh and down to earth with quality music creation, shadowing many of their contemporaries and staying on top.
The mind blowing intellect of Neil Tennant and Chris Lowe has always shined through with well written lyrics, accompanied by assorted shades of pop, placing them in the enviable commercial spots often unachievable to other synth acts.
So 2020 plugs into the 'Hotspot' with the opus number fourteen, captured in the renowned Hansa Studios in Berlin, famous for recordings by legends such as DAVID BOWIE, BRIAN ENO, NICK CAVE and DEPECHE MODE. PSB have been using the legendary recording hotspot for some years now, and the latest production is no exception.
The album is culminating the trilogy of long players worked on by Stuart Price, who needs no introduction, having collaborated with a glorious assortment of artists spanning from Madonna, through NEW ORDER, KYLIE MINOGUE, SEAL or GWEN STEFANI, not to mention his own monikers of ZOOT WOMAN, LES RYTHMES DIGITALES or MAN WITH GUITAR.
Since 'Electric'
and 'Super'
went down very well, with both the former and the latter granting PSB the top chart positions again, the expectations are high for 'Hotspot', which was heralded by the first single as early as September last year.
'Dreamland' featuring London's younger pop specialists YEARS & YEARS, captures the quintessential sound which listeners have grown to love from the duo, elevated to a new age of electronica, packed with quality dance sequences and superb hooks. The new generation of synth lovers is emerging, while the weathered fans of all things electric learn to appreciate the works of younger masters.
The acoustic guitar laced second single, 'Burning The Heather' introduces a somewhat slower approach to matters, sitting somewhere between 'Numb' and 'My October Symphony', with the first guitarist of SUEDE, Bernard Butler lending a hand on the strings.
The track makes an exception from being recorded in Berlin as it was put down on tape at RAK Studios in London.
'Monkey Business' is deliciously easy going and funky, lusciously marrying the synth lines of Detroit techno; it's filled with neon lights, LSD induced comas and gruelling dance sequences. Looking for PET SHOP BOYS' answer to GEORGE MICHAEL's 'Outside', then look no further.
'Will-o-the-Wisp' couldn't be more of an opener; with its catchy hooks and modern twists, it summarises what the duo have always been about: serious dance tunes, written like no other. Oh and Tennant does his "speaking" bit in it too!
The birds are chirping, the sun is shining and the sky is blue in 'You Are The One', which is a quintessential PSB love song, while 'Happy People' sounds super vintage with the piano à la 'Left To My Own Devices', because whose stuff is better to copy than your own! They do end it with a nice dose of wave table synthesis though.
A further ballad 'Hoping For A Miracle' tells a story of a failed individual in the fast-paced world of today, over stunning arpeggios, tear jerking strings and touching melodies, an area where Tennant and Lowe have always excelled.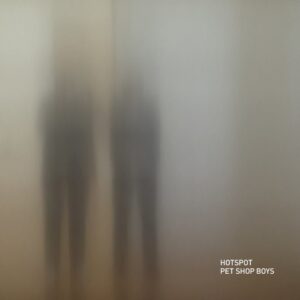 'I Don't Wanna' is brimming with synth in various tempos, as well as electronically altered vocals but in comparison, 'Only The Dark' glides over much simpler musical inclusions, proving one doesn't need overcomplicated concoctions to get to the peak of greatness.
The closing 'Wedding In Berlin' picks up the tempo again, as the boys like to leave their listeners dancing. If you thought one couldn't incorporate wedding bells into a club dance track, you were wrong. They're getting married "no matter if you're straight or gay" in a rising Love Parade beat, slowing down to a further inclusion of wave.
It is fair to say that the conclusion to Price's trilogy is most likely going to enhance the chart positions for PET SHOP BOYS, but whether one cares for enviable listings or not, 'Hotspot' is bang on the money and further strengthens their top status, showing off the never ending prowess of Tennant and Lowe's capabilities.
This album would easily sit somewhere between 'Bilingual'
and 'Nightlife'
, proving that the good old PSB will never go out of date.
---
'Hotspot'
is available now via x2 Recordings in CD, vinyl, cassette and digital formats
PET SHOP BOYS 2020 UK 'Dreamworld' tour includes:
London O2 Arena (28th May), Manchester Arena (29th May), Birmingham Resorts World Arena (30th May), Bournemouth BIC Arena (2nd June), Cardiff Motorpoint Arena (3rd June), Newcastle Utilita Arena (5th June), Saturday Glasgow SSE Hydro (6th June)
https://www.facebook.com/petshopboys/
https://twitter.com/petshopboys
https://www.instagram.com/petshopboys/
https://www.theguardian.com/music/2020/jan/24/pet-shop-boys-the-acoustic-guitar-should-be-banned
---
Text by Monika Izabela Trigwell
Photos by Alex Lake
24th January 2020