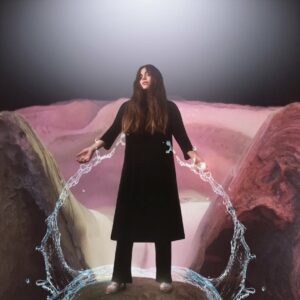 Originally signed to the Danish label No3, Danish Chilean vocalist Rebecca Molina released her debut EP 'Corpus' in 2017 and has since put out a series of singles on Tambourhinoceros in 2018-2019.
'Vanilla Shell' neatly rounds up all of these alongside additional tracks 'Fastfood Widow' and the EP's eponymous title work. Citing a wide range of influences from APHEX TWIN and KRAFTWERK through to KATE BUSH and COCTEAU TWINS, 'Vanilla Shell' takes the listener on a trip though MOLINA's eclectic psyche and is anything but a predictable listen…
In today's pervading climate of overproduced and overmastered pop, the beat less 'Vanilla Shell' bravely starts off in acapella mode ("I'm like mermaid with a special tail") before inviting the listener on an eclectic musical ride, taking in FM electric piano arpeggios, pastoral acoustic guitar and flute along the way. 'Vanilla Shell' makes for an intriguing EP start, showcasing MOLINA's mixing of electronics and real instrumentation and in places being reminiscent of GOLDFRAPP.
'Mike' starts with a vintage pentatonic synth riff before launching into a cheekily recreated drum pattern from CHINA CRISIS' 'Wishful Thinking' whilst melding it with the vocal stylings/oblique track structuring of early KATE BUSH and THOMAS DOLBY. In a tale about a "messy shoe wearing" character who's a bit clueless, the middle of 'Mike' sees a return to the intro acapella, but with subtle vocoder layering before a fully produced outro brings the track to its conclusion.
'Parásito' is a blissed-out track sung entirely in Spanish and with its main hook "Soy un parásito" (I'm a parasite), the song's lyrical content counterpoints the dreamy Balearic usage of acoustic guitar throughout.
In her press bio, MOLINA explains: "I feel Spanish amplifies my message. The drama in the language makes it easier and more natural for me to be extrovert and emotional".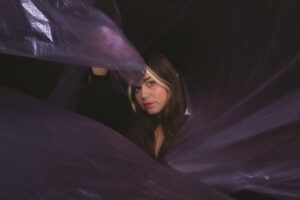 Menacing string breaks punctuate the track and listeners will let the song wash over them before hastily reaching for the repeat button to luxuriate it in again…
'Hey Kids' starts with a gritty lo-fi drum machine loop and a hazy BOARDS OF CANADA aesthetic and features the hookiest chorus vocal here, one which will lodge in the brain after the track has concluded.
All of the songs on 'Vanilla Shell' keep the listener on their toes and the curveball here is a wonderful multi-layered vocal breakdown with choral parts and sampled voices merging together seamlessly. 'Fastfood Widow' is the only real filler track on the EP, but is still worthy of a listen if only for the way that Rebecca Molina phrases the word "widow" as "weirdo"…
The centrepiece of 'Vanilla Shell' is however 'Venus', a truly stunning piece of songwriting with a chorus that evokes some of the COCTEAU TWINS very finest work. In many ways 'Venus' is a distant counterpart of KATE BUSH's 'Breathing' which was a song presented from the perspective of a child in a post-apocalyptic era in the womb.
'Venus' though is sung from the mother's perspective as "I feel, it growing inside me. A big life. On the other side. A hall of fluids. Thick skin, underneath, the opening". The Shoegazey elements here are beautifully combined with deep synthesizer bass frequencies and if there was any wish with regards to 'Venus', it would be to hear a Spanish language interpretation of it.
Just as she did with her previous EP 'Corpus', Rebecca Molina and her collaborators here (notably including Luke Smith who did programming on DEPECHE MODE's 'Sounds Of The Universe') have crafted a body of work which is unique and definitely more than the sum of its component parts and influences.
One can only hope that this EP will help MOLINA reach a wider audience outside of Denmark and still shows that when it comes to vibrant, original and well-crafted electronic music, the Scandinavians are still the ones to beat. Very highly recommended.
---
'Vanilla Shell' is released Tambourhinoceros on 24th January 2020 via the usual digital platforms or direct from https://corpusmolina.bandcamp.com/album/vanilla-shell
https://www.facebook.com/molinamarble/
https://www.instagram.com/rebbemolina
https://soundcloud.com/corpusmolina
---
Text by Paul Boddy
Photo by Sarah Liisborg
22nd January 2020