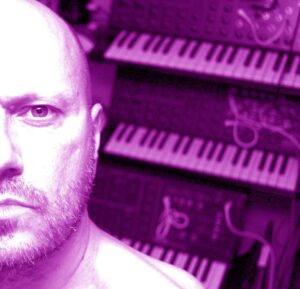 HILTIPOP is a comparatively new name in electronic pop but the man behind it is something of a veteran in the Swedish music scene.
Magnus Johansson cut his teeth as a member of ANTON WEBER, UZIEL 33 and TOPGUN but was also a member of 101, a DEPECHE MODE tribute band with members of S.P.O.C.K which reimagined what might have happened had Vince Clarke not left. But Johansson's best known project internationally has probably been ALISON, a duo with Karin Bolin Derne that naturally paid homage to YAZOO.
Following their album 'Duality', ALISON went into hiatus and Johansson began working on solo material under the HILTIPOP umbrella. A triumphant early afternoon slot at Electronic Summer 2015 in Gothenburg showed great promise, but it would be 2018 before 'The Pattern'
emerged, showcasing Johansson's sombre darker-tinged pop style fused to a backdrop reminiscent of KRAFTWERK circa 'Computer World'.
Two new singles 'For Love'
and 'Agogo' have just been released, so Magnus Johansson took time out to kindly chat about HILTIPOP and his influences…
You first became known to some in the UK for your YAZOO-influenced duo ALISON who released an album 'Duality' in 2010; so what led you down the path of HILTIPOP?
HILTIPOP started out as a wordplay of my middle name, Hilti, back in the days when I did TOPGUN. TOPGUN was initially an electroclash quartet with 'hits' like 'Star' and 'Eine Kleine Nachtmuzik' ending up on different compilations in 2003-2004.
During the recording of the first album 2005, the band transformed into my own solo project and as such, the music turned a lot darker and heavier, like a mix between industrial electro and EBM maybe… and with tracks like 'Honey' and 'Alive', the 'TopGun Vs Hiltipop Rewired'
album emerged from that. And ever since, I kept the name for myself when not doing TOPGUN stuff.
ALISON also started out during this period in time with the obvious blueprint of YAZOO, hence the name. In Spring 2015, five years after the release of 'Duality', Karin and me got back together with an outspoken ambition to create new songs for ALISON. I demoed instrumental versions of 'The Pattern' and a couple of other songs, but they didn't really fit the ALISON-formula so I decided to finish them on my own.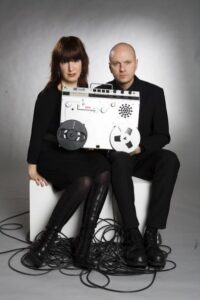 The thing is, since I had Karin's voice in my head doing some of the demos, I ended up trying to sing like her, which I obviously can't, but I guess it kind of works…
What have been the main differences in approach for you?
The main difference is that Karin can come up with spectacular melodies and vocals to any music, and I can't, so as a result – when I do decide to sing – my melodies and vocals are more like an extra instrument, not so much a lead singer doing what he or she does best. And the song structures are worlds apart. ALISON is classic synthpop with really catchy choruses to sing along with, HILTIPOP most definitely is not.
'Duality' really still stands up after 10 years though!
I'm still proud of it and listening to it now, it makes me wonder how we got it all together sound wise… obviously by listening too much to 'Upstairs at Eric's' but so much more to 'Speak & Spell', and then trying to make my Pro-One sound like Vince Clarke's, which never happened so I did most if it by sampling my Yamaha gear ?
Who are the main electronic pop influences in shaping HILTIPOP?
John Carpenter, without a doubt! And all the old rockers trying to make it on the disco scene in the late 1970s, like Rod Stewart with 'Da Ya Think I'm Sexy?' and EXILE with 'How Could This Go Wrong'. Amazing stuff!
But the first track I recorded was 'The Pattern' and it really started out as an idea to make a dancefloor killer like 'Jungle Love' with Morris Day and THE TIME. Other than that, nowadays it´s not so much 'electronic pop' that influences the shape of HILTIPOP… it's more about the electronics, the gear, the synths and the drum machines! That's my main source of inspiration.
I love buying used gear, especially old drum machines. Going through the former owners' patterns and finding completely weird and seemingly useless stuff that I can mix with the beats I want is always rewarding!
Apart from that it always comes down to one band and one track: SIMPLE MINDS and 'Theme For Great Cities'! It´s the most perfect track ever recorded. And everything KRAFTWERK of course! In modern days, it´s still the Germans…
Without Anthony Rother, I'd still be making synthpop. And WESTBAM and the album 'Götterstrasse', the first time I listened to it, I was like "This is what HILTIPOP should sound like…" but at the end of the day, I'm well aware it doesn't and I'm fine with that.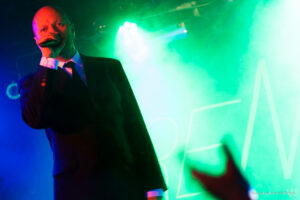 You appeared alone with just a backing track on a bright afternoon outside at Electronic Summer 2015 in Gothenburg where you impressed the crowd who also included Darrin Huss of PSYCHE. What can you remember about that performance?
I was extremely nervous! I had a frozen left shoulder and couldn't really move and dance. So I just hopped around the stage like a moron trying to sing as well as possible.
But it was really fun! And then I met Darrin backstage and we spent hours discussing the genius of German record producer and songwriter Frank Farian and his masterpiece that is BONEY M!
So why has it taken so long to release material as HILTIPOP?
Life, haha! It's been a while since Electronic Summer 2015 for sure. I had a couple of songs that I was proud of back then. After that I just never managed to get it right album wise… but now, with new material on the way, it's all starting to make sense.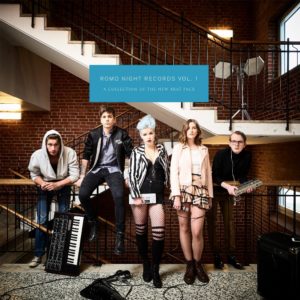 'The Pattern' was on the 'Romo Night Records Vol1' compilation that came out in 2018, what is the song about and why did you choose to finally make your debut release on that sampler?
The song is about me trying to find true love, as always!
My so-called lyrics have been the same in every song I've made since my first band ANTON WEBER back in 1985… just Google it or whatever and you'll hear for yourself, it's all "love love love, but it ain't gonna happen…"; but really, 'The Pattern' debuted on 12" vinyl prior to the 'Romo Night Records Vol1' compilation.
The magnificent Luke Eargoggle released the instrumental version on his Swedish electro label Stilleben in March 2018. It sold out so fast that even I didn't get a copy!
'For Love' is an octave bass driven synthpop tune which comes in classic 12 inch extended version; so you're not a fan of that modern remix madness where the reinterpretation has very little relation to the original song? Are you quite old fashioned in that respect?
I'm not old fashioned, just old! So old that I bought the original 'Blue Monday' with the expensive die-cut sleeve when it was released. And that track is absolute perfection; 7 and a half minutes long! Just love it. The same with 'Jo's So Mean' with THE FLOWERPOT MEN… okey, it clocks in about 5:33 or something but it's just a perfect long song, almost. Just a minute or two longer it would have been, well even longer and better…
Modern remixes are just meaningless. I love the old extended 12" versions from the 80s! Me and my brother Jay-Jay had this discussion just a few days ago, so I have my three favourites already listed: SPK 'Metal Dance' is by far my number 1, THE ART OF NOISE 'Moments in Love', GO WEST 'We Close Our Eyes', DEPECHE MODE 'Shake the Disease' and 'Strangelove'.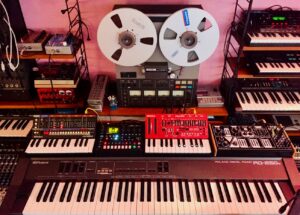 What are your synthesizers of choice for HILTIPOP? Where do you sit on the hardware versus software debate?
The Roland Juno 60, always and the Prophet Rev-2, almost always.
But all of my synthesizers are always up and running, so I play and record the same parts live on different synths and keep the ones that work.
And I don't debate! I use the Korg iPolysix all the time and it sounds like… well, 'The Pattern' is more or less recorded using only just that app!
'The Pattern' B-side 'Looking Up From Down Below' has a haunting melancholic feel, like an abstract OMD instrumental.
Finally someone who recognises it except me! I started out trying to make this Bowie/Eno-style ambient track and ended up with a melodic part in 'Stanlow'-land by mistake and just went for it…
'Hiltiheart', the B-side of 'For Love' is perhaps more techno than synthpop and has some similarities in parts to 'Blue' by LATOUR which was used in the infamous night club scene in 'Basic Instinct', is that a coincidence?
In hindsight, you're probably right… but it all started out, like so often, just playing around with the theme from 'Theme For Great Cities'. Then I added the sampled sonar-like sound and I just went "plopp plopp plopp plopp – plop" and remembered it quite clearly from somewhere… then, boom! I re-watched 'Basic Instinct' the same day and felt quite guilty, in a positive way.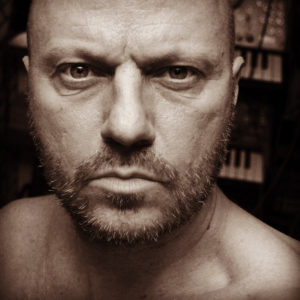 What's going to happen to great songs like 'Lick My Wounds' which you showcased in Gothenburg and others like 'The Man' which have been previewed on Soundcloud? Is a long form EP or album release on the way?
'Lick My Wounds' is remixed and ready for release as we're talking! But I still haven't decided in what format… probably an album; 'The Man' is still a big maybe.
I kind of like the idea of releasing a 'proper' A-side track in two versions and a weird but reasonably susceptible 'B-side' on Spotify, as I'm doing now.
Like in the early 80s when bands dared to experiment with the B-sides… ULTRAVOX, DEPECHE MODE and so on… 'Passionate Reply', 'I Never Wanted to Begin' and 'Paths & Angles' or 'Oberkorn (It's a Small Town)' and 'The Great Outdoors!'; my life wouldn't have been the same without these!
---
ELECTRICITYCLUB.CO.UK gives its grateful thanks to HILTIPOP
'The Pattern'
, 'For Love'
+ 'Agogo' are available via the usual digital outlets
https://www.facebook.com/semhilti.johansson
https://soundcloud.com/sem-hilti-johansson
https://open.spotify.com/artist/6p0OGer16Vw8OUTngUYuiN
---
Text and Interview by Chi Ming Lai
27th April 2020