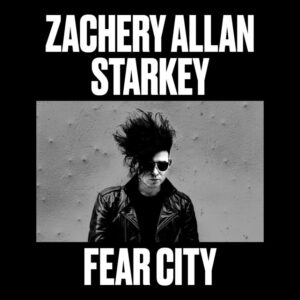 With two albums 'DIY' and 'Hard Power' already under his belt, Zachery Allan Starkey was invited to open for NEW ORDER during their 'Music Complete' tour in North America in 2016.
Starkey has described his new record 'Fear City'
as being about "nightlife, darkness, the opiate epidemic, current political/economic fears, and uncertainties/anxiety caused by the rise of right wing politics around the world".
Two of the album's key tracks are collaborations with Bernard Sumner; the most striking of these is 'Force'.
It sees the NEW ORDER front man contributing his signature Italo-influenced sequencing style for a hypnotically rhythmic danceable post-punk flavour with a touch of HI-NRG. The New York resident makes an impassioned rallying call  for everyone to remain strong and brave in these dark and frightening times.
Sumner's second contribution to the 'Fear City' album is on its title track. Although less in your face than 'Force' by taking on a more steadfast rhythmical mantra, it recalls the Middle Eastern feel reminiscent of the lesser known NEW ORDER track 'Brutal' from 'The Beach' soundtrack. An anxious reflection of the current spooky climate within the Big Apple, it is a feeling that could be applied anywhere in the word right now.
But effectively making the album's brilliant opening statement is the gothic techno throb of 'XXX' which aesthetically it recalls the Aggro Mix of DEPECHE MODE's 'Never Let Me Down Again'. With its hard synthesized bass dominations but to a speedier four-to-the-floor beat, it exudes an atmosphere of unease and desolation via its eerie pseudo pizzicatos and screaming siren calls.
The instrumental body energy of 'No Security' is bolstered by creepy schizophrenic voices, vocal derived samples and dynamic drops. With the multiple meaning possibilities of 'Fallout', Starkey gives more of his fearful delivery, channelling his angsty fervour over a metronomic backdrop, asking "do you give up or do you fight?".
But something of a total surprise, 'Coked Up Biker Anthem' is slice of electro-heavy metal, perhaps what Alice Cooper might sound like adopting synths! With another narcotic reference, 'Opiate' is suitably doom laden with sombre slimey tones and fraught vocals. Meanwhile 'Bright Future' makes an ironic call on dependency with stabs and pulses over a mutant disco backdrop
'Neoliberal' and 'Love Does Not Win' go in tandem, with feelings running high about how evil and capitalism with no conscience always seem to win. With 'Neoliberal', the message is in the Italo-flavoured music, while 'Love Does Not Win' is angrily constructed around a banging stomp. The battle might be lost but together, the love revolution can be victorious.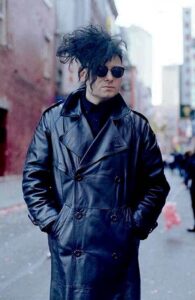 'Empire' with its layers of orchestrated synths is deviantly hypnotic, recalling the solid heart of 'The Anvil' by VISAGE; Starkey's agitated pulpit pronouncements are like those of a deranged dictator and let's face it, there are a few of those characters around in power aspiring to be one of those!
Heading towards the home straight of what is quite a lengthy long player, the hauntingly bleak instrumental 'Covid 19' looks set to soundtrack documentaries and films about the catastrophic pandemic with its booming uptempo flare and strangely melodic overtures of unease.
But the album doesn't end on a particularly cheery note either, as the short final concept piece 'Future Shock' demonstrates via a collage of blasts and explosions.
"It's not an overtly political album, but it is a product of the current times" says Starkey and certainly 'Fear City' captures a dystopian tension driven using hooky electronics and resounding club-friendly beats.
Alongside the recent work of Zanias and Finlay Shakespeare, Zachery Allan Starkey has presented a compulsive observation of gritty realism.
---
'Fear City'
is released by Death Trip NYC and available now via the usual digital platforms including https://zasmusic.bandcamp.com/
https://www.zacheryallanstarkey.com/
https://www.facebook.com/ZASmusic/
https://twitter.com/ZacheryAStarkey
https://www.instagram.com/zacheryallanstarkey/
---
Text by Chi Ming Lai
6th May2020