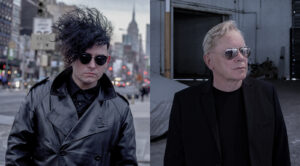 Despite his name, Zachery Allan Starkey is not the son of Ringo Starr but a New York based technopop artist with a love of NEW ORDER.
Indeed, he was invited to open for NEW ORDER during their 'Music Complete' tour in North America in 2016. With two albums 'DIY'
and 'Hard Power'
already under his belt, Starkey has been working on his new album 'Fear City'.
'Force' is the third song to be previewed from 'Fear City' and is a powerful collaboration with Bernard Sumner of NEW ORDER featuring his signature Italo-influenced sequencing style. Starkey's impassioned authentic vocals are a rallying call to the people with the daunting prospect of Donald Trump being re-elected on the horizon.
With a video reflecting on current world events, the jointly produced 'Force' is an uplifting electronic anthem reminding everyone to remain strong and brave in these dark and frightening times.
Hypnotically rhythmic with a danceable post-punk HI-NRG flavour, 'Force'
follows 'XXX'
and 'No Security'
as trailers for 'Fear City', an album which wears its rumbling techno and house flavours on its sleeve but does not overblow them, with the emphasis being on synth hooks and melodies while also being propulsive enough for the club environment. Sumner makes a second appearance on the 'Fear City' album, contributing to its title track.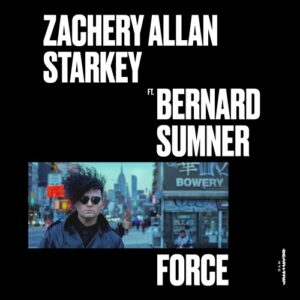 Zachery Allan Starkey said: "'Fear City' is about life in NYC in 2019/2020. It is about nightlife, darkness, the opiate epidemic, current political/economic fears, and uncertainties/anxiety caused by the rise of right wing politics around the world. It's not an overtly political album, but it is a product of the current times. Hence the title Fear City, which is, as you might know, also an old name for New York City. With this album, I've tried to combine elements of Techno, Electro, Post-Punk, Coldwave, Minimal Synth, SynthPunk, Disco, and Trip Hop to hopefully create a unique musical backdrop."
---
'Force'
is released by Death Trip NYC and available now via the usual digital platforms including https://zasmusic.bandcamp.com/
https://www.zacheryallanstarkey.com/
https://www.facebook.com/ZASmusic/
https://twitter.com/ZacheryAStarkey
https://www.instagram.com/zacheryallanstarkey/
---
Text by Chi Ming Lai
Photo by Stas Kravets Photography
26th March 2020