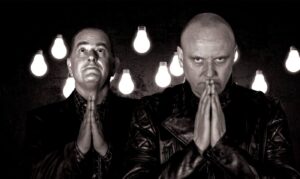 So what did HEAVEN 17 do on their first day of isolation?
Inspired by real life events happening right now, Glenn Gregory and Martyn Ware have presented a video for a new song 'Clouds Or Mountains?'. However, keen HEAVEN 17 fans may have noticed that it sounds familiar.
'Clouds Or Mountains?' was previewed alongside 'Pray', 'Illumination', 'Unseen' and 'Captured' as part of a work-in-progress sampler for the long awaited new HEAVEN 17 album 'Not For Public Broadcast', available only to subscribers of the now-discontinued Bowers & Wilkins 'Society Of Sound' in 2017.
Martyn Ware told ELECTRICITYCLUB.CO.UK recently: "The origins of this song started about three years ago as an instrumental I'd done – I sent it to Glenn sometime later, and he felt inspired to put a 'scratch' vocal to it – we both loved the result, so Glenn created a video for it last week for fun – and this is the result".
Clocking in at nearly six and a half minutes, Ware's sparse electronic soundscape provides an eerie backdrop for Glenn Gregory's impassioned baritone with a delivery that Martyn Ware says is "Very Scott Walker / David Bowie", concurring with ELECTRICITYCLUB.CO.UK's assessment. And as the pace heightens, there are haunting echoes of 'Boy Child' by the man born Scott Engel and 'Sunday' from the former David Jones' 'Heathen' album.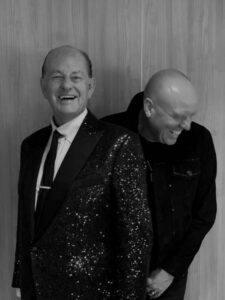 No stranger to the art of the crooner, Glenn Gregory had said previously in 2014: "The way I sing anyway, people always used to say I sounded a bit like a crooner, that baritone type thing… it's good to have that sensibility. It's pop, not rock. I was never into The Stones, I don't really get them. I'd much rather listen to Scott Walker or Anthony Newley."
In the meantime, a new boxed 'Another Big Idea: 1996-2015' has just been released with the lavish CD edition compiling HEAVEN 17's two reunion albums to date 'Bigger Than America' and Before/After' with an unreleased instrumental album 'Space Age Space Music' plus assorted remixes, re-recordings and live material.
---
ELECTRICITYCLUB.CO.UK gives its warmest thanks to HEAVEN 17
'Another Big Idea: 1996-2015'
is released as a 9CD or 4LP boxed set by Edsel/Demon Records
Martyn Ware will be discussing 'Reproduction' + 'Travelogue' on Monday 6th April 2020 during a digital interview presentation with ditto.​tv at 1800 UK time, information on how to register to view this event online at https://ditto.tv/big-boost-mondays-martyn-ware-presents-reproduction-travelogue/
https://www.facebook.com/heaven17official/
https://twitter.com/heaven17bef
https://www.instagram.com/heaven17official/
---
Text by Chi Ming Lai
28th March 2020, updated 16th February 2021