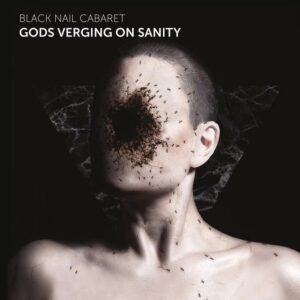 BLACK NAIL CABARET have been steadily climbing the synth ladder since their now famous dark version of Rihanna's 'Umbrella' and the sophomore breakthrough 'Harry Me Marry Me Bury Me Bite Me', through the superb 'Dichromat' and its follow-up 'Pseudopop'.
Growing in confidence and really honing onto their style and sleek sound, the Hungarian duo of Emese Illes-Arvai and her husband Kristzian have recently signed to Dependent and are pencilled in to open for the Swedish masters COVENANT.
The band have created their very own visual aesthetic with the Dark Lady Arvai clad in marvellous costumes including head coverings and sporting outlandish make up, but it is the punchy, dark and deep sound that draws audiences in. While 'Pseudopop'
was BLACK NAIL CABARET's very own version of dark pop, the new opus brings new depths to the concept of human existence.
The concept is straightforward, as god-like creatures, we are still very much animals and the album circles around the dark side of humanity, which in these challenging times seems to be rather apt. Keeping it simple, the nine track offering goes straight for the heart with the opening 'Black Lava', fast and straight to the point, with chasing rhythms inside a very electronic composition. With the filters opening wide, Emese announces the rather catchy 'Spheres', which despite of its pop nodding notes, is quite unlike anything else they have ever released.
'No Gold' powers through with the innate roughness of raw synth with a dose of nostalgic nods towards the best electronic years over a simple rhythm. With intricate vocal inclusions, BNC goes artful, confusing the listener further, mixing beauty with ugliness, simplicity with complications, leading into the more sedate 'To Die In Paris'. Sedate, meaning slower, but nevertheless powerful and very quintessential Black Nail, it plays further on vocals and instrumentation.
'My Casual God' goes tribal, with simplistic sounds and sombre voice where Emese exclaims "I just want to feel wanted, wanna know that I'm needed" over exquisite arpeggios and disturbingly chilling ending. It's an anthem of human existence, sung with sadness and longing, where she cries for attention, knowing she will be denied.
'Make A Run' changes the feel with a drum 'n' bass texture and some quirky rhythms, pioneering into an unknown territories for Emese and co, ushering the era of novelty and experimentation with a dose of revolutionary independence. In contrast, 'Maelstrom' emerges as the most easy listening track on 'Gods Verging On Sanity', with a simple melody and synthwavey care free qualities, dreaming away into the unknown.
'Private Religion' proves that the better tracks are placed towards the end of the production; heavy on bass and plentiful on urgency, wonderfully synthesised and meticulously put together, establishing new levels of greatness, this is what the listener grows to expect from the Hungarian duo.
The closing 'Children At Play' mixes elements of vintage synth tunes, the geniality of Björk and quirkiness of Grace Jones. Packed with vocal wizardry and captivating soundscapes, BLACK NAIL CABARET raise the bar once more.
'Gods Verging On Sanity' is difficult to define as a whole, while 'Dichromat' and 'Pseudopop' were both very definitive, this long player is a mixed bag of mixed sounds. There are multiple sparks of greatness, along with pieces that to some may sound too arty, with the possibility of losing the listener along the way.
But as the band profess: "How far have we come and where do we go from here? How do we shed the old skin now that the new one is growing underneath?"
Is this the new skin?
---
'Gods Verging On Sanity'
is released by Dependent Records on 8th May 2020 in CD, gold vinyl LP and digital formats
http://www.blacknailcabaret.net/
https://www.facebook.com/bncband/
https://twitter.com/Black_Nails
https://www.instagram.com/bncband/
---
Text by Monika Izabela Trigwell
Photo by Richard Besenczi
4th May 2020