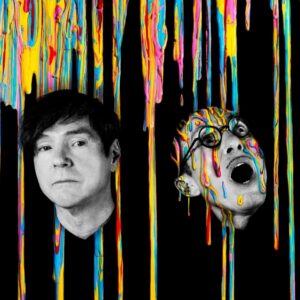 Less than three years after 'Hippopotamus' which had been their first album in eight years, not including their long player in partnership with FRANZ FERDINAND in 2015 as FFS, comes 'A Steady,Drip, Drip, Drip'.
As 'Hippopotamus'
suggested, it was zoo time again for SPARKS and their poperatic adventure continues on album number twenty five.
Although self-producing and engineering, Russell and Ron Mael are joined by a supporting cast of Stevie Nistor (drums), Evan Weiss (guitar), Eli Pearl (guitar) and Patrick Kelly (bass).
With SPARKS as idiosyncratic as ever, if 'A Steady Drip, Drip, Drip'
has a key track, then it's the glorious 'One For The Ages'; with a narrative about craving artistic longevity, the lines "As I write my tome every single night, my eyes show the strain of computer light but I'm pressing on" capture the lot of the creative mind. It's quite synthy but could have been even synthier!
But the album begins with 'All That' and a round of acoustic guitars. Concluding that privilege seems to trump working hard and having ethics, it poignantly ends with the conclusion that "Someday we'd do useful things, we'd rise above, be kings and queens but knew cheap chairs would always be our thrones". Meanwhile, the amusing rock infused 'I'm Toast' captures the realisation of being found guilty and facing the consequences, "Now I have a sneaking hunch that…. I'm toast, there's something burning"
A classic SPARKS voice collage dominates 'Lawnmower' and although "The neighbors look in awe at my lawnmower", the title appears to be a metaphor for midlife crisis status symbol hoarding. But as Russell sings "My girlfriend is from Andover, she puts up with my lawnmower", this must be one of the first tunes since 'Snelsmore Wood' by NEW MODEL ARMY to name drop that Hampshire town from which THE TROGGS emerged.
'Sainthood Is Not In Your Future' strums its way to attack those celebrities who consider themselves legends with an order to "Collect your things, just leave Rover, Sainthood Is Not In Your Future". 'Pacific Standard Time' takes grainy synthetic strings and latterly applies a metronomic backdrop, but the baroque synth classical of 'Stravinsky's Only Hit' is a light hearted reflection of serious artistes.
With "Stravinsky's only hit, he toned it down a bit, he didn't write the words, that was my job, a chorus and a verse, he seemed to be adverse…", this could even be autobiographical or about any collaborative relationship, although at various times in SPARKS career, the Mael brothers kept returning like a phoenix from the flames with yet another hit!
Potentially a GIPSY KINGS flavoured romp, 'Left Out In The Cold' contains the rhyming couplet "Uniqlo is my employer hired by a Tokyo lawyer" but despite the liveliness, the inherent chill gives it more of an Eastern European crossover.
Paradoxically an anthemic song about modesty, 'Self-Effacing' is classic 'Kimono My House'
era SPARKS although it lacks Ron Mael's distinctive RMI Electra-piano; but in this grand art rock drama piece, a transistorised organ makes up for it as Russell exclaims "It's not a choice, I'm less a Rolls Royce and more mini-van, you do understand?"
The eccentric showtune 'Onomata Pia' uses a play on the word "Onomatopoeia" that means to phonetically imitate to create, while on 'iPhone', a delightfully angry Russell confronts a modern scurge and asks someone to "Put your f*cking iPhone down and listen to me!"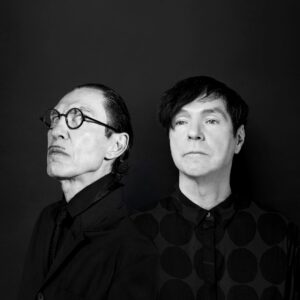 The jazz infused 'The Existential Threat' amusingly looks at paranoia as there's "nowhere to escape to and nobody there to hear as I now scream in fear, scream in fear" before 'Nothing Travels Faster Than The Speed Of Light' provides commentary on fake news declaring "What they're telling you is clearly wrong" with a buzzy synth fest at the end that should have gone on for much longer.
Returning to the lyrical gist of their 1975 hit 'Never Turn Your Back On Mother Earth', the closing plea of 'Please Don't F*ck Up My World' takes on the battle for the environment and rams home the message.
With the Maels using a children's choir to deliver a rallying cry to world governments, they ask "Can't you see what you're doing?" as "Rivers, mountains, and seas, no one knows what they're there for, still it's easy to see that they're things to be cared for".
With so many topics covered, 'A Steady, Drip, Drip, Drip' is like a musical state of the nation address by SPARKS. As with its predecessor 'Hippopotamus', the album doesn't disappoint in the song titles or lyrical department.
Where SPARKS perhaps could be braver about is not being too worried about occasionally revisiting their past, as several songs wouldn't have sounded of place in the style of their imperial Muff Winwood or Giorgio Moroder produced eras.
The Mael brothers have been releasing music for nearly fifty years so no-one would begrudge them doing that, but they remain as enjoyably oddball as ever for their legions of loyal fans.
---
'A Steady Drip, Drip, Drip'
is released by BMG in digital formats on 15th May 2020, physical CD, and double vinyl LP editions out on 3rd July 2020
SPARKS 2021 UK + European live dates include:
Manchester Albert Hall (20th May), Glasgow Barrowland Ballroom (21st May), London, Roundhouse (23rd May), Dublin Vicar Street (25th May), Belfast Limelight Club (26th May), Bexhill De La Warr Pavillion (28th May), Berlin Metropol (30th May), Amsterdam Paradiso (31st May), Barcelona Primavera (3rd June), Brussels Ancienne Belgique (6th June), Casino de Paris (7th June), Copenhagen Dr Koncerthuset (9th June), Oslo Rockefeller Music Hall (10th June), Stockholm Annexet (12th June)
https://www.facebook.com/sparksofficial/
https://twitter.com/sparksofficial
https://www.instagram.com/sparks_official/
---
Text by Chi Ming Lai
2nd May 2020, updated 11th August 2020