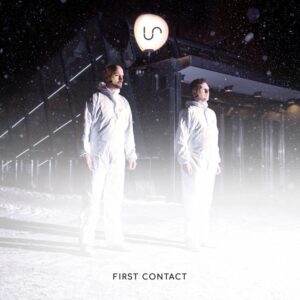 Let's talk about US.
The number of Scottish connected indie personalities who have gone electronic can literally be counted on one hand. Lloyd Cole took the plunge and started twiddling with modulars after the first decade of the 21st Century, collaborating with German legend Hans-Joachim Roedelius of CLUSTER along the way.
Now Andrew Montgomery, former vocalist of GENEVA who scored hits with 'Into The Blue', 'Tranquilizer' and 'Best Regrets' in 1997, has teamed up with Leo Josefsson of Stockholm trio LOWE to form US.
Label mates of SUEDE, GENEVA were characterised by Montgomery's passionate vocals not far from a doomed romantic version of James Dean Bradfield. But despite their jangling guitars, their string assisted backing gave them a sublime cinematic quality.
That voice is carried over into US and combined with LOWE's electronic Nordic noir, this unusual hybrid has been described as "a soundtrack for your dreams". Now if Jeff Buckley had dumped his Fender Telecaster for a Korg MS20, then that is the dark anthemic sound of US.
The pair started writing together in 2015, with Josefsson stepping back to a musician role having been the front man of LOWE; "It took us four years to put together this album" said Montgomery, "but it's been an absolute blast. I feel as if Leo's synths and my vocals are a match made in musical heaven".
'First Contact'
is a curious mix of GENEVA and LOWE, with 'Till the Dying of the Light' their haunting debut offering. Released in 2017, it signalled US' artistic intentions, exploiting the spirited choir boy range of Montgomery within an elegiac electronic soundscape; it recalled the anguished qualities of Jay-Jay Johanson who notably collaborated with THE KNIFE on 'Marble House'.
But 'First Contact' begins with 'Mute', a track which starts in neo-acapella fashion before Josefsson constructs a cinematic percussive lattice around Montgomery's distinctive melancholic tones, climaxing into something more militaristic. The lyrical couplet of "I will be mute, only silence speaks the truth" adds tension to the drama.
Meanwhile, 'Voyager' goes all spacey avant trance in a wonderful cross-pollination of styles that comes over something like MUSE at Gatecrasher. The glorious 'The Stars That Arc Across the Sky' will appeal to GENEVA fans, although its building metronomic beat might confuse those more used to hearing a full drum kit. While the guitar work of Mats Jönsson isn't that far off classic U2, it's a great song all the same.
The rousing poignancy of 'In Denial' is cut from a similar cloth. Interestingly, GENEVA's second album 'Weather Underground' was half produced by Howie B who worked on the Irish quartet's polarising 'Pop' long player.
The Schaffel laden 'Technicolor also provides some more indie colours albeit with pulsing bass synths, but 'Never Get Over' brings back the Nordic moodiness before the intensity rises with a cacophony of guitars and live drums.
'Flow My Tears' also ventures into more indie rock territory and while it cannot be denied that Montgomery is a master of the uplifting topline, this track may be the one that will alienate regular enthusiasts of Swedish synth music the most. An epic diversion is provided on 'As a Child' with the utilisation of a string section and again, Montgomery's emotive high register expression is impressive.
Without the aid of a safety net and Josefsson providing only subtle but widescreen backing for the first two thirds, the downtempo 'My Heart's Desire' is all Montgomery and verging on operatic before the album closes with the brooding Celtic blues of 'The Healer' where the electronically treated vocals generate an even greater bleakness to taunt the soul.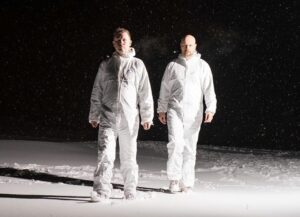 An album of two halves with much promise, 'First Contact' is a well-crafted debut record, expressing broken dreams and midlife sorrows.
The template of contrast might confuse some, but indie and electronic can mix effectively and the results certainly have more melodic accessibility than say, a modern day RADIOHEAD or DEPECHE MODE long player. It really is all about US.
---
'First Contact'
is available as a CD or download album direct from https://usmusicspace.bandcamp.com/
https://www.facebook.com/usmusicspace
https://twitter.com/andrewmonty
https://twitter.com/lazyeyesthlm
https://www.instagram.com/usmusicspace/
https://open.spotify.com/album/6TJVcOONy9LHAm9ceMbZ0I
---
Text by Chi Ming Lai
29th May 2019, updated 7th Jnauary 2020