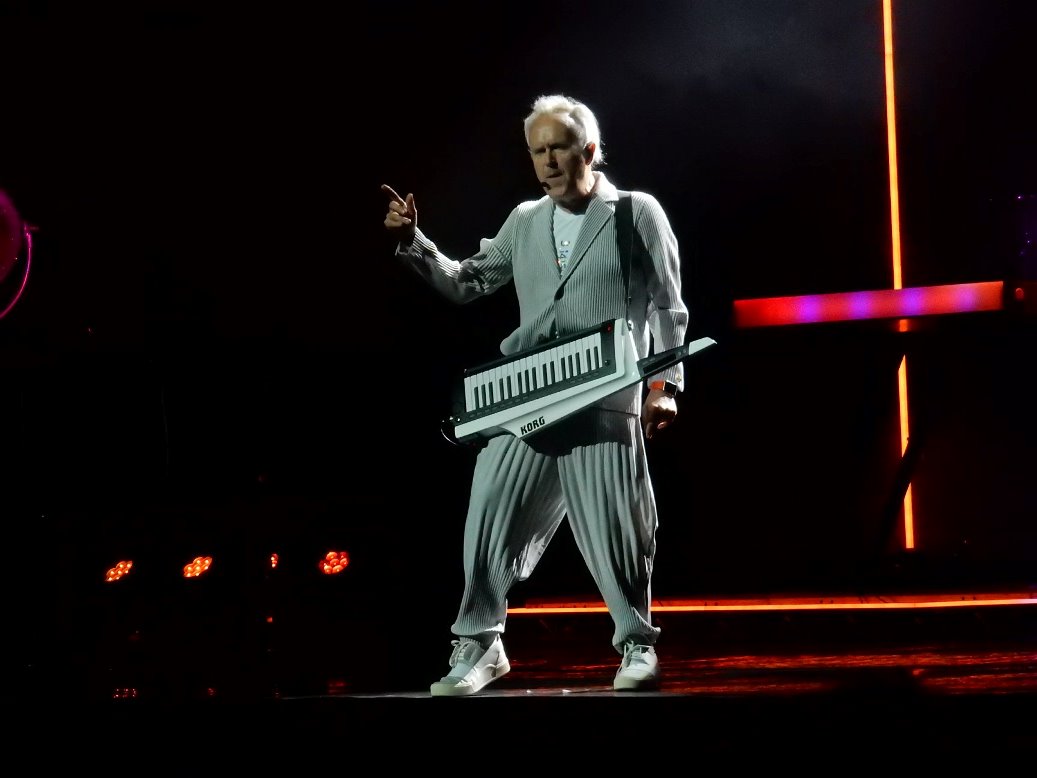 The Grade II listed London Palladium saw the double-bill of Howard Jones and CHINA CRISIS reunited after the two acts shared the same bill over twenty five years ago, albeit reversed.
CHINA CRISIS were one of the bands, along with OMD, that helped give Jones exposure when the artist was first starting out, so it was fitting that the two acts should again share the same stage.
Because of the requirements of the headline stage set, CHINA CRISIS performed in front of the Palladium's curtains with a streamlined set-up, their normal seven piece line-up condensed down to four with Gary Daly and Eddie Lundon flanked on either side by synth player Jack Hymers and saxophonist Eric Animan.
The band opened with 'Black Man Ray' from 1985's Walter Becker produced 'Flaunt The Imperfection'
and the eight song performance featured early singles 'Christian' and 'African & White'. Alongside them were 'Fool' from the Pledge Music funded 'Autumn In The Neighbourhood' and the superb 'Arizona Sky' from 'What Price Paradise', a single that deserved to be a bigger hit than its No48 UK chart position suggested.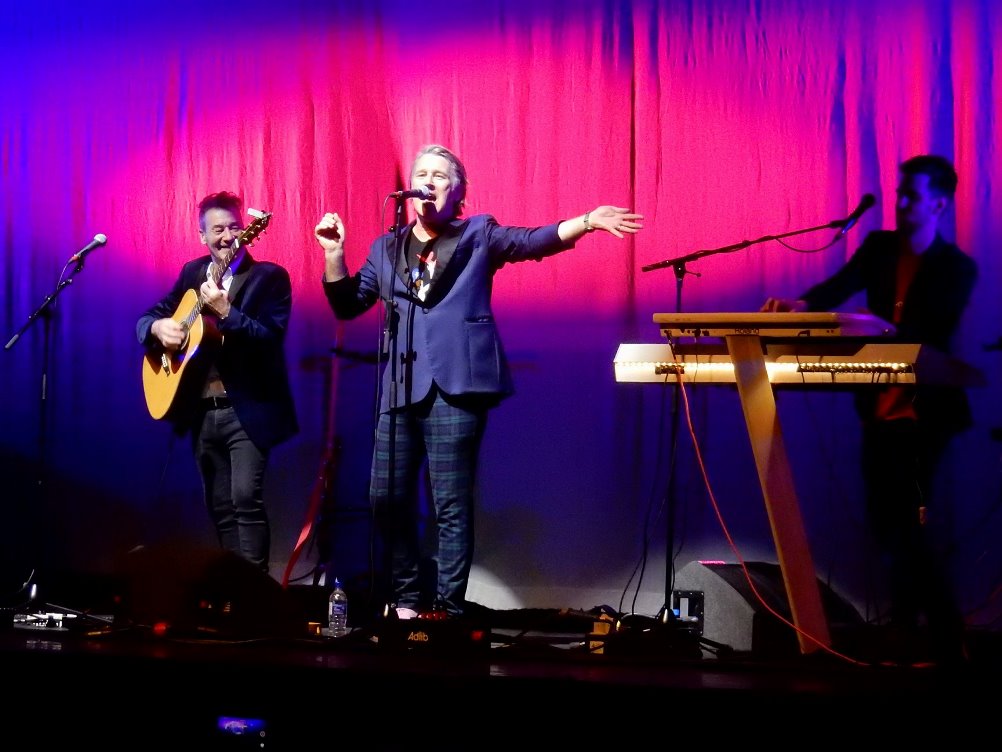 'King In A Catholic Style' added some audience participation and with the exception of the Kenny G-style sax which nearly threatened to spoil 'Wishful Thinking', it was an engaging set with Daly's amusing between song banter keeping the audience entertained throughout. It was a pity that the band were only allocated 30 minutes; another 10 would have surely allowed tracks such as 'Tragedy & Mystery' and 'Hanna Hanna' to get an airing.
Howard Jones took to the stage solo, sat at the grand piano and kicked off his set with the song that he played at Live Aid, 'Hide & Seek'; although renowned for his usage of electronics, it is easy to forget what a gifted pianist he is too and the inclusion of this 'Human's Lib'
track prompted an early sing-a-along in the Palladium crowd.
Backed by the ever faithful Robbie Bronnimann on synths and Robin Boult on guitar, there was new band addition in youngster Dan Burton on synths and electronic percussion who looked like he probably might have still been a baby even when the 'Revolution Of The Heart'
album came out in 2005!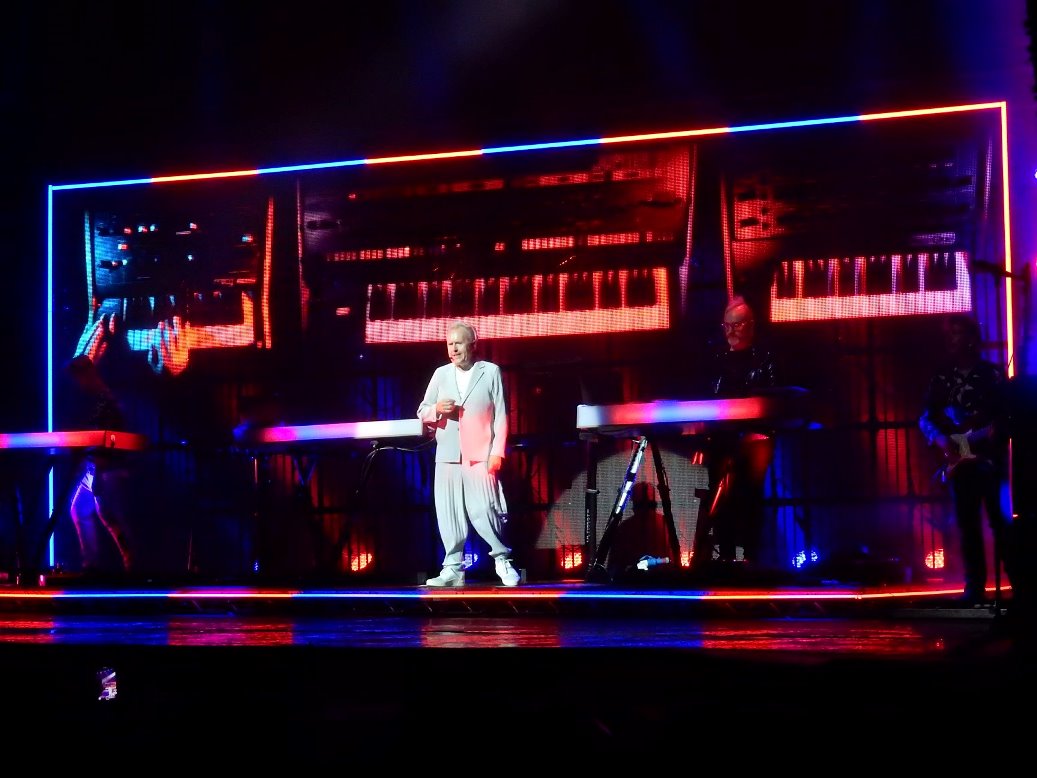 For those in the audience expecting a perfunctory run through of his greatest hits, tonight would have provided a bit of surprise with the majority of Jones' new album 'Transform'
being given the lion's share of his set with 8 tracks in total. This included the recent single 'Hero in Your Eyes' with a back projection of Jones' beloved Roland Jupiter 8 and Moog Prodigy from the track's promo video.
Unsurprisingly the three BT collaborations were also played with Jones strapping on his keytar and coming to the front of stage for some of the material. Worthy of a big mention was the staging and lighting throughout; where many electronic acts skimp on budget and imagination when it comes to their backdrops, Jones' staging was absolutely superb throughout.
There were recognisable nods to NINE INCH NAILS with some of the lighting design, but it was refreshing to see an artist treat the presentation of their material as a spectacle and not just trot out generic back projections with little or no thought and imagination. There are many acts from Jones' era that should take note!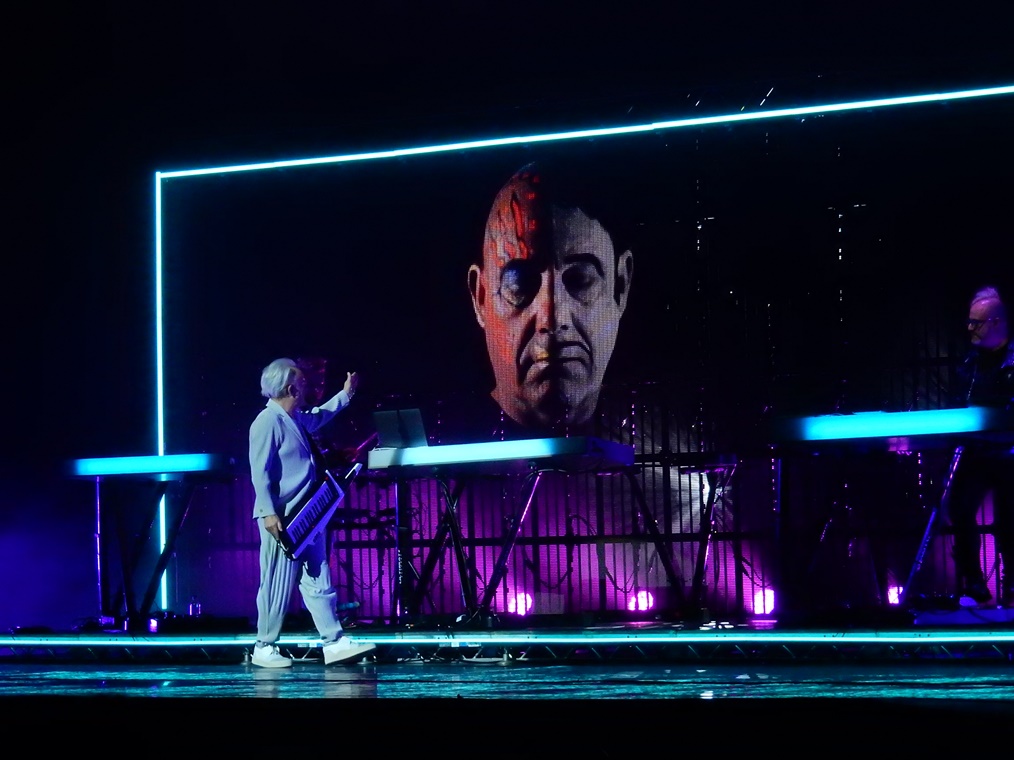 At one point, Jones' iconic dancer Jed Hoile appeared on the back projections during a powerful rendition of 'Equality'. Eventually a patient Palladium audience got the hits that they wanted in the form of 'What is Love?', 'New Song', 'Like To Get to Know You Well' and 'Life in One Day'. A short encore break saw Jones and his band come back on for the anthemic 'Things Can Only Get Better' and funky 'Transform' track 'Stay With Me'.
Tonight's show was superb entertainment throughout, The Palladium providing a fitting backdrop for both acts. It was a timely reminder also that HOWARD JONES remains on top of his game with his new material.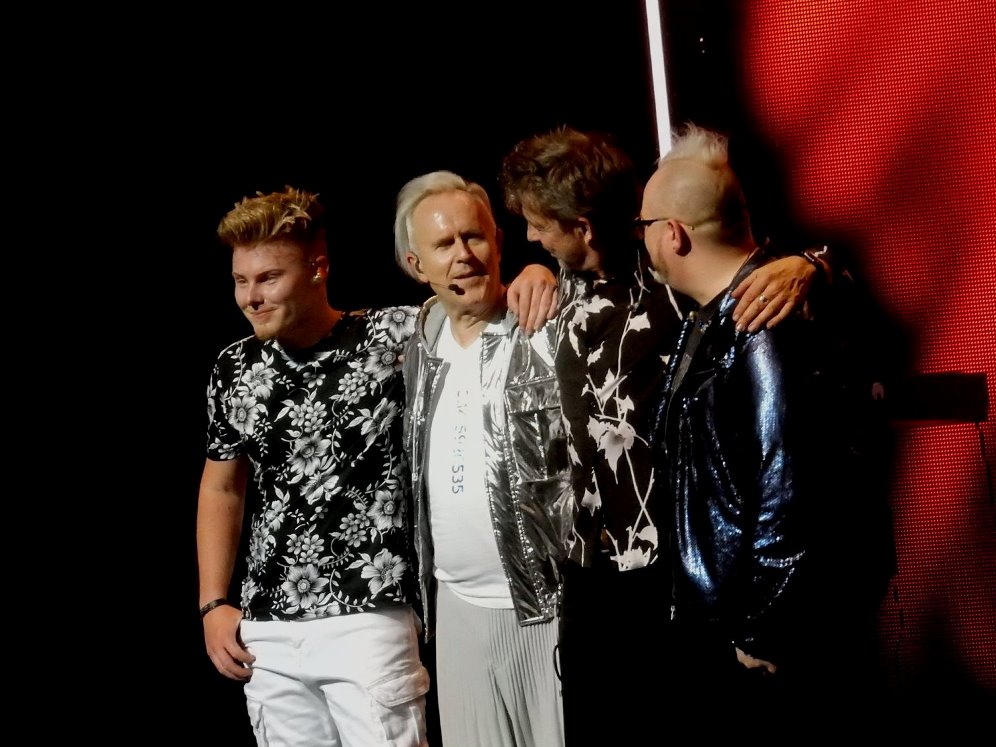 Where some bands from this era are happy to wheel out the same sets year after year, it is refreshing to witness an artist who is not afraid to take risks with both their song selection and visuals.
The 'Transform' tour is an extensive one and will take in US dates later on in the year and also feature a visit to Japan; so if you are able, do try and catch one of the UK's finest synth performers, you won't be disappointed.
---
With thanks to Asher Alexander at Republic Media
'Transform'
is released by Dtox Records as a deluxe 2CD with book, standard CD, vinyl LP and download
Howard Jones 2019 35th Anniversary 'Transform' tour with special guests CHINA CRISIS continues:
Leicester De Montfort Hall (29th May), Manchester Bridgewater Hall (30th May), Edinburgh Queens Hall (31st May), Gateshead Sage (1st June)
Please visit http://www.howardjones.com/ for details on US and Japanese live dates
https://www.facebook.com/howardjones
https://twitter.com/howardjones
https://www.instagram.com/thehoward_jones/
https://www.facebook.com/chinacrisisofficial/
https://twitter.com/ChinaCrisisUK
---
Text by Paul Boddy
Photos by Chi Ming Lai
27th May 2019